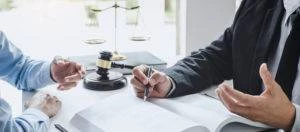 A retail giant like Walmart should have responsible truck drivers that deliver products without putting other drivers in danger. However, Walmart has been involved in various accidents that resulted in severe injuries, and sadly some accidents have even been fatal. When you get injured by a Walmart truck, our team of lawyers is ready to help.
At Morelli Law Firm, our O'Fallon, IL, Walmart truck accident lawyers can help you hold Walmart and the truck driver accountable for their negligent actions. We offer a free case evaluation in which we can tell you the value of your case and the damages you may receive.
Walmart Truck Accident Injuries That Qualify for a Case
A Walmart truck accident can cause minor to severe injuries depending on the kind of accident. Some injuries may not show up for a while but can be deadly, which is why it's essential to get medical attention after a truck accident. Some qualifying truck accident injuries are:
Broken bones
Spinal cord injuries
Loss of limb
Traumatic brain injury
Organ damage
After receiving medical attention, you should get in touch with one of our attorneys. We can help you determine if your injuries qualify for compensation in a free case evaluation. If you don't see your injury listed above, don't get discouraged.
Your injury may still qualify you for a Walmart truck accident case. We can help you find out, and if you do qualify, we'll start working with you to recover compensation.
Statute of Limitations for Walmart Truck Accident in Illinois
After you get into an accident with a Walmart truck in Illinois, you will have two years from the day of the accident to file a truck accident claim. While you may be tempted to file the claim at your convenience, it's best to file as soon as you can. By filing early, you won't have to worry about doing it later on, and you'll have a higher chance of getting the full compensation amount.
If you miss the deadline to file your claim, you will not be able to collect any form of compensation. This is why it's crucial that you file your claim early and know when your personal deadline is to file.
To find out exactly how long you have to file, you can meet with one of our O'Fallon Walmart truck attorneys in Illinois. We can tell you how long you have to file in a free case evaluation, and we can answer any questions you may have.
Damages You Can Recover After a Walmart Truck Accident
You may be stressed about your financial situation after you get into a Walmart truck accident, even though recovering from your injuries should be your top priority. However, medical bills are expensive and can lead to debt if you can't cover the costs of your accident.
When you work with a Walmart truck accident lawyer in O'Fallon, you can recover damages that you can use to cover accident-related costs. Some of the common truck accident damages you can recover are:
Current and future medical bills
Loss of quality of life
Property damage and replacement
Physical therapy
Disfigurement
We are dedicated to recovering all the damages that you qualify for so you can afford to recover fast. When you're taking on a corporate defendant, their legal team may try to hide damages from you. However, we're experts, so we'll fight for every damage that you deserve.
How Walmart Responds to Legal Action
When you file a claim against Walmart, the first thing they are likely to do is to deny your claim. Or they will wait until the last second when the statute of limitations is close to the deadline and then deny your claim. This is one of their most popular tactics, so they don't have to pay you.
However, our Walmart truck accident attorneys have years of experience taking on retail companies like Walmart. We know how to prove negligence and negotiate with their legal team. We can defend you against their tactics and get you the compensation you need.
When you take legal action against Walmart, and they do agree to pay you compensation, they will try to pay as little as possible. As your lawyers, we will do everything we can to get you every damage you deserve for your injuries. We want to ensure you have the compensation you need to recover financially and physically.
Contact Morelli Law Firm to Get a Free Case Evaluation
When Walmart's truck drivers fail to take precautions and cause you harm, it's time for Morelli Law Firm to step in. We're passionate about making sure that you have the money necessary to get back to your life as it was before. That's why we aren't afraid to pursue Walmart until they provide you with the compensation you need.
If you're ready to start building your truck accident case, our Walmart truck accident lawyers in O'Fallon, IL, are too. To get a free case evaluation, call us or fill out the contact form on our website.