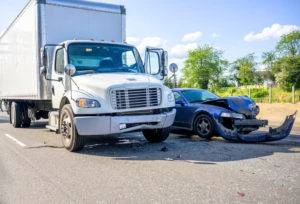 Every truck accident settlement will have its own financial value. Two people can be injured in the same accident and still receive very different settlement amounts for several reasons. The type and severity of your injuries will determine the value of your medical expenses, and your regular income will determine the value of your lost wages. The type and amount of your non-economic damages will also vary greatly.
When you trust our truck accident attorney to handle your compensation request, we make sure you know what the average truck accident settlement is and the specific value of your case. We also help by compiling, organizing, and submitting your evidence, including proof of the value of your case.
What Types of Damages Are Recoverable in Truck Accidents?
According to National Highway Traffic Safety Administration (NHTSA) statistics, passenger car occupants are much more likely to be seriously or fatally injured than truck drivers when their vehicles collide. Truck accident injuries can create long-term and costly medical expenses. In addition to the costs of your injury treatment plan, we also help you recoup:
Income loss when you cannot work due to your injuries
Physical, mental, and emotional pain and suffering
Required in-home medical and domestic support
Medications and treatment-related travel expenses
A collision between your car and a large truck is likely to cause serious property damage or loss. According to Insurance Information Institute guidelines, vehicle value guides can help us determine the cost of replacing your car if it is deemed a total loss. We also help your family recover funeral and burial costs as well as wrongful death damages if a loved one was fatally injured in a truck accident.
Who Is Responsible for Financial Compensation in Truck Accidents?
Before we request compensation for you, we are required to prove the cause of your accident and identify the at-fault party. After a truck accident, that can include:
The truck driver
His employer
His truck's manufacturer
In some instances, it can also include the company that manufactured the truck's components like tires and windshield wipers. To identify the right party to pursue, we examine your crash report, interview witnesses, and investigate the accident scene when possible.
Have You Been Injured In An Accident? Contact Morelli Law
877-751-9800
How Much Are My Pain and Suffering Worth?
Assigning a value to your non-economic recoverable damages like pain and suffering is complicated on your own. The value of your pain and suffering is based on several key factors of your personal injuries, including their extent, the change they force on your life, and your prognosis for the future. Pain and suffering can include:
Accident-related stress
Lasting disfigurement
Forced lifestyle changes
Anxiety and depression
When we handle your case, we help you assign a fair value to your pain and suffering that will compensate you for your ongoing physical and emotional pain and discomfort.
How Can a Truck Accident Lawyer Help Me get Compensation?
A truck accident case has more moving parts than you might think. When you retain our law firm to help you seek compensation, we handle every aspect of your case for you – personal injury, insurance, and legal. Our team will:
Obtain, complete, and submit insurance claim forms
Compile proof of the at-fault party's identity and liability
Assign a comprehensive value to your case
Comply with the statute of limitations in your state
We also weigh the advantages and disadvantages of each settlement offer you receive. Since the final settlement decision is yours, we help you make a well-informed decision that leads to the best possible outcome in your case.
Where Can I See Your History of Financial Awards?
There are no average settlements for truck accidents, and there is no way to tell you the value of your case until we review the circumstances of your accident and the costs of your injuries. Financial awards for previous clients include:
$62 million award for a client who sustained severe injuries after an accidental fall
$102 million award for an employee injured by a forklift and left with brain injuries
$3.5 million award for a woman who was hit and injured by a New York City transit bus
$5.4 million award for a delivery driver who was the victim of a traumatic car accident
$7.4 million award for a delivery driver who was hit by a truck while riding his bicycle
Learn more about our history of settlements and verdicts on our client results page. You can also look at our client reviews and learn more about working with our law office.
Contact Our Law Office Today to Receive a Review of Your Truck Accident Case
Were you or a loved one injured in an accident? Find out how our truck accident lawyer can help you get a settlement for your truck accident to cover your financial expenses and losses. Contact Morelli Law Firm by calling (212) 751-9800 today.