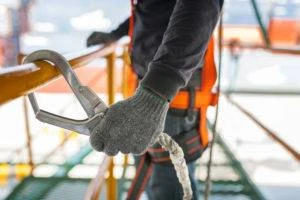 By nature, construction is one of the most dangerous jobs in the country. We learn from the Occupational Health and Safety Administration (OSHA) that there were 1,008 construction-related fatalities during 2018. Some of New York's most common construction accidents include electrocutions and falls, as well as caught-in between and struck-by incidents. There are several contributing factors, including unsafe working conditions and a lack of protective guards.
Understanding Common Construction Accidents
Construction workers can experience injuries from countless types of accidents. However, some common construction accidents occur more often than others. Examples of these accidents include:
Burns or explosions: if a worker encounters any combustible substances or corrosive chemicals
Caught in-between: when materials or equipment falls and traps the worker between what fell and a wall
Debris falling: if building materials, pieces of scaffolding, or tools fall from high places, that could cause significant harm if it lands on a worker
Electrocutions: it is not uncommon for workers to find downed power lines, exposed wires, and unfinished electrical systems when working at a construction site
Falls: workers typically work from heights on scaffolding, ladders, or rooftops. Those heights could lead to a fall that leads to severe injuries
Trips and falls: because there is a lot of tools and materials in a worker's path, that poses a significant risk for them tripping and falling
A Focus on New York's Construction Accident Statistics
Statistics from the New York Committee for Occupational Safety and Health (NYCOSH), indicate that New York saw 69 construction-related fatalities during 2017. When we dig deeper into this data, it reveals that New York City saw 20 of those fatalities. New York's statistics for common construction accidents do not stop there, however.
According to the Federal Bureau of Statistics, five percent of New York City's total workforce are construction workers, which also account for 27% of injury fatalities.
The Daily News reported that, between January and October 2018, construction injuries fell from 672 to 507
As of April 30, 2020, the NYC Building Department reported there were 153 construction-related accidents in New York City
A Lawyer Can Help You Recover the Compensation You Need
Under New York Consolidated Labor Law §200, a general contractor is legally responsible for ensuring the safety of all workers on their job sites. That safety includes being responsible for ensuring all workers have reasonable and adequate protection regarding their health and lives, in addition to their safety. In addition to the general contractor's responsibility for the safety of the construction site, this law also indicates that it is the property owner's as well.
If one of the common construction accidents leads to a worker injury, we have a legal team available to fight for the damages they require. It is also our mission to assist construction accident victims with the following:
Broken bones
Burns
Brain injury or other head injuries
Back, shoulder, or neck injuries
Construction vehicle accident injuries
Electrocution
Eye injuries
Injuries from materials falling from heights
Spinal cord injuries
Trench collapses and excavation accident injuries
Time Limits for Construction Accidents in New York
New York state has a statute of limitations for common construction accidents, and, according to the circumstances, these limitations vary. For example, if the construction accident case involves negligence, then victims must file an action within three years of the accident's date. These statutes are available under New York's Civil Practice Law & Rules (CVP) §214.
The statute of limitations changes if the construction worker is a victim of wrongful death. If a wrongful death occurs, a personal representative from the victim's estate must file an action. That means they have two years from the date of the incident to file a claim. We learn more about this statute of limitations under New York's Estates, Powers & Trusts (EPT) §5-4.1.
Recoverable Damages for a New York Construction Accident
When a worker is a victim of one or more of the common construction accidents, that can take a significant toll on them physically, financially, and emotionally. Our team understands the challenges construction workers face when overcoming these odds. On top of losing income during the treatment and recovery process, victims and their families also experience high medical bills. That is why our team makes it their mission to work on the victim's behalf to recover the following damages:
Ambulance expenses and other costs
Benefits from workers' compensation claims
Damages from architects, contractors, owners, and other negligent parties
Emotional trauma
Loss of opportunity
Lost income, including future loss of income
Medical treatment costs, including future medical expenses
Pain and suffering
Contact a New York Construction Industry Lawyer Today
If you find yourself a victim of any one of the many common construction accidents, you do not have to act alone. One of our legal professionals is available to help you recover much-needed compensation. Contact a member of our team today at Morelli Law Firm at (212) 751-9800 for a consultation regarding your case.