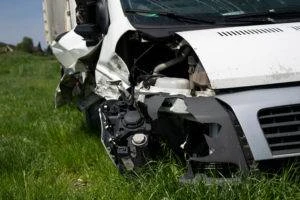 Although Walmart takes a lot of pride in operating the largest and safest truck fleet in the country, accidents do happen. The most notable of these incidents involved notable comedian, Tracy Morgan, whose limo was crushed by a Walmart truck.
This accident claimed the life of one person, injured a few others, and was the cause of Tracy Morgan's brain damage. The terrible thing about truck accidents is because of their sheer size (they weigh as much as 80,000 pounds), smaller vehicles stand no chance. Occupants in the smaller vehicles often sustain catastrophic injuries, if they're not killed.
If you have been involved in an accident with a Walmart truck, a Huntington Walmart truck accident attorney from Morelli Law Firm can help you recover your losses and start the process of getting your life back together.
Proving Fault in a Huntington Walmart Truck Accident Claim
Determining who is at fault in a Walmart truck wreck is important if you want to recover as much money as possible. And to do that, you'll need to do the following:
Find Out the Cause of the Accident
Why did the accident happen? Were there failed parts? Was the driver fatigued because they exceeded the recommended hours of service? Were they driving under the influence of illicit substances? These are some of the questions that you'll need to seek answers to.
Determine the Liable Parties
Although a big rig wreck can be caused by a negligent driver, it's also possible that other parties played an indirect role. For example, if a Walmart supervisor chose to put an already exhausted truck driver on the road, that supervisor can be held liable too.
Understand Your Level of Involvement
Sometimes, the plaintiff's actions can directly endanger the lives of other road users. For example, if a smaller passenger vehicle suddenly brake-checks a Walmart 18-wheeler, the trucker might not be able to stop on time, thus forcing the truck driver to ram into the smaller vehicle instead of having time to maneuver properly to avoid an accident.

To do all these and more, your Walmart truck accident attorney in Huntington will have to do the following:

Gather all necessary evidence relating to the accident

Talk to witnesses and review all videos and images of the accident scene

Send an evidence preservation letter to prevent the spoliation of evidence if the other party's insurance company, investigators, or lawyers have already collected all available evidence

Interview all relevant parties

Engage the services of expert witnesses
How does New York's No-Fault Insurance Rule Affect My Truck Accident Case?
If the truck collision was caused by the Walmart truck driver, your attorney will have to examine the degree to which you were injured and compute the total cost. If your losses are valued at $50,000 or less, you can file a compensation claim with your insurance company instead of the other driver's.
This is possible because New York is a no-fault insurance state. This means that as long as you have an insurance policy with a coverage of up to $50,000, it doesn't matter who was at fault. You can just as easily approach your insurance company to receive those benefits.
All New York state drivers are required to carry this minimum auto liability insurance coverage. This law was designed to help accident victims fast-track their recovery process. This way, they can easily file compensation claims instead of waiting for the other party's insurance company to approve their benefits.
How Your Huntington Walmart Truck Accident Lawyer Establishes Negligence
However, if you suffered catastrophic injuries and the cost of damages exceeds $50,000, New York's Insurance Law allows you to file a claim with the driver's insurance provider (in this case, Walmart's insurance company) or file an injury lawsuit against them in court.
To do this though, your Huntington Walmart truck accident attorney will have to prove that the elements of negligence were present. These include:
Duty of care

: The Walmart truck driver had a duty to act in a reasonably safe manner while driving their rig.

Breach of duty

: That the driver didn't act in a reasonable manner, thus endangering other road users' safety.

Causation

: That their reckless or negligent action or inactions led to the accident and injuries of other road users.

Damages

: That these injuries resulted in significant losses for the injured victims.
The reality is that Walmart truck accident claims are complex and difficult. This is why it's best to have a personal injury lawyer who's experienced with Walmart truck accidents handle the case and seek compensation on your behalf.
Available Compensation in a Walmart Truck Accident Claim
Injured victims may be able to claim some or all of the following damages:
Wage losses

Property damage

Extra out-of-pocket expenses

Medical costs

Pain and suffering
These are the most common damages that you may be able to receive. However, if you lost a loved one to a truck crash, you may be able to seek an entirely different type of compensation by filing a wrongful death lawsuit.
How Comparative Negligence Affects Your Payout
How much you'll ultimately receive as benefits will be influenced by the role you played in the accident. New York is a pure comparative negligence state. This means that the state will consider negligence on the part of both parties and award settlement percentages based on the culpability of both parties.
For example, if the court awards a $500,000 settlement, but establishes that you were 30% responsible for the accident, you'll only get $350,000 in compensatory benefits. This is an overly simplified explanation of how the pure comparative negligence law works here in New York.
So, due to these laws and the often complicated nature of Walmart truck collisions, you may have to speak to an experienced attorney if you want to maximize your settlement.
Contact a Skilled Huntington Walmart Truck Accident Lawyer
With the help of an experienced Huntington, NY, Walmart truck accident lawyer, you will increase your chances of getting an adequate settlement for your injuries and losses.
Keep in mind that Walmart has a big legal department that's dedicated to fighting all truck wreck claims. Therefore, they are often committed to paying you little or nothing. If your injuries are catastrophic, they'll try to offer you a quick settlement.
Don't take it without first speaking to the team at Morelli Law Firm. In our experience, you can always get more than their initial offer. We have helped many clients, including Tracy Morgan, recover millions in compensation for injuries sustained in truck accidents.
Let's help you do the same. Get in touch with us today for a free case evaluation.