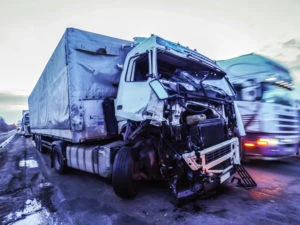 As much as 71 percent of accidents are caused by truck drivers who were distracted by something inside or outside of their vehicle, according to the Federal Motor Carrier Safety Administration (FMCSA). Additional FMCSA research and statistics show that truck accidents might also be caused when truck drivers:
Exceed the posted speed limit
Drive faster than conditions allow
Drive along unfamiliar routes
Are inattentive or fatigued
Are tailgating a vehicle in front of them
These actions by a truck driver might mean he was not focused on his driving, fatigue clouded his judgment, or he did not have enough space between his truck and another vehicle to stop as needed. If one or more of these factors contributed to your accident, you might have the basis for a personal injury lawsuit.
The law in your state may require you to prove the at-fault driver's negligence. That may mean you must show the at-fault driver owed you a duty of care, neglected that duty, caused your injuries, and caused the resulting financial consequences. A truck accident lawyer might be able to help you prove these required legal elements of negligence and fight for your subsequent right to financial compensation.
Prove the Truck Driver's Negligence that Caused Your Accident
Proving the truck driver was at fault for your accident might be a daunting process on your own. A local law firm may have team members and resources that help establish the cause of the accident. To prove a truck driver's negligence caused the accident you were involved in, your lawyer may use your crash report to establish whether or not the at-fault driver was:
Distracted by the use of a handheld device
Impaired by the use of drugs or alcohol
Impaired by fatigue or inattention
Speeding or driving recklessly
Disregarding traffic sign and signals
In addition to your crash report, your legal team may ask for more documents and other forms of evidence, including witness statements, photos, and available dashcam or other video footage. Comply with any requests for additional information as quickly as possible to ensure your legal team has time to prepare, build, and file your potential lawsuit according to your state's filing deadline.
Do Not Overlook Your State's Statute of Limitations
Your legal team may strive to file your lawsuit in a timely fashion for a variety of reasons. The pressure of mounting medical bills can add more stress and frustration to your physical and emotional recovery. Resolving your lawsuit in court or receiving an out-of-court financial settlement can help relieve the financial stress of an accident.
Your state has a statute of limitations that dictates the amount of time you have to file a personal injury or wrongful death lawsuit. Because missing or being unaware of the filing deadline might prevent you from receiving compensation from the at-fault party, your legal team can work hard to ensure compliance. The dates on your crash report and medical records may help ensure the applicable filing deadline is not missed.
Calculate Your Economic and Non-Economic Recoverable Damages
Your lawyer can help you gather any documents that prove the amount of financial compensation you might be entitled to from the at-fault driver. Your list of economic damages might include:
Current and future health care expenses
Current and future lost wages and income
Property damage or total destruction
In addition to these expenses and losses, you might also be entitled to collect certain non-economic damages. Your lawyer may help you assign a monetary value to these intangible damages:
Physical pain and suffering
Emotional pain and suffering
Physical disfigurement
Physical disability or impairment
If your family experienced the loss of a loved one, their funeral and burial arrangements might also be compensable. In addition, you might be entitled to compensation for your loss of society, companionship, or consortium. When you are ready to pursue the compensation that you may be entitled to due to negligence, consider hiring a lawyer for assistance.
Hold the At-Fault Truck Driver Responsible for Your Recoverable Damages
If you believe the truck accident that led to your injuries and property loss was caused by the at-fault truck driver, you might have the ability to seek financial compensation. When you are ready to assign liability to the responsible party, get in touch with Morelli Law Firm by calling (212) 751-9800. Our team might be able to help you determine what percentage of accidents are caused by truck drivers and which driver errors might have led to your accident.