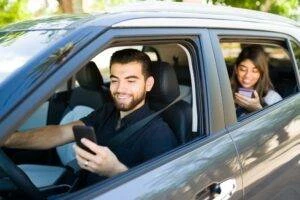 In the unfortunate event of a rideshare accident, it is essential to have the guidance and expertise of a qualified Chesterfield rideshare accident lawyer.
Let's explore the role of a rideshare accident lawyer in Chesterfield and provide insight into the common causes of such accidents. By seeking the assistance of a Chesterfield personal injury lawyer, you can ensure maximum compensation for your damages.
The Role of a Rideshare Accident Lawyer in Chesterfield
When it comes to navigating the legal complexities surrounding rideshare accidents, a rideshare accident lawyer in Chesterfield plays a crucial role in advocating for their clients' rights and obtaining fair compensation.
Rideshare accidents can be complex due to the involvement of multiple parties, such as the rideshare company, the driver, and other motorists. A skilled rideshare accident lawyer in Chesterfield understands the unique aspects of these cases and is equipped with the knowledge and experience to effectively represent their clients.
They will investigate the accident, gather evidence, and work with experts to establish liability. Additionally, they will negotiate with insurance companies on behalf of their clients to ensure they receive the compensation they deserve. At Morelli Law Firm, our ultimate goal is to protect their clients' rights and help them move forward after a rideshare accident.
Common Causes of Rideshare Accidents in Chesterfield
Numerous factors contribute to the occurrence of rideshare accidents in Chesterfield, and understanding these common causes is essential for promoting safety and preventing future incidents.
Driver negligence: Rideshare drivers may engage in

distracted driving

, such as texting or using their phones while behind the wheel.

Fatigue: Since drivers may work long hours without adequate rest, this can lead to impaired judgment and slower reaction times.

Aggressive driving: Unsafe driving such as speeding, tailgating, or disregarding traffic rules, can increase the risk of accidents.

Poor vehicle maintenance: This is also a contributing factor, as rideshare drivers may neglect regular inspections and repairs, leading to mechanical failures.
Understanding these common causes can help raise awareness and encourage rideshare companies and drivers to prioritize safety measures to reduce the occurrence of accidents in Chesterfield.
5 Steps to Take After a Rideshare Accident in Chesterfield
After a rideshare accident in Chesterfield, it is crucial to promptly take certain steps to ensure your well-being and protect your legal rights. Here are five important steps to take following a rideshare accident:
Check for injuries: Assess your own injuries and the injuries of others involved in the accident. Seek medical attention immediately if necessary.
Contact the authorities: Call the police to report the accident. They will document the incident and create an official accident report.
Gather information: Exchange contact and insurance information with the other driver(s) involved in the accident. Take photos of the accident scene and any visible damages.
Notify the rideshare company: Inform the rideshare company about the accident. They may have specific procedures and insurance coverage for such incidents.
Consult a Chesterfield rideshare accident lawyer: Seek legal advice to understand your rights and potential compensation for your injuries and damages.
Understanding Liability in Rideshare Accident Cases in Chesterfield
With the involvement of multiple parties and complex insurance policies, determining liability in rideshare accident cases in Chesterfield can be a challenging task.
When an accident occurs involving a rideshare service such as Uber or Lyft, there are several parties that could potentially be held liable. These parties may include:
The rideshare driver

The rideshare company

Other drivers involved

Insurance companies
In some cases, it may be necessary to establish negligence on the part of one or more parties to determine liability. This can involve gathering evidence such as witness statements, accident reports, and medical records. Additionally, the specific insurance policies of the rideshare company and the drivers involved will need to be thoroughly examined to determine coverage and liability.
Given the complexity of these cases, it is crucial to consult with an experienced rideshare accident lawyer who can navigate through the legal complexities and fight for your rights.
How a Rideshare Accident Lawyer Can Maximize Your Compensation in Chesterfield
By utilizing their expertise and legal knowledge, a rideshare accident lawyer can effectively maximize your compensation in Chesterfield. Here's how they can help:
Thorough investigation: A skilled lawyer will conduct a detailed investigation to gather evidence and determine liability. This may include reviewing accident reports, interviewing witnesses, and analyzing medical records.
Expert negotiation: A rideshare accident lawyer will negotiate with insurance companies on your behalf, ensuring that you receive the maximum compensation you deserve. They will skillfully advocate for your rights and fight for fair settlement offers.
Proving damages: Your lawyer will work to establish the extent of your injuries and damages, including

medical expenses

, lost wages, pain and suffering, and future medical needs. They will gather medical records, consult with experts, and build a strong case to support your claim.

Navigating complex laws: Rideshare accidents involve unique legal considerations. An experienced lawyer will be familiar with the specific regulations governing rideshare services and will navigate these complexities to your advantage.
Litigation support: If necessary, a rideshare accident lawyer will be prepared to take your case to court. They will provide strong representation and fight for your rights in front of a judge and jury.
With a skilled rideshare accident lawyer by your side, you can have peace of mind knowing that your compensation will be maximized, allowing you to focus on your recovery and moving forward.
Contact a Rideshare Accident Lawyer in Chesterfield Now
A Chesterfield rideshare accident lawyer can play a crucial role in helping victims navigate their legal rights and seek maximum compensation. If you've been in a rideshare accident, don't settle for less.
With the help of a skilled rideshare accident lawyer, victims can maximize their compensation and receive the justice they deserve. Contact Morelli Law Firm now for a free case evaluation.