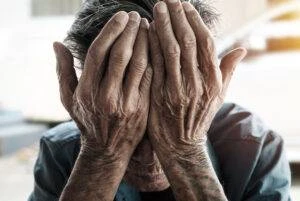 Nursing home abuse and neglect can put you or your loved one at risk of death. It must be stopped, but it can be hard to catch. If you suspect abuse or neglect by a nursing home or a long-term care facility, contact Morelli Law now.
Our personal injury lawyers in Chesterfield will explain your rights and tell you if your case may qualify for a lawsuit. You could get compensation to pay for better care and stop abusers from mistreating other residents. Your actions could save lives, so call us immediately for a consultation if you're suspicious.
How Morelli Law Firm Can Help You Protect Your Loved One
Most people in nursing homes can not contact a lawyer on their own because of their infirmity. If you believe your loved one has suffered from elder abuse, our Chesterfield nursing home abuse lawyers can help you:
Report the nursing home to the

Missouri Department of Health & Senior Services

Review past complaints against the home to see if there's a pattern of abuse and neglect

Handle all communication between you and all other parties related to your case

Gather evidence to support your claims of abuse

File a claim against the nursing home and negotiate a settlement

Take your case to trial if they will not settle
We encourage families to check in on their loved ones regularly. Many victims of nursing home abuse cannot report what is happening to them without fear of retaliation. Their health may not permit it either. Regular checkups can help you detect problems before they become life-threatening.
Detecting Abuse in Nursing Homes
Identifying the signs of elder abuse is a critical part of your claim. Without evidence of abuse, we cannot claim compensation. Here is what you should look for in your loved one when you visit. If you believe abuse is happening, contact Morelli Law immediately.
Physical Abuse
This is the easiest kind of abuse to identify because it leaves injuries and marks. Physical abuse can include bruises, burns, cuts, scratches, and similar markings. If your loved one can't or won't talk about how it happened, it may be abuse.
Other signs to look for include:
Repeated injuries, even if there is a reasonable excuse.

The use of restraints, which have legal limits on their use.

Not meeting medical needs like pain management, wound care, or medication schedules

Malnutrition or dehydration

Unusual drowsiness or lethargy

Unsanitary living quarters
If you believe your loved one is in immediate danger, you can call 911 on their behalf and have the police investigate what is happening. Sexual abuse of a resident needs immediate intervention because of the health risks.
Mental and Emotional Abuse
It's harder to detect mental and emotional abuse, but it can be even more harmful than physical abuse. Be wary if your loved one is showing fear, stress, or anxiety about being in the home, especially around care workers.
Mental and social withdrawal are also danger signs. Self-isolation could mean they're afraid of a worker or a resident that's abusing them. Staying away may make them feel safer, but shutting down like this can cause mental damage over time.
Any unusual change of behavior can also be a sign of abuse, including agitation, hopelessness, mood swings, a loss of interest in hobbies, and similar signs of depression or aggravation.
Financial Abuse
A more subtle form of abuse is financial abuse. Caretakers and scammers can do things to exploit the finances of the elderly. Someone in your family needs to monitor bank accounts, credit history, and any other financial data to make sure it's being used wisely.
Sometimes a scammer may even try to get legal power over their accounts. If this happens, it can be very difficult to free your loved one from their exploitation. If you notice unusual activity, call our Chesterfield nursing home abuse lawyers and your loved one's bank for advice on stopping it.
I Believe Abuse Is Happening. What do I Do?
You can begin by contacting law enforcement if there is danger, and you can file a complaint through the Adult Abuse & Neglect Hotline. You can also speak with a nursing home abuse lawyer for further legal advice.
If we can find evidence of abuse, you can sue the nursing home for what happened to you. Residents can also call us to do the same. A settlement can give you the money to heal the damage caused by an abuser and potentially move you to a different care facility.
Exposing abusers can also help other residents in the home feel safer. Most abusers will find new targets over time, and a culture of neglect may hang over the home because of financial or staffing problems. A lawsuit can expose what is happening and force the home to fulfill their duties to residents.
How We Can Help You
A Chesterfield nursing home abuse lawyer can take control of the situation and put the nursing home on notice for what's happening. Our team will gather evidence about what is happening and notify regulators, who may perform their own investigation.
If we believe you have a claim, you can sue for damages on behalf of your loved one. We will take care of the paperwork, the negotiations, and how much your case is worth. We will also take your case to court, if necessary, to get you the justice you deserve.
Contact Morelli Law's Nursing Home Abuse Attorneys
Your lawsuit can do more than protect your loved one. It can save the lives and mental health of other residents in a nursing home. Sadly, elder abuse is one of the least reported crimes. We urge you to visit your loved one regularly to watch for early signs of nursing home abuse.
If you suspect abuse, call Morelli Law immediately for a free consultation. We will hold whoever harmed your loved one accountable and help you get justice. Your call to us may be the best thing you can do to protect your loved one from an abuser. Call now.