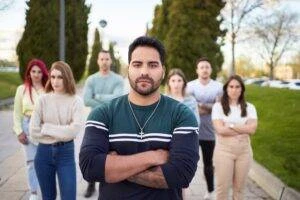 You've suffered financial losses or personal injury due to another party's wrongdoings, yet seeking justice through individual litigation can be overwhelming. A class action provides hoped-for relief by allowing a group's similar experiences and claims to be addressed efficiently.
At Morelli Law Firm, our Carbondale personal injury lawyer pursues people and entities that have wronged you. In the context of a class action lawsuit, where several people have suffered injuries and losses, we're here to help you win collectively.
Potential Benefits of Joining a Class Action
When common harms have impacted many individuals, joining together in a class action can have considerable advantages over filing separate lawsuits. Some potential benefits of joining a class action include:
Group resources and strength in numbers

: The combined financial and legal resources of all plaintiffs increase bargaining power against well-funded defendants.

Economies of scale

: Our Carbondale class action lawyer's work and costs are spread across all members, improving access to legal representation for individual claims.

Efficiency

: One court settles common issues simultaneously instead of duplicating individual lawsuits. This speeds up the compensation process.

Precedent-setting

: Favorable class rulings establish groundwork enabling easier settlement or success of other similar cases.

Public impact

: Widespread harm to

consumers

is publicly addressed, potentially influencing change in corporate policies or laws to benefit future consumers and communities.

Notification

: Class members learn of potential legal rights and recourses through formal notices of pending class certification and resolutions.
Potential Disadvantages of Joining a Class Action
While class actions provide clear advantages for plaintiffs, there are some potential downsides to consider as well. These include:
Loss of autonomy

: As a class member, your individual litigation decisions and claims are decided through the class representatives rather than by yourself alone.

Delayed resolution

: Certifying and settling a class case takes more time than resolving a single case, so compensation may be delayed.

Potentially lower recovery

: The total settlement amount must be divided among all class members, so individual awards may be smaller than pursuing your own lawsuit.

Higher standards

: Class certification and settlement require meeting stringent legal standards, so there is no guarantee the case will succeed, or the class will be certified.
In some situations, an individual lawsuit may be preferable if a higher payout or maintaining control over the case is a higher priority than the benefits of joining a class. To find out the best legal path for you, you can consult with one of our Carbondale class action lawyers at Morelli Law Firm.
Legal Standards that Need to be Met for a Class Action to be Certified
For a class action lawsuit to be certified means that the court has formally approved allowing the case to proceed as a class action rather than an individual lawsuit. The following legal standards must be met:
Numerosity
The class must be so large that individual joinder is impracticable, usually dozens or hundreds of plaintiffs. This is to ensure that proceeding as a class action rather than through individual lawsuits is necessary. The exact threshold for the number of class members varies between courts, but generally, if the class is over 40 plaintiffs, numerosity is satisfied.
When evaluating numerosity, courts will look at not just the total number of potential class members but also factors like the geographic diversity of the members and the difficulty of joining similarly situated persons. Even a lower number of plaintiffs can meet this standard if individual joinder seems exceedingly difficult or inefficient.
Commonality
There are common questions of law or facts shared among class members. For commonality, at least one issue that applies to all or most class members must exist.
This common question does not need to resolve the entire controversy alone. Individual questions can remain after the common issue is addressed. However, the shared question must be central enough that its resolution would significantly advance the litigation for all plaintiffs in one proceeding rather than countless individual ones.
Typicality
The class plaintiff representatives' claims are similar to the class. To satisfy typicality, the class plaintiff's claims or defenses need to be representative of those of the other class members.
While not all plaintiff representatives and class members must be identically situated, their interests should align such that pursuing the agents' cases will inherently advance those of the others as well.
Predominance
For a class action to be certified, common questions must be more important than individual ones. The court decides if trying to resolve the issues shared by the whole class at once, rather than separately for each person, would be more efficient.
If the central claims and biggest legal questions are common to everyone in the class, like whether a product had a dangerous defect or if a company broke the law in the same way with many people, that suggests a class action could work well.
But if most of the time in court would need to be spent gathering different facts and evidence about each person separately, it may not be practical to have a class. The focus should be on figuring out the important questions that unite the group, not getting lost in individual differences.
Superiority
A class action may be superior if it would be too difficult for individuals to pursue their own separate lawsuits, such as if the amounts of money at stake are small. Or if a group is unlikely to file many individual cases due to fears of retaliation or the time and cost involved.
Organizing the claims into a single class action gives people access to legal help who might not otherwise get their day in court. However, if there are simpler ways to group together related cases, like consolidating them or using test plaintiffs, then a class action may not be required.
Manageability for the court system is also a factor. The goal is fair resolutions without excessively complex or difficult management of the large group of people involved through one proceeding.
How a Carbondale Class Action Attorney Can Help
Dealing with a potential class action case alone can be intimidating. An experienced Carbondale class action attorney can efficiently guide you through the process. We will evaluate if the case meets certification standards to proceed as a class. If so, our attorney will compile evidence and handle the certification step.
Once the class is certified, we will negotiate settlements on behalf of the entire class. This spares people from extensive litigation efforts.
Contact Us to Start Your Carbondale Class Action Case Today
At Morelli Law Firm, our team of class action attorneys in Carbondale can help you start your class action lawsuit against the negligent parties. We offer a free case evaluation, and we can answer any questions you have about your case.
Contact us for a free consultation and start your path toward justice today.