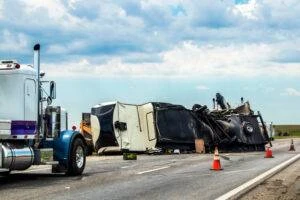 A Clifton fatal truck accident lawyer can help the surviving family members pursue damages after the wrongful death of a loved one. Truck accidents can be stressful since many parties can share liability. But wrongful death truck accidents are particularly complicated because it is necessary to determine liability and also calculate damages.
If you lost someone in a wrongful death caused by a truck accident, a Morelli Law attorney could help you file a claim for damages and recover compensation that helps you cover your loved one's medical and funerary costs. Compensation can also help your family get closure and move on after a difficult loss.
Common Causes of Fatal Truck Accidents in Clifton
Fatal truck accidents can occur in many ways. However, there are common causes for fatal truck accidents in Clifton. Some of the cases our attorneys attend every day are caused by:
Fatigued drivers:

Driving a truck can be an exhausting activity. Truck drivers are not allowed to work more than 60 hours in seven consecutive days. However, some trucking companies push drivers to their limits by making them drive for longer hours.

Distracted drivers:

Texting while driving is one of the main forms of distracted driving. However, a driver can get distracted in many ways, such as eating or using a GPS.

Poor road conditions:

Sometimes the reason for a fatal truck accident is a hole in the road, lack of signaling, or malfunctioning traffic lights. In those cases, the

New Jersey Department of Transportation

can be liable.

Driving under the influence:

Truck drivers under the influence are particularly dangerous on the roads since their vehicles tend to be heavier and larger than most and can cause greater damage.

Mechanical failure:

Defective truck parts and broken pieces, such as broken-down steering components, brake systems, and transmissions, cause some accidents.

Unbalanced or unsecured load: When the cargo is not properly secured, it can get loose on the road and cause a fatal accident.
How Can a Fatal Truck Accident Lawyer in Clifton, NJ, Help?
There are some things a fatal truck accident lawyer can do to help after an accident, such as negotiating with insurance companies and representing you in court if necessary. But an experienced law firm can do much more than that. These are some of the functions of our fatal truck accident lawyers in Clifton.
Proving Liability in a Fatal Truck Accident Case
Many parties can be liable for a fatal truck accident. That's why it is important to determine liability before filing a claim for damages. Some of the liable parties may include:
Truck drivers
Car drivers
Pedestrians
Truck cargo loaders
The trucking company
Investigating a Fatal Truck Accident
After determining liability, your attorney should be able to prove how they are responsible for the accident and for paying your damages. Your lawyer must talk to eyewitnesses or collect evidence to do that. An experienced attorney can conduct a private investigation to gather all the needed evidence.
Your Clifton truck accident lawyer can access CCTV footage from nearby businesses, police and medical reports, and the trucking company schedule and maintenance reports. And if you have any documents or information supporting your case, your attorney will know the best way to use it.
Presenting a Case for a Truck Accident Lawsuit
Your fatal truck accident lawyer will determine liability, gather evidence, and then they will build a strong case to support your claim for damages. After that, your lawyer will present the case to the liable parties and their insurance to try and reach an off-court financial agreement, which tends to be the best and fastest way to solve a claim.
However, reaching an agreement with the other party is impossible sometimes. In those cases, your attorney will be ready to escalate things, file a legal suit for damages against them, and represent you in court to get the compensation you deserve.
Do I Need a Truck Accident Wrongful Death Lawyer?
An accident is considered fatal when lives are lost. And talking to a wrongful death attorney may be the best way to preserve your right to claim damages. An experienced law firm can listen to your story and help you determine which law professional you need for your case.
However, hiring an attorney as soon as possible is important since there are many things to consider before filing a wrongful death claim. For instance, only some relatives can file a loved one's wrongful death claim, such as adult children, spouses, and parents. In addition, legal representatives of the victim may also be entitled to pursue damages.
Damages You Can Recover After a Fatal Truck Accident
Commercial truck accidents can cause severe injuries and property damage. But many victims can also experience non-economic damages, such as pain and suffering, emotional trauma, or the loss of an important family member.
A fatal truck accident lawyer can help the victim's family to recover damages such as
Medical Expenses
Funeral and Burial Expenses
Lost Income
Pain and Suffering
Loss of Companionship
Talk to a Fatal Truck Accident Attorney in Clifton, NJ Today
A fatal truck accident can be the reason for a loved one's wrongful death. But it can also affect family finances since medical bills after an accident are expensive, not to mention the cost of funeral and burial or the loss of the household's main provider.
If you lost a loved one in a fatal truck accident in Clifton, New Jersey, a fatal truck accident lawyer can help you navigate the legal process of filing a claim for damages. Contact our New Jersey office today, and let us answer all your questions in a personalized first consultation free of charge.