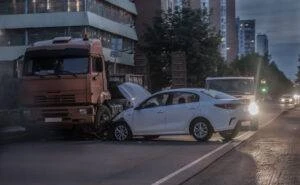 Truck drivers take on a considerable duty of care when they hit the road. The size and weight of the average semi-truck make it particularly difficult to control. These trucks are subsequently exceptionally dangerous in the hands of inexperienced, negligent, or reckless drivers. Unfortunately, unchecked negligence can result in truck accidents, which may then prove fatal.
Losing a loved one in an avoidable truck accident can leave you and your loved ones contending with immeasurable anger and grief. New York recognizes that and allows families like yours to take action in civil court. You can work with a fatal truck accident attorney in Long Beach, NY, to hold a negligent party accountable for the financial fallout of a loved one's death.
Who Can File a Wrongful Death Claim in New York?
Everyone deserves space and time to grieve after a loved one's unexpected passing. In the midst of that grief, though, certain parties earn the right to pursue a civil claim, or personal injury lawsuit, on behalf of the departed party. New York Consolidated Law §4-1.1 dictates who among the deceased's relatives may file a claim for damages on their behalf.
New York specifically allows the deceased party's parents, spouse, or children to bring a civil claim forward in their name. The deceased's personal representative or executor can also act in court in their stead.
This does, unfortunately, mean that the deceased's siblings or non-marital partners may be barred from legal action on that individual's behalf. However, all parties interested in representing a deceased individual in civil court can participate in a free fatal truck accident case consultation.
Interested parties can ask questions throughout these consultations to clarify their roles and explore what other courses of action may be available to them.
Why Should You File a Wrongful Death Claim?
It's rare for someone to dive straight into the world of civil claims to cope with a loved one's death. You need time to grieve, and that grief can take a long time to heal. What's more, pursuing a claim against the party responsible for a loved one's death can leave survivors like you contending with difficult emotions, particularly if you have to face a liable party in person.
That said, there are inherent benefits to the pursuit of a wrongful death claim in the wake of a fatal truck accident.
You Can Control Your Contact With a Liable Party
The other party involved in your loved one's fatal truck accident, be that a corporation or an independent driver, is probably going to have opinions about how you live your life after a loved one's passing. While not every liable party is insensitive to your loss, some may try to get ahead of the accident's narrative to mitigate the blame they might otherwise take.
If you work with an attorney to tackle your loved one's fatal truck accident, you can get ahead of that behavior. What's more, you can control how you interact with a liable party should that party try to intimidate you out of legal action or offer you a post-accident settlement. You can always direct a liable party to your attorney instead of talking to them directly.
What's more, you get to decide how you continue to interact with that party after you submit a fatal truck accident claim to a civil judge. You can work with our team ahead of time to decide either to pursue out-of-court negotiations or a civil trial.
If you think a liable party may prove belligerent in negotiations, you can skip in-person meetings entirely in favor of a judge and jury's input on your case.
You Can Secure Loss-Based Damages
No one warns you about how expensive a loved one's unexpected passing can be. Unfortunately, you pay for a loved one's death with more than grief. You may also find yourself contending with a loved one's remaining debts, medical expenses, and funeral costs.
You don't have to take on those expenses alone, though. If you file a personal injury claim against the party liable for your loved one's death, a court may make them provide you with the financial support you need to pay your loved one's bills. That support could even help you supplement a loved one's income if you relied on your loved one for economic support.
The damages that a loved one's fatal truck accident may entitle you to can include:
Medical expenses
Property damage and subsequent repair or replacement
Lost wages while on leave
Funeral expenses
Emotional distress
Mental anguish
Loss of consortium
Loss of companionship
Loss of a family member's supporting income
Do You Need an Attorney's Help to File a Wrongful Death Claim?
So long as you can legally represent a deceased party in a fatal truck accident case, you may not need an attorney to fight for post-death compensation. That said, working with an attorney tends to make your pursuit of fatal truck accident compensation more straightforward.
Consider this: the question of liability in a fatal truck accident case tends to grow more and more complicated the longer you think about it. First, you have to ask yourself if you have the evidence to prove that negligence resulted in your loved one's passing. Second, you have to determine what impact a truck driver's contract has on your right to hold them liable in court.
Instead of trying to teach yourself contract law or the basics of investigation, you can turn your case over to an experienced attorney. Long Beach fatal truck crash lawyers can put our considerable experience to use bringing forward evidence of negligence relevant to your case. We can also untangle contract details while you focus on taking care of yourself and your family.
When Do You Need to File a Wrongful Death Claim By?
New York allows families of a loved one lost in a fatal truck accident up to three years to investigate that loss. You must bring a relevant fatal truck accident claim forward within three years of your loved one's passing if you want to qualify for the right to legal action. New York elaborates on this statute of limitations in New York Civil Practice Law & Rules section 214.
If you can't bring a reasonably-compiled complaint forward by the third anniversary of your loved one's death, New York courts may waive your right to accident compensation. This, fortunately, is where working with an attorney can prove to be your smartest course of action.
While you focus on compensating for lost compensation and addressing your grief, we can work with your filing deadline in mind. Professional fatal truck accident lawyers in Long Beach, NY, make it easier for you to get your finalized complaint to a judge before your statute of limitations expires.
Morelli Law Firm Stands With You After a Loved One's Death
No one should have to contend with the death of a loved one alone. Now's the time to keep your loved ones close and grieve. That said, you shouldn't have to compromise your right to justice while you're taking care of yourself emotionally. You have the right to take the party responsible for your loved one's death to civil court – but how can you balance your time?
Let Morelli Law Firm's fatal truck accident lawyers in Long Beach take on your case. We can cut the Gordian knot of liability and draft you a complaint that holds the right parties accountable for their fatal misconduct. You can contact us online or by phone to schedule your first free case consultation with our experienced truck accident wrongful death lawyers.