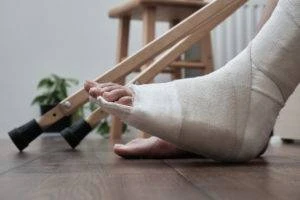 As the world's largest retailer, Amazon ships a massive quantity of goods every day. This means that the company puts a great number of commercial trucks on the roadway. Consequently, these trucks are involved in a significant number of accidents every year. Because of their size and weight, Amazon truck accidents often result in severe injuries.
If you suffered an injury in an accident caused by an Amazon truck, the cost of your medical bills alone can be incredibly high. Recovering compensation from the liable party can be critical to cover these expenses. At the Morelli Law Firm, our team of Amazon truck accident lawyers in Union City, NJ, is ready to help you with a free consultation.
Determining Fault After an Amazon Truck Accident
Proving liability after an accident can be challenging. If Amazon is at fault for your damages, they are certainly going to attempt to shift the blame onto another party. Fortunately, an experienced truck accident attorney will know how best to go about sorting out responsibility as they build your case and fight to get you the compensation you need and deserve.
Damages You Can Recover After an Amazon Truck Accident
After a car accident with an Amazon truck in Union City, NJ, you will likely be able to pursue a wide range of compensatory damages. Don't let yourself be intimidated by the prospect of going up against a large corporation. You need to realize that despite their money, these companies are still responsible for their actions like everyone else.
All compensatory damages get divided between the overarching categories of economic and non-economic damages.
Economic Damages
Any losses you incur as a result of your accident that directly impact your finances are considered economic damages. Economic damages account both for the money you are forced to spend and the money you are unable to earn because of your accident. Furthermore, economic damages can cover both your current and projected future losses.
Common economic damages you will likely be eligible to claim after an Amazon truck accident include:
Lost income
Lost earning ability
Medical bills
Future medical expenses
Property damage
Non-Economic Damages
Any other losses you face as a result of your truck accident are grouped into the much broader category of non-economic damages. Non-economic damages are most often irreplaceable and irreversible. Because of the profound nature of these losses, the money awarded for non-economic damages is often substantial.
Common non-economic damages you will likely be eligible to claim after an Amazon truck accident include:
Permanent disability
Loss of consortium
Diminished quality of life
Pain and suffering
Emotional distress
Following an accident, an Amazon truck accident attorney in Union City, NJ, can help you determine what damages apply to your case. Beyond the compensatory damages listed above, you may also be eligible to claim punitive damages. Punitive damages are reserved for cases where the liable party was criminally negligent or acted with the express intent of causing harm.
Don't Trust the Insurance Company
Insurance companies work hard to portray themselves as your friendly neighbors, available to lend a helping hand when you are in need. The reality is that these companies care far more about their bottom line than they do about claimants. Insurance providers have a long list of tricks they will employ in an effort to deny or devalue your claim.
Unfortunately, many accident victims buy into the narrative that the insurance adjuster is just trying to be helpful. Because of this, claimants often follow the lead of the insurer without consulting an experienced attorney. This course of action typically results in the accident victim receiving a minimal payment for their losses and forfeiting their right to pursue further damages.
It is always going to be in your best interest to speak with an experienced attorney before discussing your case with an insurance company. Aside from making the initial report of the accident to your own insurer, you should avoid speaking with an insurance adjuster directly. Letting your lawyer handle all communication with the insurer will level the playing field.
Be Mindful of the Statute of Limitations for Filing a Lawsuit
When filing a lawsuit after an accident it is critical that you pay attention to the statute of limitations. In New Jersey, accident victims typically have two years from the date of the incident to file a lawsuit against the liable party. If you don't file before the two-year limit has passed, you will likely lose your right to pursue damages.
However, you must also realize there are exceptions to the statute of limitations that could apply to your case. Depending on the specific circumstances of your accident, this could mean that you still have the right to pursue a lawsuit even if the standard two-year mark has already passed.
At the same time, an exception could end up further limiting the amount of time you have to file a lawsuit. The best way to protect your right to pursue damages after an Amazon truck accident in Union City is by hiring an experienced lawyer. Your attorney can identify the deadlines that apply to your case and make sure all paperwork gets filed on time.
Choose a Law Firm With a Proven Track Record
When you are pursuing legal action against a large corporation like Amazon, it is crucial that you are represented by an attorney with a proven track record of getting their clients significant compensation in these types of cases. At the Morelli Law Firm, our Union City Amazon truck accident lawyers have won many cases against large companies with deep pockets.
Contact us through our online contact form or over the phone to schedule a free consultation with a member of our team today.