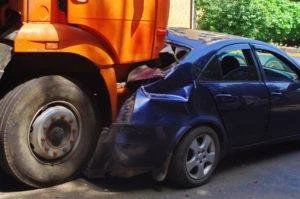 Collisions with 18-wheelers and other large trucks can be disastrous, leading to catastrophic injuries that can interfere with your day-to-day life and ability to work. If you or someone close to you has been injured, or if a loved one died in a serious truck accident, you may be entitled to compensation.
The St. Louis 18-wheeler accident lawyers at our firm offer a free consultation where we'll discuss the financial recovery we can pursue on your behalf. Let us battle with the trucking company and their insurance company so you can begin putting your life back together.
Who Is At Fault In St. Louis 18-Wheeler Accidents?
Missouri is an at-fault state, which means the party responsible for your accident is usually liable for your injuries. One of the most challenging parts of the claim process is determining who is responsible for the accident.
Semi-truck crashes are more complicated than the typical car accident because multiple parties could share fault in the accident. The liable parties could include:
Truck driver
Truck or parts manufacturer
Truck owner
Whoever is leasing the truck
Commercial shipping company
Commercial vehicle accidents also have certain obstacles that can prevent you from recovering monetary compensation. For example, corporate insurance companies and their attorneys are probably actively working against you to reduce the value of your claim. Our St. Louis personal injury lawyers will represent your interests so that you can focus on getting the treatment you need to move on with your life.
How Much Is My 18-Wheeler Crash Case Worth?
Each truck accident case is unique, so it's impossible to tell you exactly how much your personal injury claim is worth without knowing the details of your case. Many variables exist that can impact the value of your case, including:
The medical treatments you need now and will in the future
The extent of your pain and suffering
Your ability to work following the crash
Whether or not you will make a full recovery
The defendant's culpability in the accident
Talking to an experienced truck accident lawyer about your case can help you understand how various factors may impact your claim. Whatever the circumstances of your injury, hiring a skilled truck accident attorney will help ensure that you are rightfully compensated.
Who Can I Hold Liable for My Missouri Trucking Accident?
Statistics show that a large percentage of accidents are caused by truck drivers. However, if you were hurt in a trucking accident that was not your fault, you may be able to hold multiple parties liable. To find out who is liable, talk to an experienced truck accident attorney who can investigate your crash and determine liability.
The following parties may be held responsible for your collision with an 18-wheeler:
The trucking company
The truck driver
Cargo owners
Other motorists
A truck's manufacturer or maintenance company
Will My St. Louis Truck Collision Case Go to Trial?
Most 18-wheeler accident cases settle before trial. However, this will depend on the nature and extent of your injuries, the strength of your case, and your lawyer's ability to convince the trucking company and insurers that they do not want to risk going to trial.
Whether your case ends up in court or not, you'll benefit from having a skilled lawyer who knows the law and has experience with these types of cases.
St. Louis Trucking Accident Laws
According to Missouri law, if you were partially responsible for a semi-truck accident, you could lose some of your compensation due to Missouri's comparative fault system.
Also, it's important to realize that Missouri has a statute of limitations for motor vehicle accidents. According to Missouri Revised Statutes § 516.120, anyone injured in a car or truck accident has five years from the date of the collision to file a civil lawsuit.
That said, there are certain exceptions to this rule that can either shorten or lengthen the amount of time you have to file your claim. In light of these exceptions and the fact that evidence can be lost over time, you should avoid waiting to pursue compensation.
Instead, reach out to a knowledgeable truck accident lawyer as soon as possible so they can begin working on your case. An experienced St. Louis truck accident attorney can help you determine who is liable for your accident and how much compensation you can pursue.
Following a St. Louis 18-Wheeler Accident, Do You Need a Lawyer?
If you've been injured in a truck accident, you have enough to worry about. Our initial consultation is free, and we will be happy to discuss all of your legal options. When you partner with us, our legal team can:
Investigate your accident and gather the evidence that you need to prove who was at fault
Negotiate with the insurance companies on your behalf and pursue a fair settlement
Review settlement offers to determine whether they reflect the true value of your case
Bring in experts, such as vehicular accident reconstructionists, to help substantiate your claims
Take your case to trial, if needed, and fight for a successful resolution to your case
Answer any questions and concerns you have along the way
Get a Free Case Review from a St. Louis 18-Wheeler Accident Attorney
If you or a loved one sustained an injury in a trucking accident, don't wait for the other party's insurance company to come to you. Instead, be proactive by contacting the Morelli Law Firm today for a free consultation. Our St. Louis 18-wheeler accident lawyers are ready to investigate the crash and hold the negligent trucker responsible for the damage they've inflicted.
During your free case review, we can discuss the details of the accident and determine whether you are eligible to receive compensation for your injuries. Allow us the opportunity to fight for maximum compensation on your behalf. Contact us today!