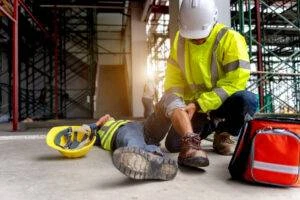 Construction jobs are among the most dangerous forms of employment. From heavy machinery to extreme heights, there are a variety of hazards on a worksite. If you have suffered an injury while on the job, you have options for recovering compensation. Depending on the details of your accident, you can either file a workers' compensation claim or a personal injury lawsuit.
When dealing with an injury that prevents you from working, recovering damages can be essential. At the Morelli Law Firm, our team of St. Louis construction accident lawyers has helped countless people hurt on the job recover the compensation they need. Reach out today by giving us a call or using the contact form on this website and schedule your free consultation.
Who is Liable for a St. Louis Construction Accident?
Figuring out your options for pursuing compensation after a construction accident will hinge upon who is liable for the damages. In many construction accident cases, submitting a workers' comp claim is the only option. If your injury was caused by an unavoidable hazard of the job, you will not be able to file a lawsuit to get the money you need.
However, there are several situations where you can sue your employer or another party for damages. In a dangerous industry like construction, your employer is required to provide you with a reasonably safe work environment. This means eliminating hazards that present an unnecessary risk.
If your employer fails to minimize the dangers or provides you with substandard safety equipment, they open themselves up to a lawsuit. Furthermore, should your employer deliberately harm you, you have the right to sue. You can also file a lawsuit against a manufacturer if injured by a defective tool or a third-party driver if you are struck while on the job.
Recoverable Damages Following a Construction Accident in St. Louis
Following a construction accident, there are a variety of damages you will be eligible to claim. However, the particular damages you can claim will depend on the details of your case and how you are pursuing compensation. For example, if you are filing a workers' comp claim, you will not be able to receive non-economic damages, as you would through a lawsuit.
Economic Damages
Any financial losses resulting from your construction accident belong in this category. You can recover economic damages for any money you were compelled to spend because of your accident, as well as any income you were unable to earn. Economic damages are not limited to current losses. You can also recover compensation for projected future losses.
Following a construction accident, some of the most frequently recovered economic damages include:
Lost income
Diminished ability to earn income
Medical bills
Future medical bills
Property damage
Non-Economic Damages
Non-economic damages cover all other losses caused by your construction accident. Rather than impacting your bank account, these losses tend to do damage on a far more personal level. Since these damages are often profound and irreplaceable, the money awarded for non-economic damages is often quite substantial.
Following a construction accident, some of the most frequently recovered non-economic damages include:
Pain and suffering
Lessened quality of life
Mental anguish
Emotional distress
Loss of consortium
Punitive Damages
In rare cases, construction accident victims are also able to recover punitive damages through a lawsuit. These damages are meant to punish the liable party for their role in the accident rather than replace losses suffered by the accident victim.
Punitive damages are reserved for extreme cases where the liable party's actions were grossly negligent or carried out with the intention of causing harm.
Settling Vs. Going to Trial
It is critical to understand the pros and cons offered by settling your case as opposed to going to court. While taking your case to trial can potentially result in a higher payout, the risk is rarely worth the reward. By settling, you avoid the unpredictability of a trial while recovering compensation far more quickly than you would through a court ruling.
Settling is typically in the best interest of the defendant as well. In addition to avoiding the potential to pay a large sum through a court ruling, settling offers the defendant the added benefits of reduced legal fees and avoiding unwanted publicity that will likely accompany a trial.
Submit the Required Paperwork on Time
When filing a workers' comp claim in Missouri, you need to report the accident to your employer within 30 days. You will then have two years from the date of the injury to file your official workers' compensation claim. When pursuing a construction accident lawsuit, the deadline for filing is five years from the date of the accident.
If you miss your filing deadline, you will likely be out of options for recovering compensation. However, you should keep in mind that the deadline can be altered in certain circumstances. Depending on the specific circumstances surrounding your case, you could find that you have either more or less time to file than normal.
Hiring an experienced construction accident attorney in St. Louis is the best way to avoid losing your right to recover compensation due to an unexpected deadline.
Get a Free Consultation With an Experienced Construction Accident Lawyer in St. Louis Today
Hiring an attorney to help with your case can significantly improve your odds of recovering fair compensation. It is essential that you choose a lawyer with a history of handling cases similar to yours and a track record of recovering favorable compensation, both through settlements and court-ordered payouts.
At the Morelli Law Firm, we will work tirelessly to ensure you recover the money you need and deserve after a construction accident. Schedule a free consultation today by giving us a call or completing our online contact form.