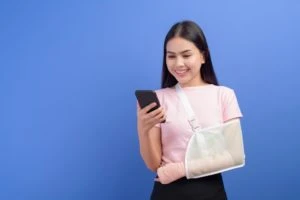 American consumers and retailers love that they can get their packages transported quickly through FedEx, but the massive shipping company's speed comes at a price. Many FedEx drivers feel pressured to speed and drive recklessly to complete their deliveries on time.
If you've been injured in an accident caused by a FedEx driver, the team at Morelli Law is here to aid you in your recovery. Our FedEx truck accident attorneys in St. Louis will evaluate your losses, prove the at-fault driver's negligence, and demand that insurers provide a settlement that compensates for your losses and suffering.
Our St. Louis Truck Accident Attorneys Have Won Against FedEx Before
Taking legal action against a large company like FedEx can be extremely complex and virtually impossible for someone without a background in personal injury law. If you want the compensation you need to treat your injuries and make up for missed work days, you need to hire an attorney with experience taking on powerful corporations.
Our truck accident lawyers in St. Louis have gone up against FedEx's insurance adjusters and obtained hefty settlements for past clients. They know how to present your case effectively and convince insurers to offer the compensation you need to replenish your losses and cope with your pain and suffering.
Choose a truck accident attorney from Morelli Law to get the expert legal adviser and representative you deserve. To learn more about our team's impressive experience and achievements, visit the case results pages on our website.
Compensation You Can Get from a St. Louis FedEx Truck Accident Claim
Depending on the severity of your injuries and their effect on your life and livelihood, you may be entitled to receive a number of different truck accident damages. Your St. Louis FedEx truck accident attorney will ensure you get the right compensation for the losses you've taken.
Truck accident damages available to legitimate claimants include:
Economic Damages
Economic damages can be added to your claim to make up for tangible losses you've taken on due to your FedEx truck crash. Use these damages to pay for medical treatment, prescription medication, rehabilitative therapies, and auto repair.
These damages can also make up for income you've lost while taking time off from work to go to the doctor, receive hospital treatment, and get the rest you need to heal. If your injuries have permanently decreased your ability to earn money, economic damages can help you support yourself.
Non-Economic Damages
Non-economic damages are usually requested to compensate for the emotional turmoil and physical pain one is forced to endure after an auto accident. If the crash has left you with feelings of anxiety or symptoms of Post-traumatic stress disorder (PTSD), your lawyer will add these damages to your claim.
If your injuries have been causing you to experience an unreasonable amount of physical pain, these damages can help you cope with your suffering. Non-economic damages can also be requested if your injuries have impacted you so much that your quality of life has been diminished.
Our FedEx Truck Accident Lawyers Will Investigate Your Collision
To get the damages you need to pay your medical bills and get your car fixed, your St. Louis truck accident lawyer must prove that the FedEx driver's negligence caused the crash. To prove negligence, your attorney will investigate your collision and obtain the following pieces of evidence:
Police report
Video footage of the collision
Photos of the accident scene and vehicle damage
Your medical records
Testimony from an accident reconstruction expert
Eye-witness testimony
In some cases, driver negligence might not be the main cause of the accident. In fact, FedEx truck collisions can also be caused by improper cargo loading, poor truck maintenance, defective truck parts, and the negligence of other drivers.
Your lawyer will conduct a thorough investigation to find out how your accident occurred and who should be held responsible. Once the liable party has been identified, whether it's the driver, a third party, or FedEx itself, your attorney will file a claim with the appropriate insurance company.
Dealing With FedEx's Insurance Company After a Truck Accident In St. Louis
Filing a claim and negotiating a settlement with a large company's insurance provider can be incredibly difficult. FedEx's insurers will likely do everything in their power to discredit your injuries, minimize your settlement, or deny your claim.
Fortunately, the FedEx truck accident lawyers from our office in St. Louis know how to go up against stubborn insurers and win. They'll use their expert negotiating skills to get insurance adjusters to agree to a settlement that will allow you to pay your bills and move on with your life.
If you receive a phone call from FedEx's insurance company in the weeks following your accident, don't talk to them unless your attorney is present. It's common for insurers to offer early lowball settlements or try to get claimants to say something that jeopardizes their claim. Our firm will handle all communications and negotiations with the relevant insurance provider.
Steps to Take After a FedEx Truck Accident
If you've been involved in an accident with a large commercial truck, we highly recommend that you seek medical attention immediately. That being said, if your injuries aren't too severe or debilitating, you can take the following steps to strengthen your claim:
Call the police: calling the police is a crucial step, as their report of the incident will add credibility to your claim. They can also help to facilitate the change of insurance information between you and the truck driver.
Exchange information: Exchange contact and insurance information with the FedEx truck driver. If the driver is unwilling to cooperate, local law enforcement can compel them to provide the necessary information.
Take photos: Take photos of your injuries, vehicle damage, and the accident scene. A FedEx truck accident lawyer from our team in St. Louis can use the photos you take as evidence for your claim.
Talk to witnesses: If anyone saw the crash happen, try to talk to them and take down their names and contact information. If necessary, your attorney can call on them later to provide testimony.
Once you've completed these steps, it's important that you speak to an attorney as soon as possible. Missouri Revised Statutes § 516.120 states that truck accident claimants like yourself have five years from the day of their crash to file a lawsuit.
While five years may seem like a long time to file a suit, it's always best to take legal action sooner rather than later. Doing so will ensure that your lawsuit isn't thrown out. Pursuing a suit immediately after an accident will also show the court that your injuries and losses are legitimate.
Speak to a St. Louis FedEx Truck Accident Attorney Today
The FedEx truck accident attorneys at our firm in St. Louis are uniquely qualified to litigate your claim. They've pursued many successful lawsuits and claims against the shipping company before, and they're willing to use their experience to help you.
They'll do everything they can to persuade insurers to offer a fair settlement and won't back down from a long and difficult legal battle. To get the compensation you're entitled to, contact Morelli Law today. We'll meet with you in a free case evaluation to determine if we can take on your case.