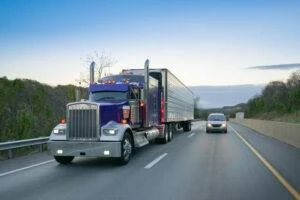 When people picture a semi-truck in their minds, the immediate image is one of an 18-wheeler truck. These large powerful vehicles haul goods all around the country, but they're among the most dangerous of vehicles in a crash. If you've been hit by one and live in Chicago, call Morelli Law.
Our truck accident lawyers in Chicago can help you get the compensation you need after a negligent trucker crashes into you. We can also help you if you've lost a loved one in such an accident through filing a wrongful death claim against the trucker and their employer.
Are 18-Wheelers and Semi-Trucks Different?
An 18-wheeler is a type of semi-truck. A semi-truck has a semi-permanent trailer attached to it. These may be large or small. An 18-wheeler is a particular type of semi-truck that uses 18 wheels across the cab and the trailer.
This setup lets them carry much heavier loads for longer distances without refueling. They're an essential part of our transportation infrastructure. You can see them on highways and freeways across Chicago delivering goods to businesses and hauling away items from our factories.
It takes a skilled driver to control these vehicles and deliver cargo in a timely manner. It just takes one moment of negligence for a trucker to cause a devastating crash. While these drivers can get injured in crashes, the smaller vehicle almost always suffers more damage.
Trucking Industry Regulations
The Federal Motor Carrier Safety Administration (FMCSA) regulates the trucking industry. Truckers must also follow FMCSA rules like taking mandatory breaks, maintaining their trucks, and carrying larger insurance policies.
When we investigate your case, we will look over driving records and black-box recordings to see if these laws were broken. If so, we can hold the trucker and their employer accountable for what happened to you and file a claim for compensation.
Morelli Law knows the rules that truckers must follow, and they know how they and their companies may try to skirt them in pursuit of more profit. Don't let them try to blame the accident on you. Hire us to protect yourself after an 18-wheeler accident in Chicago.
Who Is Liable in an 18-Wheeler Accident?
Unlike standard collisions, there may be multiple parties responsible for your injuries. This complicates the claim process. Most cases involve the truck driver and their employer, but other parties include:
The owner of the truck

The people who loaded the truck or forwarded the freight

Mechanics who worked on the truck

Truck or trailer manufacturer

Parts manufacturers

Governments (e.g., poor road conditions that should have been repaired)
A Chicago 18-wheeler truck accident lawyer can identify which parties are liable and help you pursue damages against all of them. Our investigation team will discover what caused your accident. From that, we can know who to target.
There is also a chance you share some responsibility for the accident. You can still collect damages as long as you are under 50% at fault. Over that amount and you will have to pay the other side. Any percentage of fault you have will reduce your final compensation by that much under Illinois' comparative negligence law.
What Damages Can I Claim After My Accident?
The most immediate damages will be your injuries and their treatment, but there are other damages you can claim as part of your accident. An insurance company may try to settle with you before a lawyer can help you learn the full value of your damages.
You can get compensation after an 18-wheeler truck accident for things like:
Past and future medical expenses related to your accident

Lost wages and lost potential income

Pain and suffering

Loss of enjoyment of life

Disability

Loss of companionship

Funeral and burial expenses in wrongful death claims
If you have lost a loved one and they could have sued successfully if they lived, our firm can help you make a wrongful death claim. These have a shorter window of opportunity for claiming damages and have different rules than other personal injury claims. We urge you to contact us as soon as possible after your loss to maximize your chance of a favorable outcome.
Morelli Law Has Won Millions for Truck Accident Victims
We have decades of legal experience and a long track record of successful results for our clients. We've recovered over $1 billion in compensation and successfully litigated against some of the most powerful companies in the country. Some of our previous truck accident case results include:
$3 million for victims of an accident that happened on an out-of-state highway

$5.4 million for a delivery driver who suffered severe injuries in a collision

$11.2 million for a woman who sustained injuries in an accident with a speeding truck
Every case is unique and your damages may not reach these levels. However, with our help, we will maximize how much you'll get to the best of our ability and the circumstances of your 18-wheeler truck accident.
Illinois only has a two-year statute of limitations for personal injuries, so you must act quickly to hire a Chicago 18-wheeler truck accident lawyer. Your lawyer needs time to investigate and negotiate the best possible settlement before they're forced to sue or lose the opportunity.
Morelli Law Can Help You
If you or a loved one have been in an 18-wheeler accident and it wasn't your fault, find out how much you could get from Morelli Law. Our team of Chicago 18-wheeler truck accident lawyers are ready to discuss your situation through a free case evaluation.
We will listen to what happened and explain your legal options and how we can help you fight for what you deserve. We're committed to getting you the most money possible to pay for your injuries.
Contact our lawyers today by phone or email to schedule your consultation. All services are free until you win compensation with our help. There is no obligation to use our services after a consultation.