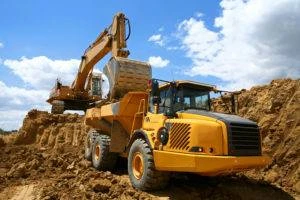 The majority of construction trucks are large and heavy. When involved in a collision with a standard passenger vehicle, the smaller car is likely to come out of the crash in much worse condition. Occupants of the passenger vehicle face a great risk of serious injury in these types of accidents.
Recovering compensation when involved in a construction truck accident may be critical in getting your life back on track. Hiring a construction truck accident attorney in Philadelphia will greatly increase your chances of receiving fair compensation following a crash.
Determining Fault in a Construction Truck Accident
When you hire a construction truck accident lawyer in Pennsylvania, one of the first actions they will take after accepting your case is to launch an investigation into the accident.
One of the primary goals of this investigation will be determining fault. There are many parties that may potentially be at fault when a construction truck causes an accident. A few of the potential at-fault parties include:
The driver of the construction truck

The employer of the driver

Another driver who caused the construction truck driver into the action that caused the accident
Your attorney will work to identify all parties that were potentially liable for the damages done and work to get you fair compensation from those parties.
Regulations for Construction Truck Drivers
The regulations for driving a construction truck vary greatly depending upon the type of vehicle and the manner in which you are operating it. To drive some vehicles, an operator may need to obtain a Class B commercial driver's license (CDL) or other special endorsement.
The construction truck driver may also be required to follow hours of service regulations set out by the Federal Motor Carrier Safety Administration (FMCSA) if the vehicle enters the same roadway as passenger vehicles. These rules set strict limits on the number of hours a driver may spend on the road within a given period of time and how often they must take breaks.
Trucks driving on the Interstate must also comply with vehicle weight limits, determined by the Federal Highway Administration (FHWA). These weight limits make it illegal to travel on the Interstate with a vehicle that exceeds the 80,000-pound weight limit.
Driver's who violate any of these conditions are guilty of negligence. Your construction truck accident lawyer in Philadelphia can use this information to help prove fault and get you the compensation to which you are entitled.
Damages for Which You May Be Able to Recover Compensation
After investigating the cause of the accident, the next step your truck accident attorney will take is to determine the total value of your claim. There are many different things for which you could potentially receive compensation after a construction truck accident. Some of the damages you might be eligible to claim include:
Medical costs (both current and future)

Lost income

Lost earning capacity

Property damage

Mental anguish

Wrongful death damages

Punitive damages
Determining a fair value for economic damages like medical expenses and lost income is the easiest portion of compensation to determine. However, even this comes with challenges. When looking at long-term injuries, it can be difficult to know all the future costs that might accrue.
Non-economic damages like pain and suffering and mental anguish are far more difficult to assess. In most cases, these damages make up the majority of the compensation package that a victim of a construction truck accident receives.
Punitive damages may also be awarded when the actions of the at-fault party were particularly egregious and showed a willful disregard for the safety of others. Punitive damages are not based upon any expenses incurred by the victims. Instead, they are meant as a punishment for the offender.
Cost of Hiring a Philadelphia Construction Truck Accident Lawyer
Many people worry about the cost of hiring a lawyer. When it comes to many areas of the law, hiring a lawyer can come with a hefty price tag. Fortunately, when it comes to personal injury cases, any reputable lawyer works on a contingency fee basis.
That means that if you hire a construction truck accident lawyer in Philadelphia, they won't get paid unless you get paid.
Still, many people worry that the amount of money their lawyer will take out of their settlement will be too large to make hiring them worth the money. However, on average, those who hire a personal injury lawyer receive a far larger compensation package after paying their lawyer's fees, than those who attempt to represent themselves in a personal injury case.
Taking on a Construction Truck Company
In many cases involving a construction truck accident, you are going to be up against the legal team of a big construction company and its insurance provider. These legal teams are highly paid and have a lot of experience dealing with civil lawsuits. Trying to take these companies on by yourself is a recipe for disaster.
It's critical that you have a lawyer with experience fighting the big guys. An experienced Philadelphia truck accident attorney knows all the tricks that the other side will attempt to use against you, as well as how to fight them.
Pennsylvania Statute of Limitations
In Pennsylvania, you have two years after an accident in which to file a personal injury lawsuit. While that may seem like a long time, it can pass quickly. It is always best to get the process started as soon as possible. The earlier you hire a truck accident lawyer, the better positioned they will be to help.
Most Construction Truck Accident Cases End in a Settlement
The majority of construction truck accidents end in a settlement. As your lawyer gathers evidence for your case and prepares to represent you in court, they will continue to negotiate with the insurance company and opposing counsel to attempt to reach a fair deal.
Reaching a settlement agreement is always the preferred option because it enables you to receive compensation quicker while also avoiding the uncertainty of a courtroom trial. However, in some cases, the two parties are unable to find common middle ground and a trial is unavoidable.
Hire Experienced Legal Representation for Your Construction Truck Accident
If you have been in a construction truck wreck, it's important to have experienced legal representation on your side. Contact the Morelli Law Firm today to schedule a free, no-obligation case evaluation with a member of our legal team. Our team of construction truck accident lawyers is here to help.
To set up a meeting with our Philadelphia construction truck attorneys, simply give us a call or fill out our online contact form. We will fight to get you the compensation that you deserve.