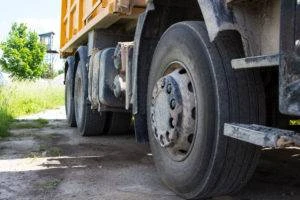 A variety of commercial trucks are used in construction, including dump trucks, concrete mixers, loaders, and excavators. These large construction vehicles and similar equipment can cause devastating damage to smaller vehicles. If you were left injured after an accident with a construction truck, you might be entitled to financial compensation.
Our O'Fallon construction truck accident attorneys at Morelli Law Firm represent individuals who were harmed by commercial vehicle accidents. We also represent family members in wrongful death cases. As personal injury attorneys with extensive truck accident experience, we are committed to helping truck accident victims in and around the O'Fallon, IL, area.
Why You Need a Lawyer After a Construction Truck Accident
Although driver negligence is one of the most common causes of truck accidents, determining fault in these cases can be complicated. For example, If a construction truck operator was driving recklessly, both the driver and the construction company may be responsible for the accident. In other cases, a third party could be to blame.
Our personal injury lawyers are ready and available to assist truck accident victims looking to settle an existing claim or open a case.
Proving Negligence After a Construction Truck Crash
To prove negligence in an accident, you must first investigate the facts of how the accident happened. Next, you will look at whose actions may have contributed to the accident. Proving negligence requires showing that a party's actions did not meet the standards of an ordinary, reasonable person.
This thought process involves comparing the actions of an individual to how a reasonable person would act when faced with a similar situation. Expert witnesses are often used, and the individual's professional experience or training is considered.
Demonstrating fault in a truck wreck is often easier said than done, so it's best to consult with a construction truck accident lawyer in O'Fallon who has the necessary experience.
What a Lawyer Will Look for When Investigating the Accident
When investigating this type of accident, a truck accident lawyer may look into:
Safety features of the truck, such as backing signals and warning alarms

Safety systems like steering, braking, and warning alarms

The area around the truck and whether it was ideal for maneuvering

Whether the truck driver was properly trained to operate the vehicle

Whether the truck driver had adequate safety training and drug and alcohol testing
Often, there is more to the investigation, but those are some key elements. As seasoned truck accident lawyers, we are ready with special discovery requests that we use for commercial truck cases. These requests include specially crafted interrogatories, requests for admissions, and document requests.
The end goal of such requests is to uncover any and all evidence that can help increase the value of your claim.
Post-Accident Alcohol and Drug Testing
The Federal Motor Carrier Safety Administration (FMCSA) has made drug and alcohol testing mandatory for all commercial vehicle operators. Substance tests are used to identify alcohol, opiates, cocaine, marijuana, amphetamines, and PCP. These tests are administered:
Before employment

At random intervals

Upon suspicion

After an accident
Your O'Fallon construction truck accident attorney can subpoena the records and results of post-accident testing. These test results can be a goldmine of incriminating evidence that could win your case.
Mandatory Truck Identification Markings
The Federal Motor Carrier Safety Administration (FMCSA) makes specific vehicle markings mandatory for commercial trucks. These markings may include the legal name of the company and the motor carrier identification number.
The markings should be easy to see from 50 feet away and sharply contrast with the background. If at all possible, take a picture or copy down this information from the truck at the accident scene.
Shared Liability in Truck Accident Cases
Comparative negligence is a principle used by courts to reduce the damages that a plaintiff can recover in a negligence claim. Just how much depends on the degree of negligence each party contributed to the accident. Whether you share any responsibility for the accident depends upon the specifics of your case.
Under comparative negligence, your liability in the collision is determined by comparing the truck driver's carelessness with yours. The degree to which you are liable will determine how much you have to pay in damages or how much your recovery is discounted.
Your state's laws significantly impact the outcome of your case because different jurisdictions have different rules on comparative negligence. For example, Illinois follows a modified comparative negligence rule (735 ILCS 5/2-1116), which dictates that an injured party may recover losses only if they are deemed less than 50% at fault for the damages.
What Information Will My Attorney Need After the Accident?
Here is a list of information an insurance adjuster or your lawyer will request following a construction truck accident:
The date and time of the accident

Any photographs or written notes you might have regarding the incident

The weather and road conditions that day, if relevant

The losses that resulted from the accident, including property damage and personal injury

The extent of your injuries and the amount you have paid in medical bills
Please keep in mind that speaking directly with an insurance adjuster is inadvisable. Instead, allow an experienced O'Fallon construction truck accident lawyer to mediate between you and the insurance company.
Construction Truck Accident Repercussions
The injuries associated with truck accidents can be life-altering, and your recovery could require months or years of rehabilitation, which means more medical bills. If you've been in a construction truck accident, your health recovery could be expensive, especially if you sustained severe injuries such as:
Spinal injuries

Burn injuries

Head trauma

Internal bleeding

Bone fractures
Contacting our Firm
Don't let the consequences of an accident cause you any more stress. Instead, allow the attorneys at the Morelli Law Firm to help get you back on track. Not only are our O'Fallon construction truck accident lawyers exceptionally knowledgeable, but we also genuinely care about our clients.
If you or a loved one have sustained severe injuries from a construction truck accident, we want to hear from you. Reach out today for a free case evaluation.