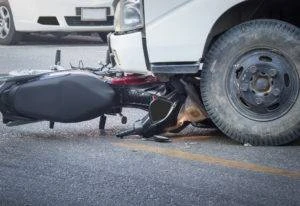 Amazon is the largest online retailer in the country. Because of this, their business accounts for a large percentage of the shipping industry. That means a lot of large commercial vehicles on the road. It also means a significant number of accidents. Large trucks pose a severe risk to other vehicles and pedestrians because of their extreme size and weight.
If you were involved in an accident with a large Amazon truck, you are likely facing serious injuries. Fortunately, an Amazon truck accident attorney in Philadelphia, PA, can help. Contact the Morelli Law Firm by phone or through our online contact form to schedule a free case evaluation today.
Damages You Can Claim After an Amazon Truck Accident
If you suffered a serious injury in a car accident with an Amazon truck in Philadelphia, PA, you will likely be able to pursue many types of damages. Going up against a large corporation like Amazon can be intimidating. However, you need to remember that these businesses are liable for their actions, just like everyone else.
All the compensatory damages you may be able to claim after a crash are divided between economic and non-economic damages.
Economic Damages
All of the losses resulting from your accident that have a direct impact on your finances are considered economic damages. Economic damages cover both money you were unable to earn and money you were forced to spend because of your crash. Additionally, both current and projected future losses are covered under this category.
Some economic damages you are likely to be able to claim after an Amazon truck accident include:
Lost income
Lost earning ability
Medical bills
Future medical expenses
Non-Economic Damages
The losses you suffer that do not directly impact your finances are part of the much broader category of non-economic damages. Most non-economic damages are irreplaceable, which means the money awarded for these losses tends to be significant.
Some non-economic damages you are likely to be able to claim after an Amazon truck accident include:
Pain and suffering
Mental anguish
Emotional distress
Permanent disability
Loss of consortium
Diminished quality of life
An Amazon truck accident attorney can help you discover which damages apply to your case. In investigating your case, your attorney may find that you are eligible to pursue punitive damages. These damages are available if the at-fault party acted in a manner that was criminally negligent or carried out with the express intent of causing harm.
File Your Amazon Truck Accident Lawsuit on Time
When pursuing a lawsuit against Amazon after a truck accident, you must be mindful of the statute of limitations. In Pennsylvania, accident victims typically have two years from the date of their collision to file a lawsuit. If you do not file within this time frame, you will likely discover that you have lost your right to pursue compensation.
However, you must understand that missing this deadline does not limit your right to file a lawsuit in every case. Depending on the specific circumstances of your case, an exception may apply, which will allow you to file long after the two-year period has passed. Conversely, an exception could leave you with far less time to file.
Hiring an experienced Philadelphia Amazon truck accident attorney shortly after your collision is the best way to protect your right to pursue compensation. Your lawyer will identify if any exceptions apply to your case and make sure your lawsuit gets filed on time.
Proving Liability After an Accident
Establishing liability can be a challenge. If Amazon is to blame for your accident, they will likely attempt to shift responsibility onto another party. Fortunately, an experienced Amazon truck accident attorney knows exactly what to look for when investigating your case to determine fault. They can uncover the liable party and help you recover the compensation you deserve.
Don't Trust the Insurance Company
Despite the fact that insurance providers like to present themselves as your friendly neighbor, ready to help when you run into trouble, their main concern is money. These companies will do whatever they can to protect their bottom line. This often means resorting to predatory tactics in an effort to deny or devalue a claim.
Insurance adjusters have a whole bag of dirty tricks they will employ to pay out as little as possible after an accident. Unfortunately, many accident victims take the word of these companies at face value without talking to an attorney. By doing so, they often end up putting themselves in a position where recovering fair compensation becomes impossible.
You should never speak to an insurance company after an accident before first consulting an attorney. Aside from reporting to your own insurer that you have been involved in an accident, you should decline to speak with an insurance company representative directly. After hiring an attorney, they will handle all communication with the insurer forcing them to play fair.
Hire a Law Firm With a Proven Track Record
When you file a lawsuit against a large corporation like Amazon, you need to ensure that you are represented by a lawyer who has a track record of taking on the big guys and winning. At the Morelli Law Firm, our Amazon truck accident lawyers in Philadelphia, PA, have a long history of getting favorable results against large companies.
Reach out to us by phone or through our online contact form to schedule a free case evaluation. A member of our team will review your case and answer all your questions. There is no obligation to retain our services, so don't hesitate to get started today.