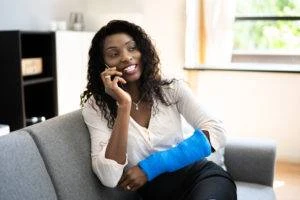 If you've ever seen a FedEx truck speed down your street to make their next delivery, you understand how easy it could be for them to accidentally hit another vehicle or pedestrian. When collisions occur, there's no better law firm to turn to than the Morelli Law Firm.
Our FedEx truck accident attorneys in Philadelphia are uniquely qualified to take on FedEx and its insurers. Our team has worked on numerous cases against FedEx drivers and the shipping corporation itself, as well as various types of commercial vehicle accident cases.
Over the years, we've gained experience and built a track record of success that few law offices boast. If a negligent FedEx driver has struck you, our attorneys can offer invaluable legal advice and the representation you need to obtain a high-value settlement.
What a Philadelphia FedEx Truck Accident Attorney Can Do for You
As you know, a serious truck accident can result in injuries that are expensive to treat, significant vehicle damage, and several other devastating losses. The aftermath of a collision can be financially stressful, but an attorney can help you rebuild your bank account and your life.
A FedEx truck accident attorney in Philadelphia will educate you on what happens when you get hit by a FedEx truck and help you recover losses by filing an insurance claim. Standing up to a large company's insurer can be intimidating. Still, our attorneys will arm themselves with facts and a strong claim to ensure that insurance negotiations reach a favorable conclusion.
To build a strong claim, your lawyer must conduct a thorough investigation of your accident. To build a strong case on your behalf, they'll use:
Police reports
Witness statements
Photos and videos
Security footage
Medical records
Reconstruction experts
Expert witnesses
Once they've constructed your claim, they'll have the ammunition they need to take on FedEx's insurers and secure your settlement.
Compensation You'll Receive From a FedEx Truck Accident Claim in Philadelphia
Insurance negotiations may take a considerable amount of time and effort to wrap up, but it's likely that your Philadelphia truck accident lawyer will persuade FedEx's insurers to offer a settlement that covers all your losses.
Once you receive your settlement, you'll be able to pay your accident-related bills and cope with the hardships and emotional turmoil caused by the crash. Depending on the way the accident has affected your life and financial status, you may receive any of the following damages:
Medical expenses
Current and future lost wages
Vehicle repair costs
Decreased earning ability
Pain and suffering
Disfigurement and disability
Mental distress
Diminished quality of life
If the FedEx truck driver was intoxicated at the time of the crash or their actions were extremely reckless, your attorney may add punitive damages to your claim. Punitive damages act as a punishment and are usually reserved for cases where the guilty party exhibited gross negligence or a significant lack of care for the safety of others.
You Can Receive Compensation if You Were Partially at Fault for Your FedEx Truck Accident
If you're partially to blame for the FedEx truck accident you were injured in, you can still receive compensation for your economic and non-economic losses. However, the amount of money you receive will be reduced in proportion to your percentage of fault.
Keep in mind that Pennsylvania's comparative negligence standard prevents claimants from recovering financial remedies if their percentage of fault exceeds 51%. Insurers may try to deny your claim by abusing this law and insisting that your level of fault is higher than it actually is.
Our FedEx truck accident attorneys in Philadelphia have seen this trick a thousand times and know how to shut it down. They'll present evidence that clearly shows you are less than 51% to blame for the collision so that you can get the high-value settlement you deserve.
Hire a FedEx Truck Accident Attorney Soon to Meet Pennsylvania's Filing Deadline
According to Pennsylvania Code § 5524, FedEx truck accident victims in Philadelphia have two years from the date of their collision to file a lawsuit. If FedEx's insurers deny your claim and a lawsuit becomes your only path to compensation, abiding by this law will become essential to the success of your case.
Your FedEx truck accident attorney will be closely familiar with Pennsylvania's filing deadline and will work quickly to ensure your lawsuit is filed on time. To help your lawyer get your suit filed before its due date, we recommend giving them as much time to do so as possible. That means you'll need to contact an attorney as soon after your accident as possible.
Hiring a lawyer soon will give them more than enough time to file a lawsuit. If you've been waiting to take legal action and believe that your filing deadline has passed, you might still have a shot at receiving compensation. Get in touch with a lawyer today, and they'll find out if your case is an exception to Pennsylvania's statute of limitations.
No Fees Unless Your Lawyer Wins Your Philadelphia FedEx Truck Accident Case
One of the benefits of hiring one of our FedEx truck accident attorneys in Philadelphia is that they work on a contingency-fee-basis. That means they won't charge you for their services unless they win your case. If your claim is successful, they'll take a portion of your winnings.
In the unlikely event that your case doesn't yield compensation, you won't be expected to pay your lawyer out of pocket. We hope our contingency fee policy relieves some of the financial stress you've been experiencing. If you have any questions about payment, feel free to reach out to us.
Contact Our Philadelphia Firm to Get Started on Your FedEx Truck Accident Claim
If you're dealing with the stress and financial burden of a serious FedEx wreck, our Philadelphia FedEx truck accident lawyers can give you peace of mind and take full control over your case. They'll draw on their wealth of experience going up against FedEx and other big companies to help you get a fair settlement.
To see if you have a legitimate claim and if our team can take on your case, contact Morelli Law Firm. We'll schedule a free case evaluation where our attorneys will ask questions about your accident and determine if you're eligible for compensation. We look forward to serving you!