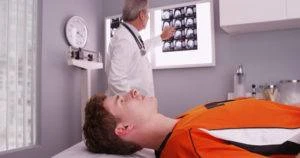 There are many forms of brain damage, from dizziness after a concussion to vegetative states. An injury to the brain can leave you and your loved ones unable to handle the financial burdens of your injury. With the help of a lawyer, you may ease those burdens.
Our North Bergen brain damage attorneys at Morelli Law Firm know how to navigate the law and guide you to the compensation you deserve. If you want to see if your case qualifies and how much you could receive, schedule a consultation with us.
How Is Brain Damage Defined?
Your injury doesn't have to be diagnosed as traumatic to sue someone over it. It only has to cause you injury and difficulty with your life. No amount of brain damage is insignificant, and it can get worse over time without proper care.
People with severe brain damage can have motor control problems, memory loss, and even behavioral problems. The worse your damage is, the more likely you are to qualify for greater compensation and qualify for non-economic damages.
Even if the doctor says your brain damage is mild, it may be worth more than you think in compensation. Our brain damage attorneys can assess your case against previous cases like yours, along with other evidence, and see if it is worth pursuing a lawsuit.
How Long Do I Have to File a Brain Damage Claim?
In most cases, you have three years to start a lawsuit against someone for a brain damage claim in New York . This includes medical malpractice cases. However, the clock starts from the day you discover the injury in medical malpractice cases. Otherwise, it's when the injury happened.
There are some circumstances that can shorten the time you have to file. One is if you were involved in an accident involving the government. You may have mere weeks to file a complaint before you lose the opportunity to file a lawsuit.
Filing deadlines vary by case. Our team can determine how much time you have left before you meet the statute of limitations. To find out more about your deadlines, contact our North Bergen brain damage attorneys.
What Needs to Be in a Brain Damage Complaint?
Before we can submit a complaint, we need to gather some necessary information and evidence to prove its legitimacy. When we file a complaint, we need to discover:
All the liable parties so that we know who to contact
The duty of care they owed you
Evidence that they violated it, causing negligence
An estimate of your losses
A request for compensation
With a formal complaint filed, we can begin negotiating with all the liable parties and their insurers to come to a fair settlement offer. The stronger the evidence we have about your claim, the more we can ask for and the more we're likely to get it.
If negotiations break down, the next step is to take your case to trial. We will present the evidence we have before a judge and argue our case. From there, it's up to the court. Should the court deny you compensation, you do not have to pay us. We only get paid if you get paid.
Who Can Represent Me in Court for My Brain Damage Case?
Since brain damage can make you unable to speak for yourself, you may need an alternative representative to make your complaint. Unfortunately, New York does not allow family members to represent you in court unless they are named a personal executor.
Our team may need to discuss with your family about naming a personal executor and other representation issues during your consultation. We will explain all the details, rights, and responsibilities of the position and whether you need one for your case.
Morelli Law Firm Wants to Help You
Facing brain damage is tough enough without contending with the financial costs. Morelli Law Firm wants to help you recover those costs through the civil justice system. We have brain damage lawyers in North Bergen ready to assist you with your legal needs.
To start your claim, contact us by phone or through the web for a free case evaluation. Our firm has a long history of successful settlements and court cases. Read our testimonials and results pages to learn more, then call us to get your case started.