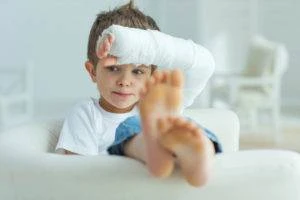 The Centers for Disease Control and Prevention (CDC) did a study in 2019 that claims about 20 children die every day because of unintentional injuries. Even if an injury is unintentional, the responsible party may still be liable for harming or killing a child.
If your child was hurt or killed because someone else didn't take the proper care, you may be able to proceed with a lawsuit. Morelli Law Firm's child injury attorneys in Huntington can sit with you in a free consultation and judge if you have a case. If so, we can help you proceed.
Why Seek Compensation for Your Child's Injury?
We know the consequences of an injury as damages in the legal field. These consequences can be devastating. An injury accident to a child can cause developmental issues or create permanent disabilities. The costs of managing these can cause financial hardship and mental suffering.
Under the law, you may have recourse to sue the responsible parties to get money to pay for these consequences. Even if the injury is permanent, money for care can help improve the prognosis of your child and help families avoid financial ruin for an injury that wasn't their fault.
What Types of Damages Could I Receive for My Child's Injury?
There are many possible consequences after an injury, so there are also many possible damages. Part of the job of your child injury lawyer in Huntington is to assess your situation and figure out which ones you qualify for. They will also estimate their amounts based on evidence. Some of these include:
Property damage
Current and future medical expenses
Emotional distress and mental illness
Disability and disfigurement
Current and future income loss
Diminished quality of life
If you're seeking a lawyer after your child's death, know that you may qualify for wrongful death damages. These include funeral expenses and emotional damages to you and your family. We know no amount of money can replace your child, but you do have legal recourse to compensation.
New York Time Limits for Filing Child Injury Lawsuits
In any personal injury case, there is a time limit to start your lawsuit before the law states you cannot proceed. In New York, these time limits are:
Three years after the accident for general personal injury cases
Two years and six months after the injury was discovered for medical malpractice cases
Two years after death for wrongful death cases
However, for minor children, the deadline can be extended depending on the circumstances. Often, the deadline is extended to the age of 18, though there may be a cap of a decade after the incident occurred.
Even with the extended deadline, it's better to work with a lawyer sooner than later. The longer time passes, the harder it becomes to collect evidence. Memories fade and dangerous locations could get fixed before we can get evidence.
The Role of the Child Injury Attorney
Our role as Huntington child injury attorneys is to represent the interests of your child for pursuing compensation on their behalf. This involves many tasks, including:
Investigating your claim to create a timeline of what happened and when, who is responsible, and why your child got injured.
Gathering evidence to support the claim, whether eyewitness testimony, official reports, medical records, etc.
Speaking with experts who can give testimony about your case. This is most common in medical malpractice cases.
Speaking with all involved parties so that you can focus on taking care of your child while we handle the legal responsibilities.
Working toward a fair settlement deal, or if one can't be reached, preparing to go to court on behalf of your child.
You can reach out to Morelli Law anytime you like to get an update on the status of your case. Sometimes, the wheels of the legal process turn slowly, but they do turn. We will keep you informed of the progress of your case and any changes.
Contact Our Child Injury Lawyers in Huntington
You may have grounds to pursue compensation for your child if someone injured them in an accident or because of someone else's negligence. Start working with one of our child injury lawyers in Huntington at Morelli Law Firm by calling us or by using our online contact form.
Your first consultation with us is free. We will hear your story and explain your legal options. If you hire us for representation, you will not have to pay any attorney's fees unless we win.