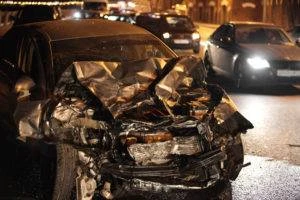 Injuries resulting from head-on crashes are often severe. That's because the force of your impact may be doubled or more from what it would be if you crashed into a stationary object. If you sustained injuries because of a negligent driver, a Yonkers head-on collisions attorney can help.
At the Morelli Law Firm, we know the long road to recovery that likely lies ahead after a head-on collision. We also know how fair compensation can make that road a whole lot easier to travel. We are here to help accident victims get their lives back in control and move forward after an accident.
Determining Fault in a Head-on Collision
When filing a lawsuit or an insurance claim after an accident, one of the first steps you must take is to determine who is at fault. While in some cases, the fault is quite clear, in others, it can be rather tricky to identify.
If you yourself were not responsible for the accident, there are three other parties that are often found liable in these cases. They are:
The driver with whom you collided

A third-party driver whose actions led to the collision

The manufacturer of one of the vehicles involved in the crash
Steps a Head-on Collision Attorney in Yonkers Will Take
When you hire a head-on accident attorney in Yonkers, they will immediately get to work building your case. They will launch an investigation into your accident and gather as much evidence as they can to support your compensation claim. Common steps that your attorney and their investigative team will take include:
Visiting the scene of your accident

Interviewing any witnesses

Consulting with experts

Obtaining a copy of the official police accident report

Looking into your medical records that relate to your injuries
After completing the initial investigation, your attorney will evaluate all your damages and calculate the full value of your claim. They will then prepare and file your lawsuit with the courts.
Next, your lawyer will prepare your case for trial by going through all the steps of the pre-trial process, including discovery, depositions, and mediation. Then, if necessary, your attorney will fight for your right to fair compensation in a courtroom trial.
While your attorney is busy with these various procedures, they will also be in continued negotiations with the legal representation for the liable party. Your attorney will be in constant contact with you. They will keep you posted about all updates to your case, relay any settlement offers, and continue to advise you of your options.
Potential Damages of a Head-on Collision
When involved in a head-on collision, there are numerous damages you may potentially be able to claim. The exact damages for which you are eligible depend upon the specifics of your case. Any compensation claims that you do make, are typically split into one of three types:
Economic damages

Non-economic damages
Economic Damages
Economic damages cover anything that caused you a direct financial loss. A few of the most common types of economic damages claimed in head-on collision cases include:
Medical expenses

Lost income

Lost earning potential

Property damage
Compensation for economic damages aims to directly replace money that you have lost and will lose as the result of your accident. Even the more complicated economic damages like future medical expenses can be calculated fairly accurately.
Non-Economic Damages
Non-economic damages are far less straightforward. These compensation claims are for things that do not have a direct monetary value and which can not be replaced. Some of the most common types of non-economic damages include:
Mental anguish

Loss of companionship

Pain and suffering

Diminished quality of life
Non-economic damages typically cover the most painful losses that people suffer in an accident. Things like loss of companionship due to wrongful death can never be fairly compensated. The money that accident victims receive for non-economic damages is meant to help replace something irreplaceable.
Because of this, non-economic damages tend to make up the largest part of a payout to accident victims.
Punitive Damages
Punitive damages are a bit different. These damages are not designed as compensation for a loss suffered by the accident victim. Instead, they are meant as punishment for the offender. These damages are only assessed in cases where the actions of the liable party are considered to have been willfully negligent and done with complete disregard for the safety of others.
How Much Does a Yonkers Head-On Collision Attorney Charge?
When it comes to hiring an attorney, the biggest worry that most people have is about the cost. Fortunately, this should not be a cause for concern when hiring a head-on collision lawyer. Any reputable personal injury lawyer works on a contingency fee basis. This payment structure makes it so that your legal representative will only receive a payment if you get compensation.
When you have your initial case evaluation, your lawyer will discuss the percentage they will receive from your compensation if they are able to secure you a payment. When your attorney is working in this way, you can feel confident that they will not only do everything in their power to get you compensation but that they will fight to ensure you get as much money as possible.
Generally, those who hire a head-on collision lawyer in Yonkers receive a significantly higher payout than those who attempt to represent themselves. This is true even after the lawyer's fee has been subtracted from the compensation package. In the end, it's worth it to hire a personal injury lawyer.
How Much Time Do You Have to File a Lawsuit in Yonkers, NY?
In the state of New York, the statute of limitations for filing a lawsuit is typically three years. It's important to be aware of the fact that this period can be far shorter, though, in certain situations. A head-on collision lawyer can let you know if your situation further limits the time you have to file a lawsuit.
Most of the time, the period you have to file should not be a huge concern. Whether you have weeks or years, you should file as quickly as possible in most cases. Delays can greatly harm your case. Evidence can become lost or corrupted, and witness testimony is less reliable with each passing hour.
Connect With a Personal Injury Law Firm in Yonkers, New York
When you are fighting for fair compensation in a head-on collision case, it is vital that you have experienced legal representation on your side. At the Morelli Law Firm, our Yonkers head-on collisions attorneys have plenty of experience fighting for the rights of accident victims.
Get in touch with a law firm committed to helping accident victims get their lives back on track. Simply give us a call or fill out our easy online contact form today. You can schedule a free, no-obligation consultation with a member of our legal team. We are committed to fighting for fair compensation for victims who have been injured in an accident.