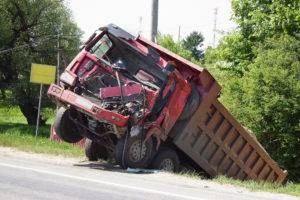 Dump trucks are one of the few construction vehicles that share the road with passenger cars. Dump truck drivers are held to the same standards as any other motorist and must maintain a duty of care to others when operating these massive vehicles. But when dump trucks collide with other cars, the damage can be devastating.
If you or a loved one have been injured in a wreck with one of these vehicles, our dump truck accident lawyers in Mt. Vernon are here to get you the justice you deserve. Morelli Law Firm fights for fair compensation for victims of truck accidents. You don't have to do it alone.
How Can a Dump Truck Accident Lawyer Help Me?
Large truck accident claims are complex. Mt. Vernon personal jury lawyers from Morelli Law Firm can guide you through the ins and outs of filing a claim. We understand your frustrations and can help you after a devastating truck accident.
Damages from truck accidents can be deadly. You may feel overwhelmed with bills and property damages. Recover from a truck accident while we help you:
File a Claim
After a truck accident, you will have a lot on your plate. A truck accident lawyer can determine if you have a claim. We will also calculate your approximate compensation for personal and financial losses.
Gather Evidence
Accurate evidence is important to support your claim after a truck accident. A personal injury lawyer can tell you what information is necessary to prove that you did not cause the accident.
Negotiate Fair Compensation
You will have lots of costly expenses after a truck accident. Lawyers from dump truck accidents can help you get the money you need to cover medical bills and more.
Who Could Be at Fault for a Mt. Vernon Dump Truck Accident?
Unlike car accidents, commercial truck wrecks can have one or more guilty parties. It is not necessarily the truck driver's fault — there are many people responsible for the truck and how it operates. So, who could be at fault?
Truck drivers
Trucking companies
Shipping companies
Cargo loaders
Trailer owners
Auto technicians
Tire manufacturers
Truck & parts manufacturers
Government entities
A dump truck accident lawyer in Mt. Vernon will help determine who should be liable for compensation. Saving documentation is important for this purpose. The final verdict will analyze fault based on:
Police reports
Pictures from the accident
Service records
Part recalls
Communication between truck drivers and trucking companies
Wrongful Death After a Truck Accident in Illinois
Because of the huge weight difference between trucks and cars, it is not uncommon for victims to die in truck accidents. According to Illinois Fatal Crash Historic Data, 24 drivers were killed by commercial trucks in Illinois in 2021. Have you recently lost a loved one?
If a family member has died during or after a truck accident, a wrongful death attorney can file a claim on your behalf. In Illinois, you must be an immediate family member to file on behalf of the deceased, such as a:
Spouse
Parent
Child
Sibling
Wrongful Death Compensation
If you have a successful claim, the deceased's surviving spouse will receive fair compensation after a truck accident. Compensation for wrongful deaths because of truck accidents covers personal and financial losses, including:
Medical bills
Funeral expenses
Loss of companionship
Lost wages
Property damage
Child care
Travel expenses
Out-of-pocket expenses
Loss of consortium
Anxiety, trauma, and depression
Truck Accident Claims & Results in Illinois
When you are driving, it is your responsibility to follow the rules of the road. By doing so, you are keeping others safe. Truck drivers must be extra careful because of their weight and size.
Personal injury lawyers understand many things can cause a truck accident. We represent lots of truck accident claims in Illinois, including:
Driving under the influence
Aggressive driving
Driver fatigue
Texting while driving
Hazardous weather conditions
Overloaded cargo
Reckless or distracted driving
Speeding
Negligent driving
Equipment issues
Mechanical failure
Bad road conditions
Results
Settlements from truck accidents are usually very large to cover expensive damages. While we can't guarantee you have a case, we will fight to get you the money you deserve. Dump truck accident lawyers in Mt. Vernon are here for you.
We have won over $1 billion for our clients. A few of our successful truck accident claims include:
$2.65 million won after a client was hit by a moving truck and badly hurt.
$7.4 million won after a delivery man was hit by a moving truck on his bicycle.
$11.2 million won after a 76-year-old woman was hit by a truck speeding while making an illegal turn.
Every truck accident case is unique, and not all results will look the same. You may not have a successful claim. Talk to a lawyer to learn more.
What Should I Do After a Dump Truck Accident?
Large truck accidents can cause very serious injuries or death. You may be unsure what to do right away if you've been involved in a commercial truck accident. Don't worry; we have you covered.
If you've been badly injured in a truck accident, follow these steps provided by a lawyer for dump truck accidents in Mt. Vernon.
Call 911
After a truck accident, call 911 to report the accident. The police and other first responders will arrive to help. The police will file a report describing the crash and who they believe may be at fault for the truck accident.
Go to the Hospital
Once you've been cleared, get checked out by a doctor. Get medical attention to avoid more damage and document your injuries. If your injuries are very serious, the EMTs may take you to the emergency room in an ambulance.
Collect Evidence
Successful truck accident claims must be backed by solid evidence. Start gathering evidence while at the scene to keep the events of the crash fresh in your memory. Do so by taking pictures of the damaged cars, your injuries, and speaking to witnesses.
Talk to a Dump Truck Accident Lawyer in Mt. Vernon
Our truck accident lawyers are here for you during your time of need. We wish to make this difficult period a little easier by handling your case for fair compensation. Your livelihood is important to us.
If you are hurt or grieving the death of a family member, we acknowledge your pain. We see you, and we understand your struggles. Morelli Law Firm can help you.
Rely on a Mt. Vernon dump truck accident lawyer to get the money you deserve. We will fight for the needs of you and your family. You can count on us. Reach out to request a free case evaluation today.