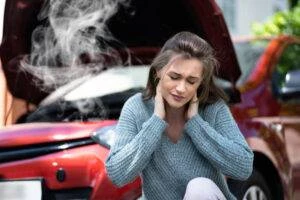 Rideshare services like Uber and Lyft are a popular way to get around cities like St. Peters. Yet it's confusing to know what to do after you've been injured in a rideshare accident. How does insurance work in these situations, and can you get compensation?
You can. Our personal injury lawyers can help you pursue a rideshare accident claim. Our car accident lawyers know how new laws affect the insurance policies these companies must carry for their drivers. You are not limited to the personal insurance carried by the driver.
Who Is at Fault After a Rideshare Accident?
Knowing who is at fault is an important step in a rideshare accident. Once we know who is responsible, we can know which insurance policies apply to your claim. Your accident may have been caused by the rideshare driver, another driver, mechanical failure, and more.
The rideshare companies usually carry $1,000,000 in auto liability, uninsured, and underinsured motorist coverage, though amounts may vary by state. They have the potential to pay you quite a lot if you've been hurt and you have coverage, so let our lawyers do the research and find out if you are.
A rideshare company will have insurance to protect drivers on the clock, and a driver may carry additional rideshare insurance, but you won't know if it will protect you without having a lawyer on your side. They may argue that your driver had no liability and refuse to cover you. Don't take their word for it.
When do Rideshare Companies Cover Drivers and Passengers?
Rideshare companies cover drivers and passengers in two situations. The first is when the app is on and the driver is waiting for a ride request. The second is when the driver is on the way to pick up someone or driving someone to their destination.
The coverage varies depending on which situation applies at the time of the crash and state laws. If the first situation applies, your personal rideshare insurance will apply first if you have it. If not, then rideshare companies will offer third-party liability coverage. Standard amounts are:
$50,000 in bodily injury per person

$100,000 in bodily injury per accident

$25,000 in property damage per accident.
In the second situation, the amounts are much higher. Drivers and passengers are covered by $100,000 third party liability, contingent comprehensive and collision coverage ($2,500 deductible), and uninsured/underinsured motorist bodily injury coverage.
There may be additional coverage depending on what the driver carries on their personal insurance. A St. Peters rideshare accident lawyer can sort through the policies and see which ones apply to you so you'll know where to submit your claim.
What Damages Can I Collect Through a Rideshare Claim?
There are many potential damages you could claim after your rideshare accident, but they all need to be backed up by evidence. Save all of your receipts, bills, estimates, and any other financial documents related to your accident. We can use those to calculate your economic damages.
Your accident can also cause other damages like pain and suffering or loss of enjoyment of life. These non-economic damages can be worth much more than your economic losses, but you will need the help of a rideshare accident lawyer to fight for them.
You may also be eligible for punitive damages. As a passenger, you place your life in the hands of your driver. If they act with gross negligence, a court may award you additional money for your accident. Our team can tell you if your case could qualify for these.
What Happens If the Rideshare Driver Isn't Liable?
It's entirely possible that all the fault of an accident lies in the other driver. What happens in that situation? The other driver's insurance policy would apply to the accident, but whether the third-party policies would kick in depends on what happened and the language of the policy.
You don't have to deal with reading through the legal documents. That's our job. When you turn your case over to our St. Peters rideshare accident lawyers, you can turn your attention to recovering from your injuries instead of dealing with insurers.
Our attorneys will find every insurance policy that may apply to the case and negotiate with the companies to divide responsibility between all liable parties. From there, we'll get to work proving your damages and getting you the most money possible.
How Will I Compensate My Lawyer?
Morelli Law only gets paid if you win compensation through a court award or insurance claim, and not before. This is called a contingency fee. If you lose your case and get nothing, Morelli Law also gets nothing. This means anyone can hire one of our lawyers regardless of their financial situation.
If you are successful, our firm takes a percentage of your final compensation. You and our team agree on this percentage during your consultation. The amount will depend on the difficulty and strength of your claim. A common percentage is 33%.
Once agreed, we will fight to get you the most money possible. The more we win for you in the end, the higher our final fee will be. This pushes us to work efficiently and thoroughly to find all avenues of compensation after your accident.
Contact Morelli Law's Rideshare Accident Team
If you were involved in a rideshare accident and you're uncertain if the rideshare company may cover some of the damages, our team is ready to help you. We'll work to get the evidence to prove if the company must cover your damages according to their insurance policies.
To get started, contact our team in St. Peters by phone or by email for a free case consultation. The sooner you speak with our team, the sooner you could get paid what you deserve for your claim. Do not trust the insurer's insistence that they're offering you a fair deal after your rideshare accident. Let us be the judge and make sure you're getting paid fairly.