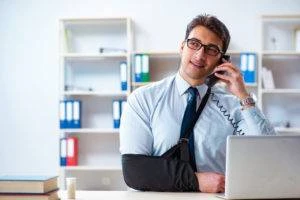 If you're seeking compensation for injuries sustained in a collision with a Walmart truck driver, you'll need an attorney who has successfully brought claims against the massive retail corporation. Finding an experienced attorney is crucial, as Walmart can afford first-rate legal teams and insurance providers.
The attorneys at Morelli Law have helped dozens of clients hold Walmart accountable for the actions of their drivers. Our Walmart truck accident lawyers in St. Peters will use their unique expertise to secure the settlement you need to move past your injuries.
How A Walmart Truck Accident Lawyer From St. Peters Can Help
Our Walmart truck accident attorneys in St. Peters have filed successful insurance claims and lawsuits against Walmart and other large companies countless times, and we have the case results to prove it. The lawyer we appoint to your case will draw on their experience to offer valuable legal advice and construct a winning claim on your behalf.
Your attorney will begin your case by performing a detailed investigation of the accident you were injured in. They'll obtain police reports, footage of the crash, witness statements, and expert witness testimony to prove that the Walmart driver was at fault.
Once they've built a claim based on facts and compelling evidence, they'll bring it to the insurance company and start negotiations. Insurers are always hesitant to accept liability and offer the damages that claimants deserve, but our team won't take "no" for an answer. Your attorney will fight for you until the insurance company has agreed to a fair settlement.
Compensation For Walmart Truck Accident Claimants In St. Peters
If your lawyer comes out on top in the negotiating room, you'll receive compensation for all of the losses you've suffered due to the collision. The money you get from your claim will help you cover your medical bills and several other accident-related costs. Here are some of the damages you might receive from a successful claim:
Medical Costs
These damages can be used to pay for any current or future medical care you need to recuperate from your injury. They'll cover the cost of doctor's appointments, hospital visits, surgeries, prescription medication, physical therapy, assistive devices, and any other treatments you need to recover completely.
Lost Wages
Truck accident injuries often take time and rest to heal. You'll probably have to take time off work to get rest and focus on your physical recovery. These damages can make up for a percentage of the wages you lose while taking time off from your job.
Decreased Earning Ability
Permanent and long-term injuries are likely to prevent you from performing basic workplace tasks for quite some time. If your condition has put you out of work indefinitely or changed your earning ability significantly, these damages can help you afford the cost of living.
Pain And Suffering
Injuries sustained in a collision with a large truck are likely to cause a considerable amount of discomfort and pain. If you're experiencing a great deal of pain from your injury, you shouldn't have to suffer without fair compensation. Tell your lawyer about the pain and suffering you've been feeling, and they'll add these damages to your claim.
Mental Distress
Dealing with the psychological trauma and turmoil of a life-threatening accident can be extremely difficult. If you've been struggling with feelings of anxiety or depression caused by your collision, a Walmart truck accident attorney from our office in St. Peters can secure compensation for your mental distress.
Punitive Damages
If your truck accident attorney finds that the at-fault driver was driving under the influence of alcohol or behaving recklessly during the crash, they may request punitive damages. These damages are meant to punish the guilty party and show that gross negligence isn't tolerated in St. Peters.
What to Do After a St. Peters Walmart Truck Accident
If you've been hurt in a Walmart truck accident in St. Peters, you should get checked out by a medical professional. If your injuries aren't too pressing, there are a few things you can do before seeing a doctor that will make the claim-filing process much easier.
First, you'll want to exchange insurance information with the truck driver and notify the police of an accident. Local law enforcement will document the crash and file a report that can be used later to bolster your case. Next, it's recommended that you take photos of your injuries and the vehicles involved in the collision.
Finally, we encourage accident victims to speak with nearby witnesses. Taking down the names and phone numbers of eye-witnesses will allow your lawyer to contact them later on. Once you've completed these steps, contact a St. Peters Walmart truck accident attorney. Doing so ASAP will ensure that your claim is filed soon and important deadlines are met.
A Walmart Truck Accident Attorney Will Comply With St. Peters' Filing Deadline
In St. Peters, MO, truck accident lawsuits must be filed in accordance with Missouri Revised Statutes § 516.120. The statute states that those injured in auto collisions have five years from the date of their accident to submit a civil suit.
Your attorney will work efficiently to file your lawsuit on time, but they only have as much time as you give them. Contacting a lawyer as soon as possible will give them the time they need to conduct a complete investigation, analyze evidence, and file a winning lawsuit.
If five years have passed since your collision and you have yet to take legal action, there might still be a way you can get the compensation you deserve. Speak to an attorney today to find out if any of the exceptions to Missouri's statute of limitations apply to your case.
Reach Out to a Walmart Truck Accident Lawyer from St. Peters
The Walmart truck accident lawyers from our team in St. Peters are proud to offer their services on a contingency-fee-basis. A contingency fee is a percentage of your settlement or court-awarded payment that your attorney will take in exchange for their help with your case. If your case is unsuccessful, you won't be charged out-of-pocket fees.
Contact Morelli Law today to get the affordable representation you need to hold Walmart liable for your injuries and losses. We'll schedule your free case evaluation to see if we can help you with your personal injury claim. We look forward to hearing from you soon.