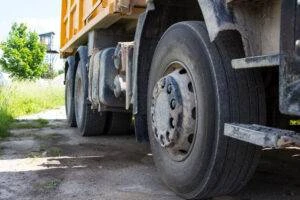 You may need to talk to a construction truck accident attorney in Chicago if you were involved in an accident. In the bustling metropolis of Chicago, construction zones are a familiar sight. Yet, dangers lurk within these areas of progress and development, especially when it involves large construction trucks.
Construction truck accidents can have devastating consequences, causing life-altering injuries and overwhelming emotional and financial burdens. However, an experienced truck accident lawyer in Chicago can help you understand your rights and available legal recourse.
What Should I Do After a Construction Truck Accident in Chicago?
In the aftermath of a construction truck accident, taking the right steps is essential to ensure your safety, protect your rights, and build a strong foundation for any potential legal action. Here's a guide on what you should do immediately after a construction truck accident in Chicago:
Prioritize safety.

Check yourself and others for injuries and seek medical attention if needed. If possible, move to a safe location away from the accident scene to prevent further harm.

Call emergency services.

Calling

911

to report the collision will send EMTs and police officers to document the incident, which is vital for legal claims later. They will also ensure that medical assistance is provided if necessary.

Gather evidence.

If it is safe to do so, gather evidence from the scene. Take photographs of the crash, including the vehicles' positions, damages, road conditions, and traffic signs. This documentation can be crucial for determining fault and liability.

Exchange information.

Exchange contact and insurance information with the truck driver and other parties involved. If possible, obtain the truck driver's license number, insurance details, and employer information.

Do not admit fault.

Avoid admitting fault or making statements that could be construed as accepting responsibility for the accident. Let the authorities and insurance companies conduct a thorough investigation before drawing conclusions.

Contact a construction truck accident lawyer.

Reach out to an experienced construction truck accident lawyer like

Morelli Law

as soon as possible. An attorney can provide guidance on your legal options, protect your rights, and help you navigate the complexities of filing a compensation claim.
Taking these immediate steps after a construction truck accident can lay the groundwork for a strong legal case and ensure that your rights are safeguarded during the legal process.
Who Can I Sue for Damages in a Construction Truck Accident Case?
Determining liability is a critical aspect of pursuing compensation for injuries and damages. Identifying the parties that can be held responsible for the wreck can help your lawyer build a solid legal case. In a construction truck accident, potential parties you may consider suing include:
Truck driver

Trucking company or carrier

Truck manufacturer or maintenance company

Third-party maintenance providers

Cargo loaders and shippers

Government Entities
Consulting with an experienced personal injury attorney can help you understand the potential parties you can sue and navigate the legal process effectively to seek compensation for your injuries and losses.
The Potential Worth of a Construction Truck Accident Case
It's important to recognize that every accident case is unique, and the compensation will depend on the specifics of your situation. Here are some key factors that influence the potential worth of a construction truck accident case:
Extent of injuries.

Medical bills, ongoing treatment costs, rehabilitation expenses, and anticipated future medical costs will be considered.

Lost income and future earnings.

If the accident caused you to miss work or affected your ability to earn in the future due to disabilities or reduced capabilities, you may be compensated for lost wages and loss of future earning capacity.

Property damage.

That includes the cost to repair or replace your vehicle and any personal property damaged in the accident.

Pain and suffering.

Non-economic damages such as pain, suffering, emotional distress, and loss of enjoyment of life are challenging to quantify but are an essential component of the compensation you deserve.

Wrongful death.

When an accident is fatal, the surviving victim's relatives can file a

wrongful death claim

for damages such as loss of companionship, loss of income, and funerary and crematory costs.
A seasoned construction truck accident attorney can evaluate the specifics of your case, considering all the relevant factors, and provide you with a more informed estimate of the potential compensation you may be entitled to.
Statute of Limitations to File a Chicago Construction Truck Accident Lawsuit
In Illinois, there are specific time limits within which you must file a lawsuit after a construction truck accident. These time limits are known as the statute of limitations. Adhering to these deadlines is crucial, as failing to file within the prescribed time frame can result in the court dismissing your case, and you may lose your right to seek compensation.
It's important to note that various factors can influence the statute of limitations, and exceptions may apply based on the circumstances of your case. For instance, if the truck accident involves a government entity, the timeline for filing a claim may be significantly shorter.
Talk to a Chicago Construction Truck Accident Attorney Today
If you've been involved in a construction truck accident in Chicago, navigating the legal aftermath can be overwhelming and complex. Seeking the guidance of a seasoned Chicago truck accident attorney is essential in ensuring your rights are protected, and you have the best possible chance of receiving the compensation you deserve.
Our construction truck accident attorneys understand the intricacies of Illinois laws, including the statute of limitations and other legal aspects specific to Chicago. Contact Morelli Law today for a strategic consultation–free of charge–to explore your legal options. Your journey to compensation and justice begins with a simple conversation.