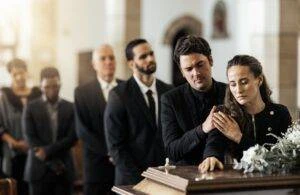 If someone's reckless actions or negligence caused your loved one's untimely death, you can hold them accountable for the pain they caused. A wrongful death lawyer in Chicago, IL, will investigate the fatal accident and help you seek justice.
At Morelli Law Firm, we offer compassionate legal guidance to families grieving after losing someone dear. Our Chicago personal injury lawyers understand that holding the negligent party accountable can be the start of the healing process. Call us today to discuss how to proceed with your claim.
Types of Wrongful Death Cases Our Law Firm Handles
Fatal accidents are unpredictable but often preventable. Many different types of events can form the basis of a wrongful death claim; however, motor vehicle accidents remain a leading cause.
At our personal injury law firm, we have seen the many ways negligence can contribute to the loss of life. We have handled a wide range of cases, which helped us develop effective strategies to secure successful outcomes.
Common types of accidents that can lead to wrongful death cases include:
Bus accidents

Motorcycle accidents

Bicycle accidents

Medical malpractice
If your loved one died under different circumstances, you might still have a valid wrongful death case. Consult an experienced lawyer to learn more about your options for financial recovery.
Working With a Wrongful Death Lawyer in Chicago Will Strengthen Your Case
After losing a beloved family member, it can easily become overwhelming to handle the legal aftermath. A compassionate attorney from our team will take care of your case so you can have time to grieve and focus on healing.
A wrongful death attorney from Morelli Law Firm can strengthen your case by:
Thorough investigation:

Our team will conduct a detailed investigation to gather evidence, including witness statements, expert opinions, and any relevant documents.

Legal knowledge:

We leverage years of experience and legal knowledge to navigate wrongful death laws in Illinois.

Strategic negotiation:

Our lawyers engage in strategic negotiations with insurance companies or opposing parties to secure a fair settlement that adequately compensates for the damages incurred.

Court representation:

Our personal injury law firm provides skilled representation in court if a fair settlement cannot be reached, advocating for your rights and the compensation you need.

Timely action:

We ensure all legal deadlines are met and paperwork is filed accurately.
Collaborating with a wrongful death lawyer in Chicago is not just about legal representation; it's a partnership aimed at achieving justice and securing the compensation needed to help the surviving family members move forward.
Can You File a Wrongful Death Case in Illinois?
While in some states, the decedent's family members can file a wrongful death lawsuit, in Illinois, this is not possible. Here, only the personal representative of the victim's estate can pursue legal action.
If the victim dies before appointing an executor for their estate, the court can name someone to fulfill this role. This person will resolve the tasks associated with the estates and file the wrongful death claim.
Available Wrongful Death Damages
You and your family should not have to bear the financial burden if your loved one dies in a preventable fatal accident. An experienced wrongful death attorney will help you prove the full extent of your loss and receive the money you need to secure a comfortable future for your family.
Possible damages in a wrongful death case include:
Loss of consortium

Loss of financial support

Survivor's mental suffering

Loss of education the deceased victim would have provided to surviving children
While some states place a cap on the amount of wrongful death damages that can be awarded, Illinois does not impose a limit. Working with a skilled attorney will increase your chances of receiving the maximum settlement for your case.
You Have a Limited Time To File a Wrongful Death Lawsuit in Illinois
The Illinois statute of limitations for wrongful death cases in the state typically allows two years from the date of the individual's passing to initiate legal proceedings. However, the deadline extends to five years if the victim dies as a result of violent intentional conduct.
A shorter time limit of only one year applies to cases where the at-fault party faces charges for the following crimes:
Drug-induced homicide

First-degree or second-degree murder

Involuntary manslaughter or reckless homicide

Intentional homicide or voluntary manslaughter of an unborn child

Involuntary manslaughter or reckless homicide of an unborn child
Failing to file within this designated period may result in the forfeiture of your right to pursue a wrongful death claim. Consult an experienced wrongful death attorney in Chicago, IL, to learn the statute of limitations that applies to your case.
Our Chicago Wrongful Death Attorneys Will Fight for Your Family
Morelli Law Firm is committed to fighting for your family during one of the most challenging times you may face. Our team understands the profound impact a wrongful death can have on a family's emotional and financial well-being.
Whether negotiating with insurance companies or representing you in court, our Chicago wrongful death attorneys are dedicated to securing justice. Beyond legal representation, we provide compassionate support, recognizing that each case involves deeply personal and emotional aspects of loss. Contact us today to share your story.