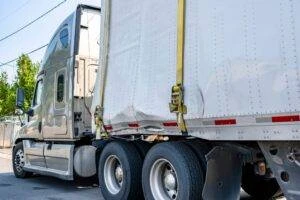 You may need a Chicago fatal truck accident attorney if you lose someone in an accident on the road. Chicago roads are constantly filled with a myriad of vehicles, including large trucks and commercial vehicles. Unfortunately, the density of traffic and the sheer number of trucks on the roads increase the likelihood of fatal accidents.
These tragic events not only leave families grieving the loss of loved ones but also grappling with legal complexities. In such devastating times, finding a compassionate Chicago truck accident lawyer can help your family navigate the intricate Illinois legal system.
How to Sue After a Fatal Truck Accident in Illinois?
The loss of a loved one in a fatal truck accident is an unimaginable tragedy. In the midst of grieving and emotional turmoil, families often face the challenging prospect of seeking justice for their loved ones. When it comes to pursuing legal action after a fatal truck accident, it's essential to understand the steps involved in initiating a lawsuit:
Consult an Experienced Truck Accident Attorney
Reach out to a skilled personal injury attorney with experience in truck accidents, especially those resulting in fatalities. An experienced lawyer can guide you through the legal process, explain your rights, and assess the viability of your case.
Gather Essential Evidence
Work closely with your attorney to collect all relevant evidence related to the accident. That may include accident reports, witness statements, medical records, and any available video footage or photographs.
Determine Liability
Establishing liability is crucial in wrongful death cases. Your attorney will investigate the accident thoroughly to determine the party or parties at fault, whether it's the truck driver, trucking company, or another party.
Seek Compensation
Your attorney will assist you in negotiating the compensation you deserve, either from a financial arrangement with the liable parties or through a lawsuit in an Illinois court. This compensation can cover medical and funeral expenses, loss of financial support, loss of companionship, and more.
Navigating a legal battle after a fatal truck accident can be emotionally draining. However, having a compassionate and experienced attorney by your side is crucial to help you through this challenging time and ensure that the responsible parties are held accountable for their actions.
Wrongful Death in Truck Accidents: Identifying Liable Parties
Losing a loved one in a truck accident is a tragedy that no family should endure. When such an accident leads to wrongful death, it's vital to determine the liable parties to seek justice and rightful compensation. In truck accident cases resulting in wrongful death, multiple parties might be held responsible:
Truck driver:

The driver of the truck might be at fault due to negligence, such as distracted driving, driving under the influence, fatigue, or violating traffic laws.

Trucking company:

The trucking company could be held liable for inadequate training, improper maintenance, overworking the driver, or pressuring them to meet tight schedules that may compromise safety.

Truck manufacturer or maintenance company:

If a defective truck part or poor maintenance contributed to the accident, the manufacturer of the faulty part or the maintenance company might bear responsibility.

Government entities:

In some cases, the

Illinois Department of Transportation

could be held responsible if poor road conditions, inadequate signage, or faulty traffic lights caused the accident.
Our Chicago fatal truck accident lawyers will meticulously examine the evidence, accident reports, witness statements, and medical records to identify the responsible parties.
Statute of Limitations to Pursue Damages for a Fatal Truck Accident
In Illinois, there is a time limit within which a wrongful death claim arising from a fatal truck accident must be filed. This legal time frame is known as the "statute of limitations." Understanding and adhering to this timeline is crucial, as failing to file within the stipulated period could result in the loss of the right to seek compensation.
The statute of limitations for wrongful death cases in Illinois spans two years from the date of the individual's passing. However, exceptions or variations can occur based on the circumstances of the accident, the parties involved, and the specific details of the case.
Therefore, consulting with an experienced wrongful death truck accident attorney is imperative to ascertain the precise statute of limitations applicable to a particular case.
Compensation Available to Surviving Family Members After a Fatal Truck Accident
Besides the profound emotional toll, families left behind often face significant financial challenges. In such cases, understanding the potential compensation that may be available through legal action can be crucial in helping surviving family members cope with the aftermath.
In Illinois, wrongful death claims arising from fatal truck accidents can encompass various types of compensation. Some potential forms of compensation include:
Medical expenses:

Reimbursement for medical costs incurred prior to the victim's passing, which are attributable to the truck accident.

Funeral and burial costs:

Coverage for reasonable funeral and burial expenses, helping the family handle the financial aspects of laying their loved one to rest.

Loss of income and benefits:

Compensation for the loss of the deceased's future earnings and the benefits they would have provided to their family members.

Pain and suffering:

Intangible compensation for the emotional distress, mental anguish, and pain suffered by the surviving family members due to the loss of their loved one.

Loss of companionship and consortium:

Compensation for the loss of companionship,

guidance, and nurturing care that the deceased would have provided to their family.

Non-economic losses:

Losses that can be quantified, including the financial value of household services, childcare, and other contributions the deceased would have made to the family.
In certain cases, punitive damages may be awarded to punish the responsible party for gross negligence or intentional misconduct that led to the fatal truck accident. But only a jury can decide on those.
Chicago Fatal Truck Accident Attorneys Available 24/7
No matter the time of the day, one of our experienced Chicago fatal truck accident lawyers is ready to listen to your case and help you understand your rights and legal options. We can also offer a strategic consultation at no cost and work on your case on a contingency basis. That means you don't pay until we win a settlement or compensation for you.
Dealing with the aftermath of a fatal accident can be a daunting process. Contact a Morelli Law professional today, and allow us to answer all your questions and help you find solutions during these difficult moments.