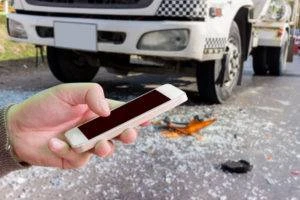 It is important to talk to an experienced semi-truck accident attorney in Chicago if you were the victim of someone else's negligence on the road. A semi-truck accident can leave you with severe injuries and a totaled vehicle. In this situation, we understand that knowing what steps to take and how to secure compensation for your losses can prove challenging.
Our team at the Morelli Law Firm can step in to assist you, answering your questions and guiding you through settling or filing a lawsuit. You can work with a Chicago truck accident lawyer today to get guidance and help with your legal claim.
Compensation Options After a Semi-Truck Accident in Chicago
Obtaining compensation for your losses after a semi-truck accident in Chicago can be crucial for a truck accident victim. A reliable law firm can thoroughly assess the repercussions of the collision and help you access funds to mitigate various aspects of the aftermath:
Medical Expenses
Given the high costs of medical care in Chicago, we understand the financial strain it imposes. Depending on your circumstances, you could receive compensation to cover medical costs such as hospitalization, medications, and necessary medical procedures.
Lost Wages and Earning Potential
Taking time off work may be necessary, affecting your income. An attorney can assist you in seeking a fair settlement or compensation to cover lost pay, potential bonuses, or raises that you might have missed.
In case the severity of your injury results in a disability, a Chicago semi-truck accident lawyer can help you pursue compensation for your diminished earning capacity.
Property Damage
Semi-trucks often cause significant damage to cars in a collision. Repairing such damage or replacing a totaled vehicle can be expensive. Our team is committed to helping you secure compensation to cover repair expenses or the costs involved in acquiring a new vehicle.
Wrongful death
In the event of losing a loved one during a semi-truck accident, family members may be entitled to pursue funerary and crematory damages in a wrongful death claim against the liable parties.
Pain and Suffering
Your legal representative can also help you recover non-economic losses, including the pain, suffering, and mental anguish resulting from the semi-truck accident. However, it is necessary to evaluate the impact of the incident on your well-being to ensure you receive appropriate compensation.
Reasons to Contact a Lawyer After a Chicago Semi-Truck Accident
Often, individuals hesitate to contact a lawyer, unsure of the personal injury claim process or potential benefits. However, reaching out to an experienced attorney after such an accident can be pivotal. Here's why:
Navigating Legal Complexities
Motor vehicle accident cases involve big trucking companies and intricate laws and regulations. A seasoned attorney can navigate these complexities, ensuring your rights are protected and helping you comprehend the legal intricacies.
Determining Liability
Establishing fault in a semi-truck accident isn't always straightforward. An experienced truck accident attorney can conduct a thorough investigation, collecting evidence to identify responsible parties and build a robust case.
Maximizing Compensation
Truck accidents often result in personal injuries and substantial damages. An attorney can help you seek the maximum compensation possible, covering medical bills, lost wages, property damage, and emotional distress.
Negotiating with Insurance
Dealing with insurance companies can be overwhelming. Lawyers are adept at negotiating with insurance adjusters to secure a fair settlement, sparing you from the hassle.
Preserving Evidence
Evidence can be lost or destroyed if not preserved promptly. Lawyers interview witnesses and ensure all critical evidence is secured, strengthening your case.
Experience with the Trucking Industry
Seasoned attorneys have familiarity with truck accident injuries, the trucking industry, its practices, and potential violations. This knowledge is invaluable in presenting a strong case.
Peace of Mind
Engaging a lawyer provides peace of mind. Knowing a professional is handling your case allows you to focus on recovery while they fight for your rights.
Don't let uncertainty deter you. Reach out to a Chicago personal injury lawyer to get answers to all your legal questions.
Common Injuries in Semi-Truck Accidents in Chicago
Semi-truck accidents in Chicago can result in a range of injuries, often severe, due to the size and impact of commercial trucks. If you've been involved in such an accident, understanding the common injuries is vital. Seek guidance from a personal injury attorney to navigate through the legal complexities and seek the compensation you deserve.
Types of Injuries
Whiplash and Neck Injuries. Whiplash, a sudden jerking motion of the head and neck, is a prevalent injury in commercial vehicle accidents.
Back and Spinal Cord Injuries. The impact of a semi-truck collision can cause significant back injuries, including spinal cord damage. These injuries can result in lifelong disabilities and require extensive medical care.
Head and Brain Injuries. Traumatic brain injuries (TBIs) are a major concern in truck accidents. The force exerted can cause concussions, contusions, or more severe brain trauma. These injuries can have lasting cognitive and functional effects.
Fractures and Broken Bones. The force of a collision can lead to fractures and broken bones. These injuries often require surgeries and extended rehabilitation, impacting your ability to work and lead a normal life.
Internal Injuries. The force of the impact can cause internal injuries like organ damage or internal bleeding. These injuries are not always immediately apparent and may require urgent medical attention.
Cuts and Bruises. Due to shattered glass or objects within the vehicle, victims of truck accidents often suffer from cuts, bruises, and lacerations.
Frequently Asked Questions About Semi-Truck Accidents in Chicago
Can You Sue for a Semi-Truck Accident in Chicago?
After a semi-truck accident in Chicago, you may have the legal option to file a lawsuit. In many cases, drivers can sue the trucker who hit them, the semi-truck company, or even the semi-truck manufacturer.
However, it's essential to note that a lawsuit may not be recommended in every situation. Consulting with a Chicago semi-truck accident attorney is crucial, as they may suggest settling your claim instead. That involves negotiating with insurance agents to secure a fair offer covering your losses.
How Long Do You Have to Seek Damages for a Semi-Truck Accident?
In Chicago, drivers typically have two years to file a claim after a semi-truck accident. This timeframe is subject to the statute of limitations in Illinois. However, exceptions to this rule can potentially shorten the time you have to pursue your case.
Will I Have to Go to Court for a Semi-Truck Accident Claim?
Not necessarily. Many semi-truck accident claims are resolved through settlements outside of court. Your experienced Chicago semi-truck accident lawyer will negotiate with insurance companies to reach a fair settlement that covers your damages.
What is the Cost of a Semi-Truck Accident Lawyer?
Hiring a semi-truck accident lawyer in Chicago doesn't typically require an upfront payment. Most attorneys, including those at Morelli Law, work on a contingency fee basis. That means they only get paid if you win your case. Their fee is a percentage of the compensation you receive. If you don't win, you generally won't owe them anything.
This setup allows you to pursue a legal claim without worrying about hefty legal fees upfront. During your free consultation with a semi-truck accident lawyer, you can discuss the fee structure and any potential costs related to your case.
When Should You Hire a Truck Accident Lawyer in Chicago?
If you sustained injuries in a collision with a large vehicle, make sure that you immediately reach out to a Chicago semi-truck accident attorney for assistance. It's also essential to seek legal help if the other driver denies fault for the collision or if the wreck caused significant property damage or the loss of life.
Call a Morelli Law Truck Accident Attorney Today: Your Bridge to Justice and Recovery
If you've recently been involved in a truck accident in Chicago, it's normal to feel overwhelmed and unsure about what steps to take next. During this difficult time, reaching out to an experienced truck accident attorney can be your beacon of hope and strength, guiding you through the complexities of the aftermath.
The legal world can be a labyrinth of complexities and jargon. Our experienced truck accident lawyers at Morelli Law are well-versed in this terrain. We can help you navigate through the intricacies of the legal process, ensuring your rights are protected and understood. Contact us at Morelli Law for a free consultation.