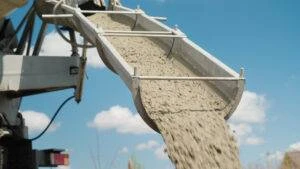 Just about every building you can think of in Chicago depends on concrete and trucks to deliver it. Sometimes, drivers of these trucks drive recklessly to make their deliveries on time, and that can put you in danger of a serious crash.
If you've been in a crash with a concrete truck or lost someone in a concrete truck accident, Morelli Law can help you. Our truck accident lawyers in Chicago will listen to your story and tell you if you have a case and how we can help you fight for compensation for your losses.
You Could Receive Substantial Compensation
Concrete truck accidents have some important differences from normal car accidents, and these differences can increase the value of your compensation. First, the chances of severe injury or death are much higher in a concrete truck accident case because of the weight of these vehicles. They can weigh as much as 60,000 pounds.
Second, because they are commercial vehicles, you can sue the employer of the driver along with the driver as part of your case. There may also be other parties like mechanics, manufacturers, or even local government. The more parties involved, the more insurance policies there will be for your claim.
Finally, the policy limits on commercial vehicles are much higher than standard vehicles. This means there is more room to negotiate. It's easier to negotiate higher settlements with an insurer when they're obligated to pay up to a higher amount.
Why Hiring a Concrete Truck Accident Lawyer Helps You
If a concrete truck crashes into you, it may look like an open and shut case. An insurer may even insist on settling quickly with you. Don't be fooled. The insurance companies want to pay you as little as they can. A Chicago concrete truck accident lawyer can ensure you get fair compensation.
A lawyer is your shield against the tactics of insurance companies, but that's not all they do for you. While you're recovering from your injuries, your lawyer will:
Investigate to see who was at fault and which insurance policies apply to your case

Gather evidence to prove your side of the story and prove the value of your damages

Give you advice on how to protect yourself while you're recovering from your injuries

Handle all communication between you, the defendant, and the insurers

Negotiate for a fair settlement on your behalf

Prepare for trial if they will not negotiate

Take your case before a judge and jury and fight to persuade them to give you just compensation for your damages
Hire Morelli Law to represent your interests. We've helped clients secure over $1 billion in compensation over our decades of service.
Damages You Could Receive in Your Accident
When you're in an accident, life throws you a lot of things you don't want. These things are called damages, and you could receive compensation for them in your insurance claim or lawsuit. Common damages in a concrete truck accident include:
Medical bills, hospitalization, surgeries, medications, etc.

Repair or replacement of your vehicle and property

Lost wages you couldn't earn while you recovered

Lost future income and disability if you cannot return to your old work

Pain and suffering, along with other non-economic damages

Punitive damages if the driver committed gross negligence.
When you hire our Chicago concrete truck accident lawyers, our team will work to prove the value of all the damages you are owed, so the insurance company will have to pay what you deserve. If you've received a settlement offer from an insurer, don't accept it until you've taken it to Morelli Law. We'll tell you if it's fair or if you're getting ripped off.
How Will I Pay For Your Services?
Some lawyers work hourly or charge a huge up-front fee called a retainer before they'll work on your case. Personal injury lawyers do not work that way. Justice isn't served if anyone gets injured, and only the wealthy can afford to fight against the insurers.
Instead, we use a contingency fee system. You do not have to pay us until you win compensation in your case with our help. If you lose and get nothing, you will owe us nothing for our services. That's why personal injury lawyers are so aggressive about winning. Your success is their success.
When you win, your lawyer will take a percentage of your settlement or court award as the fee. We will discuss the percentage with you during your consultation, as it depends on your case and its difficulty.
When Should I Contact a Chicago Concrete Truck Accident Lawyer?
When you're in an accident, there are four people you need to talk to. First, the police so you can make an accident report. Second, your doctor to get treatment for your injuries and a diagnosis. If you were taken straight to the hospital, the police may contact you when you've recovered enough to talk.
After that, speak with Morelli Law for a free consultation. Using the information from the police and your doctor, we can explain your chances of success, legal options, and possibly give you an estimate of how much you can expect.
Finally, you will need to speak with your insurer to report the accident. This is a necessary condition of your insurance. Stay factual, and do not speculate about whose fault it is. In fact, we can do the reporting for you if you hire us.
Contact Morelli Law for a Free Consultation
You have a small window of opportunity to sue after your accident before you cannot claim compensation. Don't let your chance to get paid for your injuries slip away. Contact Morelli Law anytime by calling the number on your screen or emailing us through our contact page.