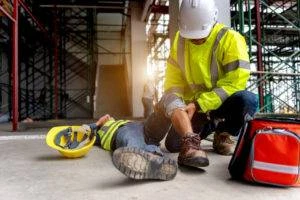 When it comes to construction accidents, an "average" claim doesn't really exist. Construction accidents can vary so significantly, between the type of accident and the severity, that any average settlement amount would be a meaningless figure.
Taking every accident settlement and averaging out the amount received by the victim would do nothing to help you in determining the value of your claim. In order to get an accurate estimate of what your claim may be worth, you should consult with a construction accident lawyer, who can review your case and calculate the total value of your claim.
Construction Is One of the Most Dangerous Industries
Workplace safety standards continue to rise, and the technology behind safety equipment continues to improve. However, workplace injury rates remain quite high. This is especially true in the construction industry, which has always been one of the most dangerous.
Between the power tools, the heavy equipment, the chemicals, the hazardous materials, the loud noises, and the heights, there are plenty of hazards on a construction site that can result in serious injuries.
A lot of safety equipment is required on construction sites, and workers are supposed to be trained to perform a variety of safety procedures. Unfortunately, many companies cut corners both in safety equipment and education. Additionally, many workers don't always follow procedure even when it has been clearly explained.
Even on job sites where safety is highly valued, all equipment is up to code, and all procedures are followed, accidents still happen. These are dangerous occupations, and even in the best of conditions, some injuries are unavoidable.
Many Lawsuits Settle for Over One Million Dollars
How much a personal injury claim for a construction accident is worth depends upon many factors. First of all, most construction accidents are not settled by a lawsuit. Instead, they get dealt with through a workers' compensation claim. However, for serious injuries, where the damages exceed the coverage, a lawsuit may be the only way to recover the money you need.
You should note that if you accept money from workers' compensation, you are forfeiting your right to file a lawsuit. There are a number of parties whose negligence could have led to your accident, including your employer, the property owner, or a tool manufacturer. Consult with a construction accident lawyer to discover your best path to compensation.
Since smaller claims are typically handled by workers' compensation insurance, most construction accident lawsuits tend to have high figures attached. While some of these accidents may only settle for an amount in the five-figure range, many cases settle for six figures or higher. Some construction accident settlements even reach as high as eight figures.
The Cost of Hiring a Construction Accident Lawyer
If you are considering filing a lawsuit after a construction accident, you are likely curious about the cost of hiring a construction accident lawyer. People often think of heavy price tags when it comes to hiring a lawyer. While a construction accident attorney may receive a large chunk of money for working your case, you will never pay a penny out of pocket.
Personal injury lawyers charge their clients differently than most other attorneys. You won't be billed for every phone call and email and every minute that your lawyer spends working on your case. Instead, construction accident lawyers work on a contingency fee basis. With this fee structure, your lawyer only gets paid if you collect compensation.
Instead of paying your lawyer directly, they will collect their payment as a pre-agreed upon percentage of your compensation package. While this sum may be significant, on average, those who hire an attorney end up in a far better financial position once the dust settles than those who attempt to represent themselves.
The contingency fee payment structure also gives clients the peace of mind that their lawyers will do everything in their power to get them as much money as possible. Otherwise, the attorney is working for free.
Consider Hiring a Personal Injury Law Firm in New York
If you have been injured in a construction accident in New York, it is critical to contact a lawyer as soon as possible. Even if you simply end up taking a workers' comp settlement, a free consultation with a construction accident attorney can help ensure that you are making the right decision.
At the Morelli Law Firm, our team of experienced construction accident lawyers knows what you are going through. We have helped many clients receive the compensation they need after a construction accident. We know how to evaluate your claim and what it takes to ensure that you get the money you need to get your life back on track.
The Attorneys at the Morelli Law Firm Are Here for You
Give us a call or fill out our online contact form to schedule a free, no-obligation case review today. A member of our legal team will look over your case and advise you of all your options moving forward. We can answer all of your questions and help you through every step of the process to recover fair compensation.