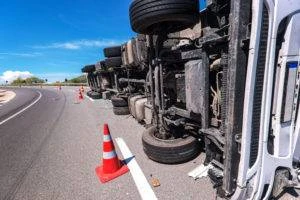 If you've been injured in a collision with a semi-truck, you're probably wondering what to do next. The effects of serious injuries to you or a loved one can be life-altering, and the devastation that follows getting hit by a truck can go far beyond physical injuries alone.
The good news is that an experienced St. Charles 18-wheeler accident lawyer may be able to get you financial compensation. Find out more about who could be liable for your accident, whether you should pursue a civil lawsuit, and how much we've gotten other truck accident victims in the past.
Pursuing a Civil Lawsuit: Is It a Good Idea?
You probably have a lot going on right now during the aftermath of the collision, and the thought of filing a lawsuit can be overwhelming. Perhaps you're wondering if bringing your case to court is even a good idea.
You'll be relieved to hear that you may not have to go to court for a truck accident. These claims are often settled directly with the trucking company's insurers.
Legal action against the negligent party is strongly advised if your injuries have had a negative impact on your life, either physically, emotionally, or financially. If an experienced truck accident lawyer wins your case, you could hold the liable party accountable and recover compensation for everything you've endured.
Unfortunately, large truck accidents often result in fatalities, and losing someone you love is devastating in so many ways. If the crash resulted in the death of your loved one, you may have a right to compensation for:
Funeral and burial costs

Medical bills

Loss of income

Punitive damages
You may also be entitled to the loss of benefits such as retirement and medical coverage. Additionally, if the person who passed away was your spouse or live-in partner, you could pursue restitution for damages such as loss of companionship and childcare with the help of an 18-wheeler accident lawyer in St. Charles.
The Trucking Company May Be to Blame
Truck accidents are typically more complex than other vehicle accidents due to the fact that there may be multiple parties at fault. For example, some trucking companies encourage their drivers to cut corners to increase their profit, even though it can put the safety of other drivers in jeopardy.
Federal and state laws regarding the number of hours a driver can work are designed to keep other drivers who share the road with them safe. When a trucking company prioritizes profits over safety, they put the rest of us in harm's way.
Identifying All Responsible Parties in Your St. Charles Trucking Accident
Accidents involving tractor-trailer trucks typically take more time and effort to investigate and settle than regular car wrecks. One reason for this is that a truck accident is likely to have more than one contributing cause.
Given the complexity of accident cases involving large trucks, it's essential to hire an attorney who has experience with truck accidents, personal injury law, and insurance law. A personal injury lawyer experienced with these kinds of collisions will know how to thoroughly investigate the accident and identify who is responsible.
The liable parties could include any of the following:
Truck driver

Third-party driver

Trucking company

Trailer owner

Safety inspector

Freight shipper

Vehicle technicians

Truck parts manufacturer
Example Settlements From Our Truck Accident Lawyers
Once our 18-wheeler accident lawyers review your claim, we will be able to give you an estimate of your total damages. These are some of the results we have achieved for our clients who were injured in truck accidents. How much your settlement or court award will be will depend on the specifics of your claim. For example, our past wins include:
$11.2 Million:

One of our clients, a woman who sustained devastating brain damage after a truck negligently collided with her vehicle was awarded 11.2 million dollars.

$7.4 Million:

A delivery person hit by a truck while riding his bicycle was awarded 7.4 million dollars.
On average, those represented by a truck accident attorney receive much larger settlements than individuals who try to represent themselves. Even after your attorney gets a percentage, you will almost always walk away with a significantly larger settlement than you would have gotten yourself.
What a Big Rig Accident Lawyer Can Do for You
If you want to hold the liable party accountable but don't know where to begin, the first step is always to seek medical treatment for your injuries. Then, as soon as possible, you'll need to contact a St. Charles personal injury accident lawyer who is experienced with truck accident cases.
We specialize in large truck accidents in Missouri. Here's what we can do:
Help You Gather Evidence
We'll investigate the accident, interview all witnesses, and obtain trucking company driver logs and maintenance records. We understand the importance of moving quickly to secure all evidence before it gets covered up or misplaced.
Conduct an Investigation
If the circumstances of the collision are complicated, we can work with a professional traffic reconstruction analyst to pinpoint exactly what caused the crash. Through our investigation, we can determine all of the potentially liable parties, their insurance companies, and their policy limits.
Determine the Cost of Your Medical Needs
We'll review your medical records to determine the extent of your medical expenses. If the truck accident leaves you partially or completely disabled or with ongoing medical issues, we can estimate your future medical costs, including any required modifications to your home.
Submit Your Claim
Our next step will be to submit a claim to the insurer of the at-fault truck driver, the trucking company, and any other responsible parties. We'll seek full compensation for your injuries and any other losses you've incurred due to the accident. We'll negotiate with the insurance companies so that you can focus on your recovery and life's other demands.
Keep You Updated
Throughout the litigation process, we'll keep you updated on your case's progress and notify you of any important developments. When an insurer makes a settlement offer, we will advise you based on our experience handling similar accidents. We can also answer any questions you may have along the way, such as how pain and suffering are calculated after a truck accident.
Sometimes negotiating with the insurance company is only the beginning. If the insurer doesn't offer a fair settlement, we'll file a lawsuit in the appropriate Missouri or Illinois court and use our extensive trial experience to pursue higher compensation.
Get Help From an 18-Wheeler Accident Lawyer in St. Charles
Whether you've been injured or your loved one has been killed, you have the right to file a claim for compensation. The Morelli Law Firm is here to help, and our team will work hard to negotiate a settlement with the at-fault party's insurers so you can get back on track.
If you are located in St. Charles, Missouri, or the surrounding areas, our St. Charles personal injury lawyers for 18-wheeler accidents would be happy to provide you with a free case evaluation so we can learn more about the circumstances of your accident.