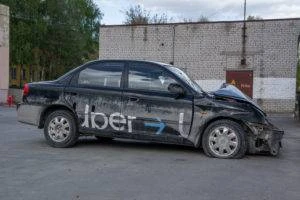 The number of rideshare drivers on the road continues to increase with each passing year. The popularity of these services is both due to the convenience that they offer and the distrust that many people harbor towards taxi drivers.
However, while using these services may be simple and convenient, when it comes to getting around, they can pose quite a challenge to recovering compensation after an accident. Liability laws are still catching up with the changes brought on by these services.
At the Morelli Law Firm, our team of rideshare accident lawyers keeps up to date with all the changing laws. We can put you in the best possible position to recover fair compensation after an accident involving a rideshare driver. Give us a call or fill out our contact form to get started with a free consultation today.
Rideshare Drivers Are Not Employees
Rideshare companies attempt to minimize overhead in a variety of ways. One of the most significant and controversial methods they take is labeling rideshare drivers as independent contractors rather than employees.
By doing this, they limit the benefits they are required to offer to their drivers, such as paid leave and medical insurance. They also diminish the amount of accident insurance they must provide when their drivers are on the road.
Rideshare Insurance Coverage
Rideshare companies require their drivers to carry automobile insurance in case of an accident. Despite this, these companies are required by law to carry additional coverage that varies depending on the status of the drivers at the time of the accident.
App Is on, and Driver Has a Rider or Is on Their Way to Pick One Up
In this situation, both Uber and Lyft carry coverage of one million dollars. In some states, the law requires an increased coverage level that these companies are required to meet.
App Is on, and Driver Is Waiting for a Ride Request
Under these circumstances, the rideshare company is only required to carry minimum coverage in the case of an accident. In this situation, both Lyft and Uber provide:
$50,000 for bodily injuries per person

$100,000 for bodily injuries per accident

$25,000 for property damage per accident
App Is Off
In this situation, the connection between the driver and the rideshare company is inconsequential. The rideshare company provides no coverage in the case of an accident, and the driver's personal insurance policy is the only one that will be in effect.
Compensation After a Rideshare Accident
After a rideshare accident that results in a serious injury, financial compensation is often necessary to get your life back on track. Calculating the true value of a claim can be challenging, and without the help of an experienced professional, an accident victim is unlikely to be able to properly assess how much their case is worth.
You will likely be eligible for a variety of damages. Some of the most common damages that result from a rideshare accident include:
Pain and suffering

Mental anguish

Medical expenses

Future medical costs

Lost wages

Lost earning capacity

Property damage

Permanent disability

Diminished quality of life
The above list only contains the most common damages. There is a potential for claiming many other damages depending on the specifics of your situation. A Paterson rideshare accident attorney can help you identify all damages that apply to your case.
Don't Miss Your Chance to Recover Compensation
After an injury that results from a rideshare accident, you have a limited amount of time to file a lawsuit and recover fair compensation. The statute of limitations for a personal injury lawsuit in New Jersey is two years. However, under certain conditions, this time frame can be dramatically reduced.
Hiring a rideshare accident lawyer as soon as possible after your accident will put you in the best position possible to recover the money you need. Your attorney will be able to identify if there are any factors that could reduce your time to file. They can also help ensure that any other deadlines that apply to your case are met.
Hiring an attorney early not only helps with meeting all deadlines but also puts your lawyer in the best position to build a strong case. Waiting to hire a lawyer will likely result in critical evidence they could have used becoming lost or corrupted. Additionally, they can record eyewitness depositions while the events are still fresh and the memories more reliable.
Contact a Rideshare Accident Attorney in Paterson Today
At the Morelli Law Firm, we have a history of recovering fair compensation for personal injury victims, including those who have been hurt in rideshare accidents. Our team of Paterson rideshare accident lawyers knows the challenges these cases hold and how to overcome them. We believe that all accident victims deserve to recover fair compensation to help them retake control of their lives.
We will review the facts of your case, offer you advice on how to proceed, and answer any questions you may have. Give us a call or fill out our easy online contact form to get started today. Should you choose to retain our services, we will get started fighting for you immediately.