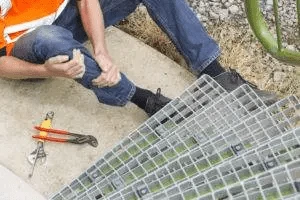 If you have been injured or a loved one died on a construction site, you need a strong representative on your side who understands the intricacies involved in winning. You can trust your construction accident lawyer in Paterson to help you recover compensation.
Whether you broke bones, suffered a concussion, or you are dealing with PTSD, you are entitled to recover your damages. The goal of your attorney is to bring the evidence forward so that a fair settlement is the only alternative for the other party. Let us meet this goal for you.
About Paterson Construction Accidents
Unfortunately, the construction industry is at the top of the list when it comes to workplace injuries and fatalities. According to the U.S. Department of Labor (DoL), there are four common reasons for fatal construction accidents. They are:
Falling:

Falls from greater heights are usually fatal.

Struck by an object:

A worker may be struck by falling equipment or materials.

Electrocutions:

Electric shocks can happen when equipment is not up to safety guidelines.

Caught in-between:

This type of accident happens when a person gets stuck between equipment and crushed.
Construction accidents are usually very serious due to the heavy equipment being used. If you are fortunate enough to survive, it could still mean your life is altered in some way. A fair settlement can compensate you for the pain you've endured.
Common Types of Paterson Construction Accidents
Construction workers have a very dangerous job with a probability of getting injured. Some common accidents on construction sites include:
Building collapse

Crane accidents

Cutting accidents

Defective equipment accidents

Electrical accidents

Falls

Explosions

Ladder accidents

Logging accidents

Structure failure

Wrongful death
Paterson construction accident lawyers can handle your case, regardless of how the accident was caused. With some legal assistance, you can get financial compensation for your injuries.
Workers' Compensation and Construction Accidents
Many people who are injured in a construction accident are on the job. When this happens, their employer will offer to pay workers' compensation for their injuries. Workers' compensation usually only covers minimal things like medical bills and lost wages. However, a civil lawsuit can cover much more, such as pain and suffering.
If you file a workers' compensation claim, you typically waive your right to file a personal injury lawsuit against your employer. However, you may still reserve the right to sue someone else if you got hurt because of unsafe working conditions or dangerous equipment.
How New Jersey Personal Injury Law Will Affect Your Claim
When you connect with a Paterson construction accident lawyer, you will have the option to bring a New Jersey civil lawsuit. According to N.J. State statute of limitations §2A:14-2, you can file for personal injury claims up to two years after an incident. Since New Jersey has one of the shorter time frames for filing a claim, it is best to contact an attorney sooner rather than later.
No matter what type of construction accident you have dealt with, it is time to get the compensation you are entitled to. You should not have to pay out-of-pocket expenses for injuries you suffered through no fault of your own. A construction accident lawyer will help you have the party, or parties, responsible for your accident pay for your damages.
Damages Due to Construction Accidents
Unless you know and understand state laws, you may not receive the full benefits of your personal injury claim. A lawyer knows the financial recovery you can be eligible for. When you hire a Paterson construction accident lawyer, they will fight for you to gain all the recoverable damages. For personal injury, you can seek monetary compensation for the following:
Medical care and treatment

The income you lost due to the accident

Future lost income if the injuries will be long-lasting

Damage to property

Pain and suffering

Loss of guidance

Loss of enjoyment

Ongoing care costs

Prescription medicine

Doctor visits
If a construction accident is fatal, family members of the deceased can file a wrongful death claim. Damages such as funeral and burial costs, medical bills, and loss companionship can be collected. A wrongful death lawyer can explain any additional damages your family may be eligible for.
Who Is Liable in a Construction Accident?
A Paterson construction accident lawyer can help you identify the individuals responsible for your accident and hold them accountable with a civil lawsuit. Some parties that they will investigate include:
General Contractors and Construction Site Owners:

They are legally obligated to ensure that their employees have a safe place to work

Subcontractors:

They are delegated tasks from general contractors and are just as responsible for making employees feel safe

Engineers and Architects:

They must have construction sites inspected regularly and if something broke or fell and caused your accident, they can be responsible

Equipment Manufacturers:

Malfunctions or defective equipment can be reasons to hold these individuals accountable
Working With a Paterson Construction Accident Lawyer
At Morelli Law Firm, we hunt down the evidence to create the strongest case possible before negotiating with the other party. If negotiations do not prove fruitful, we are prepared to take your case to trial. While we take on your case, you should only have to worry about recovering from your injuries.
Start getting your life back on track today by reaching out to a Paterson construction accident lawyer. Our team is standing by and ready to take your call and provide you with a free, no-obligation consultation.