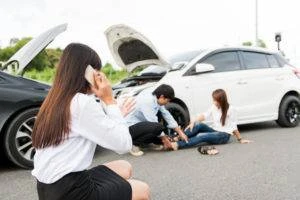 Head-on collisions can be dangerous for many reasons. With high speeds and a direct angle of impact, drivers who are involved in a head-on collision rarely walk away without some form of injury.
If you or a loved one sustained severe injuries or property damage during a head-on motor vehicle accident in White Plains, New York, you might be eligible to receive financial compensation to recover your losses. A White Plains head-on collisions lawyer from Morelli Law Firm can work with you to build a personal injury case that represents your legal stance.
Our team of lawyers may communicate with law enforcement officers, car insurance agents, and other drivers on your behalf as we build your case. We can keep you updated on your case's status as we go after the compensation you need to pay for your medical bills, lost income, and other financial damages. To learn more about how we may be able to help you with your case, call our law firm today at (212) 751-9800.
These Driving Behaviors May Cause Head-On Collisions
Certain driving behaviors may increase the risk of a head-on collision between two vehicles. These behaviors include the following:
Distracted Driving
Drivers put the safety of themselves, their passengers, other motorists, and pedestrians at risk each time they take their attention off of driving. When a driver is distracted, they diminish their response times and might not be able to make corrective maneuvers with their vehicle in time to avoid an accident. Distracted drivers may also drift across lanes of traffic, leading to a greater likelihood of a head-on collision.
Many forms of distraction exist behind the wheel. However, the widespread cultural acceptance of smartphones and other electronic devices represents a major source of distracted driving across the United States. The use of cellphones, tablets, and other electronic devices poses a severe risk for head-on collisions and other automobile accidents known to cause severe injuries.
New York prohibits all drivers from using portable electronic devices while driving. Serious penalties await those who violate the guidelines governing electronic device usage behind the wheel. The New York State Police states that it is against the law to hold an electronic device and do any of the following while driving:
Read, write, and send text messages or emails
Use social media apps or data to browse webpages
View, send, or take photos of images
Download files
Play games
Motorists who get caught using an electronic device while driving may face severe legal consequences. In accidents where a driver is suspected of using a cellphone, a lawyer may request phone records from the driver's mobile service provider. These records may show whether the driver was actively using their phone at the time of the accident.
Drunk and Impaired Driving
It is dangerous to get behind the wheel while under the influence of alcohol and/or other substances. Yet, drivers continue to cause head-on collisions and other automobile accidents every year due to driving while intoxicated.
Drinking or taking substances impairs the driver's reaction times, cognitive functions, and vision. The drowsy effects of alcohol and other drugs may even cause a driver to fall asleep at the wheel, making them more likely to cause a head-on collision with another vehicle.
If you believe that an accident you were involved in was caused by another driver's misconduct or negligence, you may hire a personal injury lawyer to help investigate your accident. A White Plains head-on collisions lawyer from Morelli Law Firm may be able to pull resources together to discover the cause of your accident. Our team may gather evidence to establish who was to blame for your head-on collision. Your lawyer may help you build a personal injury claim or lawsuit and pursue compensation on your behalf.
Do not hesitate to pick up the phone and speak to one of our team members today. Call us at (212) 751-9800.
Speeding
According to the National Highway Traffic Safety Administration (NHTSA), speeding has been a major cause of motor vehicle accidents for over 20 years and was listed as a contributing factor of nearly a third of traffic fatalities in 2017.
Drivers who speed are engaging in reckless behavior, which could put other road users at risk of injury or death. If a driver is driving too fast, they may not have enough time to stop safely if another vehicle suddenly stops or changes lanes in front of them. As a reaction, speeding drivers might try to swerve out of the way, accidentally swerving into oncoming traffic and causing a head-on collision.
Call Now to Begin Working with Morelli Law Firm
If you were part of a head-on collision, you may know just how devastating these accidents can be. Trying to take on the legal details that follow a head-on collision can be overwhelming if you are unfamiliar with the litigation process and personal injury law. If you decide to hire a lawyer to work on your behalf, you can center your attention on what matters most: recovering and getting back to your life.
A White Plains head-on collisions lawyer from Morelli Law Firm will fight for justice on your behalf. Our team is committed to ensuring that our clients' rights are protected after an incident. We may be able to identify a potentially liable party, communicate with anyone who was involved in the incident on your behalf, and pursue all forms of compensation you may be owed for your injuries and other damages. To learn more about how we may assist you, call our office today by dialing (212) 751-9800.