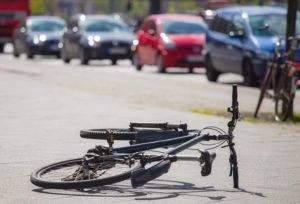 Are you looking for assistance after a bike accident in Union City, New Jersey? Our team at Morelli Law Firm can step in to provide you with service. We use our experience and understanding of the legal system to help clients like you.
Our team understands how devastating bike crash injuries can be. You can contact a bicycle accident lawyer in Union City immediately after your accident. We work to determine who caused your accident and assess your losses while answering your questions.
Why You Can Trust Our Union City Bicycle Accident Lawyers
After a Union City bike accident, finding a law firm that fully represents your needs is essential. Our team provides a proven record of success. We have decades of combined experience handling personal injury claims for clients like you.
We use specialized strategies to provide unique care for each client, earning millions of dollars in compensation after accidents. For example, our team recently helped a client injured while riding his bike to secure $7.4 million.
Additionally, our team takes on personal injury claims on a contingency basis, meaning you don't have to pay legal fees until we resolve your claim. Reach out to us now to learn more about the value of hiring a lawyer.
How a Union City Bicycle Accident Attorney Can Help You
After a collision, our Union City bicycle accident lawyers can step up to help with your legal claim. Members of our team can:
Provide you with immediate advice about your next steps

Investigate the facts about your accident

Handle insurance agents on your behalf

Track all the losses associated with your accident
We work with the goal of helping you secure compensation to cover all the losses associated with your accident. So, allow us to start working on your bicycle accident claim today.
How do Lawyers Establish Fault for Union City Bicycle Accidents?
Before Union City bicycle accident attorneys establish fault for a collision, they first determine who caused the accident. According to the Centers for Disease Control and Prevention (CDC), around 130,000 people sustain injuries in bike accidents every year, with collisions often caused by:
Motorists who fail to pay attention

Car drivers who open their doors into the road

Defective bicycle parts

Roads or paths allowed to fall into disrepair by the city
Once attorneys identify the cause of your collision, they begin working on fault. Someone may be liable for your accident if they owe you a duty of care, violate that duty, and directly cause your accident.
Our team focuses on establishing fault by investigating the accident. We work on your claim by:
Speaking with witnesses and experts about bike accidents

Visiting the scene of the collision

Going over your police report

Looking for other forms of evidence
Do Cyclists Owe a Duty of Care?
Many people understand that motorists owe one another a duty of care in New Jersey. They have a responsibility to follow all driving laws established by the state.
Bicyclists also have a duty of care. New Jersey expects cyclists to follow many of the same rules as drivers, including stopping at traffic signals, staying on the right side of the road, and signaling before making turns.
Failure to follow these regulations can result in accidents in Union City.
Can You Recover Compensation After a Bicycle Accident?
A bicycle accident lawyer can step in to help you secure damages after your collision. The specific damages available to you depend upon the facts of your accident, but many people receive funds to cover their:
Current and future medical expenses

Lost wages at work

Lost earning potential

Bicycle or vehicle damage

Pain, suffering, and mental anguish
Bicycle accident attorneys track all the expenses associated with your claim. You may even receive punitive damages in some cases, which serve as a way to penalize the individual who caused your accident.
How Long do You Have to File a Union City Bicycle Accident Claim?
Generally, you have around two years to begin a personal injury case in New Jersey, per NJ Rev. Stat. § 2A:14-2. However, if the collision involved a government employee, you may have less time to move forward with a Union City bicycle accident lawsuit.
A bicycle accident lawyer in Union City can discuss the time frame for handling your case, ensuring you make all necessary deadlines for the claim.
Can You Sue a Cyclist in Union City?
In some cases, you have the option to file a lawsuit after a Union City bicycle accident. For example, if the cyclist caused the collision, you might seek compensation from them. You also can work towards an insurance settlement with the help of bicycle accident lawyers.
Your lawyer may advise you to pursue your case in one way or the other, depending upon the facts surrounding the collision. Lawyers can negotiate with insurance agents for you, helping you reach a personal injury settlement that covers all your losses.
Settling out of court often allows you to resolve your case more quickly. However, insurance agents may refuse to offer you a fair settlement after your bike accident.
Speak to a Union City Bicycle Accident Attorney Today
Are you interested in seeking compensation for your medical expenses, lost wages, and other losses? Find out how you can move forward with a legal claim by reaching out to a Union City bicycle accident lawyer today.
Our team at Morelli Law Firm stands ready to help you. Complete our online contact form or call us to learn more during a free case evaluation.