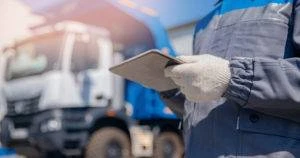 Due to their massive size and frequent stops, dump trucks pose a serious risk for other drivers on the road. Like other large commercial vehicles, dump trucks can be extremely hazardous when driven carelessly or operated incorrectly. Many dump truck collisions happen each year, and material spilling out of dump trucks can cause other vehicles to crash.
Have you or someone close to you been the victim of a devastating accident involving a dump truck? We represent commercial truck accident victims in and around O'Fallon, Illinois, and our attorneys fight to win. Learn how our dump truck accident lawyers in O'Fallon can get you compensation.
Dump Truck Accident Cases in O'Fallon, IL
If you or a loved one was harmed in a dump truck crash, you could be entitled to restitution for medical expenses, trauma, lost wages, and other losses caused by your accident.
Our firm handles O'Fallon area truck accidents of all types, including accidents due to:
Bad weather

Brake failures

Cargo spills

Distracted driving

Speeding or reckless driving
If you or a loved one has been hurt in a commercial truck accident caused by someone else's negligence, it's best to allow an experienced truck accident lawyer to investigate the accident and negotiate with the insurance company.
Why You Need a Lawyer After a Dump Truck Accident
There are several reasons to seek legal assistance after a dump truck accident. Dump truck cases tend to be complex due to the number of people involved. Multiple parties can be held responsible for the accident, including the driver, the trucking company, and the owners of the truck.
When a smaller vehicle gets hit by a dump truck, the damage will almost always be severe. Depending on the speed of the impact, the driver and passengers in the smaller vehicle could suffer serious and even fatal injuries.
After a dump truck crash, you'll likely receive a call from the trucking company's insurance company. These conversations typically lead to lowball settlement offers, which is another reason why you should avoid talking directly to the insurer and work with an attorney instead.
Recovering Damages From a Commercial Truck Accident
As truck accident attorneys that serve O'Fallon area clients, we understand that compensation is a major concern after a life-altering injury. You probably have questions, including:
What kinds of reimbursement can I get if a family member is killed?

Who pays for medical bills?

What about repairs?

How much is my case worth?
The compensation you can recover for a commercial truck accident depends on the extent of your injuries and the unique circumstances of your case. Damages are sometimes categorized as either special or general:
Special Damages
Special damages are any financial consequences caused by a negligent party. Some of the more common financial damages paid out after a truck accident include:
Medical treatments, including future medical expenses

Ongoing therapy and prescriptions

Lost wages and loss of future earning potential

Childcare, home health care, and travel expenses

Damaged property
Any out-of-pocket costs stemming from the accident may also be claimed. Our O'Fallon, IL, truck accident lawyers will identify what kind of special damages might be available in your specific situation.
General Damages
General damages don't come with receipts and invoices, so they aren't as easily defined. These damages may include:
Pain and suffering

Mental anguish

Diminished quality of life

Loss of consortium
Calculating damages for things like humiliation and lack of companionship is challenging, which is why it's essential to contact an experienced accident attorney to handle your claim.
Who is Liable for a Dump Truck Accident?
Liability is a critical factor in any personal injury claim. Depending on the circumstances, the following parties might be held responsible for a trucking accident:
Truck Driver
Truck accidents are often caused by speeding and reckless driving. If the truck driver's recklessness was the cause of the accident that resulted in your injury, then you may be able to hold the driver or their employer liable.
Illinois vehicle code 625 ILCS 5/11-503 defines reckless driving as "willfully or wantonly disregarding the safety of other persons or property while driving their vehicle."
Truck Owner
If the driver is not responsible for the accident, but the truck caused it, the person who owns or leases the truck could be held liable. This is because whoever owns or leases the vehicle is responsible for ensuring that it is adequately maintained and in compliance with state and federal regulations.
Government Entities
Sometimes accidents happen that are not caused by the truck or its driver but by a poorly maintained or constructed road. In these situations, you may be able to hold a public entity responsible. Please keep in mind that these cases are difficult to litigate and can be subject to complex regulations.
Mechanics and Maintenance Workers
If a vehicle was repaired or serviced improperly, you could hold mechanics and other maintenance workers liable. This liability can even extend to parts and vehicle manufacturers, depending on the circumstances of the incident.
The above and other parties are all potentially responsible. However, proving liability requires a lot of time and investigative work. Our firm's experienced dump truck accident attorneys have the skills and resources to help determine who is liable for your injuries.
Looking for a Qualified Personal Injury Lawyer in O'Fallon?
If you or a loved one has been involved in a dump truck accident on the road or at a construction site, please don't hesitate to contact the Morelli Law Firm.
We'll negotiate with the insurance companies for you so that you can focus on your physical and emotional well-being during this stressful time. If the settlement offer is unacceptable, we are prepared to take your case to court. Contact us now to learn about your legal options.