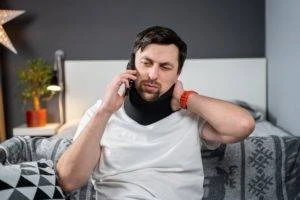 Americans rely on FedEx to ship their packages and bring them their online purchases on time. Sadly, some FedEx drivers feel as though they have to speed and engage in other reckless driving habits to complete all their orders in a timely manner.
When truck operators exceed the speed limit and drive while fatigued, accidents are likely to happen. If a negligent FedEx driver has injured you, our O'Fallon FedEx truck accident lawyers can help you take legal action. The Morelli Law Firm uniquely equipped to take on FedEx's lawyers and insurers and will make sure you receive full compensation.
Our Attorneys Have Experience Filing FedEx Truck Accident Claims
Going up against a large corporation's legal team and insurance company requires a highly skilled attorney with experience filing lawsuits and claims against powerful companies. If you need to pursue an insurance claim or personal injury lawsuit against FedEx, our lawyers are uniquely qualified to help you.
Our truck accident attorneys have won numerous cases against FedEx and are prepared to do so again. Throughout their experience litigating claims against the shipping company, they've learned exactly how to handle the legal process involved.
Not many firms have the unique experience with FedEx that we have. If you need to recover losses from an accident with a FedEx driver, working with a lawyer from Morelli Law will give you the best chance of receiving a fair settlement. An attorney from our firm will advise you on what happens if you get hit by a FedEx truck and represent your best interests.
Compensation a FedEx Truck Accident Lawyer in O'Fallon Can Secure
A successful FedEx truck accident claim can yield compensation for a number of financial losses and emotional hardships. In order to obtain the correct amount of money for your losses, your O'Fallon FedEx truck accident attorney will review your accident-related expenses and assign a monetary value to your emotional suffering.
Depending on your unique accident and injuries, you may be eligible to receive one or more of the following damages:
Medical Expenses
Truck accidents can cause drivers to sustain traumatic brain injuries, fractures, and a variety of other life-changing conditions. If you've suffered minor or major injuries from your FedEx truck accident, a lawyer from our office can secure compensation to cover the cost of your medical procedures, prescriptions, assistive devices, and doctor's visits.
Lost Wages
It's common for truck accident survivors to miss work while they attend medical appointments. If your injuries have stopped you from working and earning money, your lawyer can add these damages to your FedEx truck accident claim.
Decreased Earning Ability
Unfortunately, some truck accident victims are barred from working for the rest of their lives. If your injuries have permanently impacted your ability to work and earn a living, your attorney will request these damages.
Vehicle Damage
Colliding with a large commercial truck is likely to cause significant damage to your vehicle. To get your vehicle repair bills reimbursed, give a copy of them to your attorney, and they'll obtain the compensation you need to get back on the road.
Pain and Suffering
The sheer force of a truck collision can leave those involved with chronic pain for months and years after the incident. If your FedEx truck accident has caused you to experience a great deal of physical pain, your attorney can get you compensated for the suffering you've been forced to experience.
Mental Distress
Traumatic truck accidents can also cause emotional pain and even result in several different mental health disorders. Your attorney can add mental distress damages to your insurance claim if you've experienced signs of PTSD or anxiety after your crash.
Common Causes of FedEx Truck Accidents
Our lawyers have managed cases for a variety of different types of FedEx truck accidents. They've seen every type of collision imaginable, so you can be confident that they'll be able to find out what caused your accident. Here are some of the common commercial truck accident causes our team has seen before:
Speeding

Driving while intoxicated

Faulty truck part

Poor truck driving training
Your FedEx Truck Accident Lawyer Will Meet Illinois' Filing Deadline for Lawsuits
Illinois has deadlines that FedEx truck accident victims must meet to receive compensation for their losses. ILCS § 5/13-202 states that your truck accident lawsuit must be filed no later than two years after the crash.
Illinois has a separate statute of limitations for property damage lawsuits. If you're seeking compensation for vehicle damage from a FedEx truck accident, you'll have to comply with ILCS § 5/13-205. The statute allows plaintiffs five years from the date of their accident to file a property damage lawsuit.
Failure to meet these deadlines could prevent you from pursuing damages. If you believe the deadline for your suit has passed, you might still be able to take legal action. Get in touch with a FedEx truck accident lawyer in O'Fallon as soon as possible to find out what your options are.
No Fee Unless an Attorney Wins Your FedEx Truck Accident Case
Our lawyers offer contingency fee representation to victims of FedEx truck accidents. That means they won't charge upfront or out-of-pocket fees for their services. Instead, they'll take a cut of your settlement or court-awarded compensation.
A contingency fee usually amounts to one-third or 33% of your winnings, leaving more than enough left over for you to cover your medical bills and other losses. If your case is unsuccessful, you won't be responsible for paying your lawyer out of pocket.
Our FedEx Truck Accident Attorneys Are Prepared to Take On Your Case
If you've been injured in an accident caused by a negligent FedEx truck operator, you deserve to receive full compensation for your monetary and non-monetary losses. Our FedEx truck accident lawyers in O'Fallon have the experience you need to ensure your claim is successful.
To get started on your claim, contact the team at Morelli Law Firm today. We'll start by offering you a free case evaluation. During your no-obligation session, we'll ask questions about your accident and let you know if we're willing to take on your case. If we're able to help you, one of our attorneys will get started on the investigation stage of your claim ASAP.