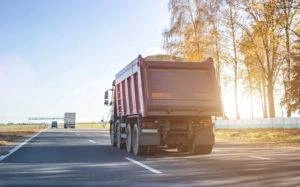 Do you want to secure compensation for your financial losses after an accident with a dump truck in Paterson, New Jersey? You may have a chance to get damages for your medical expenses, vehicle repairs, pain, and suffering in some cases.
A Paterson dump truck accident attorney can review your case and provide you with legal guidance. Our team at the Morelli Law Firm uses years of experience and legal training to help clients like you with insurance settlements and lawsuits.
Allow us to assess your situation today. Call or complete our online contact form to get started.
What Damages Can You Get for a Paterson Dump Truck Accident?
The Federal Motor Carrier Safety Administration (FMCSA) reported over 400 dump truck accidents in 2020. These accidents resulted in vehicle damage, injuries, and even the loss of life, along with severe financial losses.
If you got hurt in a car accident with a dump truck in Paterson, NJ, you might have a chance to seek funds to cover your:
Current and future medical expenses

Lost wages and diminished earning potential

Vehicle repairs or replacement costs

Pain, suffering, and mental anguish
Dump truck accident lawyers in Paterson, NJ, can review the losses you sustained due to the collision.
How Much Compensation Do You Get for a Dump Truck Collision?
The amount of damages you receive after a dump truck accident in Paterson can vary depending on the severity of your injuries. Generally, New Jersey expects drivers to use their Personal Injury Protection (PIP) insurance for most accidents.
In these cases, you may receive funds up to your policy limit to cover your expenses. However, if you sustained a severe injury, your dump truck accident lawyer in Paterson, NJ, may be able to file a claim with the dump truck driver or even help you with a lawsuit.
Who Can File a Dump Truck Accident Claim in Paterson?
Dump truck accident lawyers in Paterson, NJ, can assess your situation to see if you're eligible to file a claim or a lawsuit. Generally, you have a chance to seek additional compensation if:
The dump truck driver or another party owed you a duty of care

The party failed to uphold their duty by acting negligently

The party's actions directly caused the dump truck accident and your injuries

You sustained a severe injury, such as the loss of a limb or permanent disfigurement
Our team reviews the specific factors associated with your accident with a free consultation. Then, depending on the results of this conversation, we may take on your case.
Who Can You Sue for a Paterson Dump Truck Wreck?
A dump truck accident attorney in Paterson can investigate to see who caused your wreck. We often investigate by questioning witnesses, reviewing your police report, and working with dump truck accident specialists.
We may focus our investigation on the dump truck drivers. These drivers often cause accidents by:
Taking turns too fast and tipping the dump truck

Ignoring stop signs, red lights, and other traffic signals

Driving an overloaded truck

Speeding or tailgating other drivers

Changing lanes or backing up without checking blind spots
However, other parties may hold liability for a dump truck collision. For example, dump truck accident attorneys in Paterson, NJ, may pursue a claim against the trucking company or the truck manufacturer.
How Do Dump Truck Accident Attorneys in Paterson, NJ, Help You?
A dump truck accident lawyer in Paterson, NJ, offers assistance with all aspects of your legal claim. We take pride in supporting our clients by:
Answering all legal questions about the dump truck accident

Investigating the causes of the collision to determine liability

Reviewing all the expenses caused by the wreck

Discussing your legal options

Handling insurance agents so you can focus on your recovery
We understand that you may want to settle your accident claim with the insurance company. In this situation, we negotiate on your behalf, reviewing all offers made by the insurance company to ensure they cover your losses.
We can also help you file a lawsuit if you qualify for this legal recourse. Allow us to determine if you have a severe injury that will let you take your case in front of a judge and jury.
How Long Do You Have to File a Dump Truck Accident Claim?
Under New Jersey Statutes section 2A:14-2, most drivers have two years to move forward with a dump truck accident claim. After two years, the statute of limitations expires for most personal injury cases, though exceptions may exist.
Your dump truck accident lawyer in Paterson, NJ, can review critical deadlines for your case. We keep you on track, filing documents on time, and propelling your case forward.
What Do Dump Truck Accident Lawyers in Paterson, NJ, Charge?
Paterson dump truck accident attorneys charge different rates based on their experience level and the size of their firm. Most law firms work on a contingency basis when handling dump truck collisions.
If a firm uses contingency pricing, you only pay fees after they resolve your claim through a settlement or a court verdict. At this point, the lawyer receives a percentage of your award for their services.
You can reach out to our team of dump truck accident attorneys to discuss our pricing strategy and the compensation you could receive.
Speak to a Dump Truck Accident Attorney in Paterson Today
You can start building a legal claim now with a Paterson dump truck accident lawyer from the Morelli Law Firm. We put our experience into supporting clients like you. We can review the aspects of your case and focus on your unique needs.
Work proactively to secure damages for your losses by calling us or completing our online contact form.