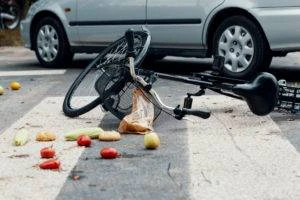 Bicycle accidents frequently result in significant injuries. Bike riders have little protection in the event of a crash, making them very vulnerable when sharing the road with cars, trucks, and buses. After a bicycle accident, recovering fair compensation can be essential for healing from your injuries and retaking control of your life.
At the Morelli Law Firm, our team of experienced bicycle accident lawyers in Huntington has helped countless injury victims recover the money they need to pay all their bills and begin to return their lives to a state of normalcy. If you have been hurt in a bike accident, get a free consultation with us.
How a Bicycle Accident Attorney Can Help You
After an accident, things can feel a bit overwhelming. You are likely dealing with stress from a variety of sources, and that is the last thing your body needs when attempting to heal. Fortunately, a bicycle accident lawyer can help to shoulder the burden. They can handle every aspect of your legal case and protect your financial well-being so that you can focus on healing.
When you hire a bicycle accident attorney in Huntington, one of the first things they will do is begin an investigation into your accident. The aim of their inquiry will be to establish liability and gather evidence in support of your injury claim. The investigation will likely involve:
Taking pictures of the accident site and gathering evidence
Interviewing potential witnesses
Consulting with various experts
Obtaining a copy of the official accident report
Reviewing your medical records as they relate to the injuries you suffered
The next step will be for your lawyer to assess the damages you have suffered and calculate the true value of your claim. Once that is done, your attorney will discuss the state of your case with you and inform you of your legal options. They will advise you of the pros and cons of these options and what path will be most likely to result in the outcome you desire.
Your attorney will then file paperwork with the liable party's insurer or with the court. If you are pursuing a personal injury lawsuit, your attorney will then begin the steps of the pretrial process in preparation for representing you at trial.
At every stage of the process, your lawyer will be in touch with opposing counsel, attempting to negotiate a fair settlement deal. Most bicycle accident lawsuits result in a settlement because it offers a quicker resolution and avoids the unpredictability of a courtroom trial.
Collecting Damages After a Bicycle Accident
There are several damages you will likely be eligible to claim after a bicycle accident in Huntington. The specific damages that apply to your case will depend on the circumstances surrounding your accident and the injuries you sustained. All your damages can be grouped into three main categories:
Economic damages
Non-economic damages
Punitive damages
Economic Damages
Economic damages are the monetary losses that you suffered. Anything that you can put a price tag on falls into this category. Economic damages include both expenses that you accrue and impacts on your income. They cover costs you have already incurred and those you will face in the future as a result of your accident. Common economic damages include:
Lost wages
Diminished earning capacity
Property damage
Medical expenses
Future medical costs
Non-Economic Damages
Any other damages you suffer as a result of your accident are considered non-economic damages. These losses are often significant and can dramatically alter your life. Because of this, the money awarded for non-economic damages is usually considerable and tends to account for the bulk of the money you will receive. Common non-economic damages include:
Pain and suffering
Loss of companionship
Permanent disability
Lowered quality of life
Punitive Damages
Unlike the compensatory damages listed above, punitive damages are not awarded with the focus of helping the victim to heal. Instead, the purpose of these damages is to punish the at-fault party for their dangerous actions.
Punitive damages are only available in a small portion of cases where the actions of the liable party were criminally negligent or carried out with the willful intent to cause harm.
Don't Wait to File Your Personal Injury Lawsuit
If you are filing a personal injury lawsuit, it is essential that you don't delay getting started. In New York, the statute of limitations for filing a personal injury lawsuit is typically three years. However, special circumstances may apply to your case that further limit your window for filing. For instance, when the at-fault party is a government agency, you will have far less time to file.
To ensure that you meet all deadlines and protect your right to compensation, it is advisable to hire a Huntington bike accident lawyer as soon as possible. This action will have the added benefit of putting your lawyer in the best possible position to obtain evidence and build a solid case for compensation.
You Will Never Pay Your Bicycle Accident Lawyer Out of Your Own Pocket
While most attorneys charge their clients based on the number of hours they spend working on their cases, personal injury lawyers operate differently. A personal injury lawyer works on a contingency fee basis, which means that the fee they collect is entirely based on results.
Your attorney will collect their fee as a set percentage of the money you recover from the liable party. That means that the more money you get, the bigger the payday for your attorney. Alternatively, should they fail to recover compensation on your behalf, they won't get paid. This fee structure helps to ensure that the interests of you and your attorney are aligned.
In addition to providing you with the confidence that your attorney will work hard to ensure you collect as much money for your injury as possible, this fee structure provides the benefit of making legal representation a possibility for all accident victims. Since you won't have to pay a penny out of your own pocket, your financial situation will not bar you from hiring a lawyer.
Get a Free Consultation From a Huntington Bike Accident Attorney
At the Morelli Law Firm, our team of Huntington bicycle accident lawyers knows what it takes to recover fair compensation for our clients. We have a proven track record of securing large settlements and court-ordered payouts for those we represent.
Give us a call or fill out our online contact form today to get a free case evaluation from a member of our legal team.