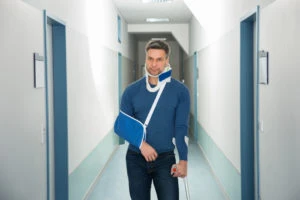 After a passenger vehicle accident, you could qualify for damages. The severity of the injuries you sustain combined with the emotional trauma you endure might prevent you from immediately filing a lawsuit for compensation. When our personal injury team gets involved in your case, we work hard to get the financial recovery you are entitled to due to the at-fault driver's negligence.
You do not have to navigate the personal injury legal system on your own. Our firm is ready to help you build a strong case file and negotiate a fair settlement with the at-fault driver. You can concentrate on getting better while our lawyers ensure your case is accurately valued and filed on time in Yonkers.
Let Our Team Assign a Financial Value to Your Case
After a passenger vehicle accident caused by another driver's negligence or recklessness, you could be entitled to compensation. According to New York Insurance (ISC) § 5102, the damages you may recover include:
Current and future medical bills

Current and future loss of income

Damage or destruction of your car

Physical impairment or disability

Physical pain and suffering

Mental and emotional anguish
You do not have to try to assess your financial losses while you recover from your injuries. Your health care team will develop a specialized treatment plan to maximize your physical recovery. Meanwhile, our personal injury team will develop a plan to build a comprehensive case for your financial recovery based on the at-fault driver's negligence.
Critical Evidence in Your Collision Case
When you trust us with your car accident case, we treat it like the unique undertaking it is. We aim to build an evidence file that points to the at-fault driver's liability, establishes your damages' financial value, and drives negotiations. Your evidence file may include:
Injury photos

Medical records

Medical referrals

Prognosis reports

Financial records

The c

ar accident report

Witness testimonials

Accident scene photos
Our case assessment team aims to accurately value your lawsuit. We will focus on building your case and negotiating a settlement that alleviates financial stress for you and your family.
Complying with the Statute of Limitations
When bringing a case against the driver who caused your passenger vehicle accident, you only have a limited amount of time to file a lawsuit. If you do not file within the allotted time, you risk:
Being unable to file your lawsuit at all

Having no legal outlet to compel compensation

Having your lawsuit dismissed without being heard
Generally, New York Civil Practice Law & Rules (CVP) §214 gives you three years to file a personal injury lawsuit. If someone you love was fatally injured in the accident, you generally have two years to file a wrongful death lawsuit, according to New York Estates, Powers & Trust (EPT) §5-4.1.
We will make sure you understand the applicable filing deadline and any circumstances that might alter or extend it. By getting involved in your lawsuit early, we also have time to interview witnesses, investigate the accident scene, and canvass the accident location for photos and videos that support your lawsuit.
Have You Been Injured In An Accident? Contact Morelli Law
877-751-9800
Leave the Insurance Company to Us
Our passenger vehicle accident lawyers will deal with the at-fault driver's insurance company for you. We will organize and submit your evidence and negotiate on your behalf. If necessary, our team will also help you negotiate compensation from your own insurance company. Our goal is to help you avoid the time and stress of going to trial.
Get the Compensation You Deserve without Going to Court
When we negotiate on your behalf, we make sure your case is accurately valued and that you do not feel pressured to settle for an inadequate settlement. We work hard to carefully evaluate each settlement offer and advise you of your options. Our previous clients have received the following settlements and verdicts:
$5.4 million for a delivery man injured by a passenger car

$2.65 million for a minor injured in a car accident

$990,000 for a pedestrian accident victim
We will fight as hard for you as we fight for all of our injury clients. Our team wants to ensure the best possible payout and avoid adding to your stress.
You Do Not Have to Accept the First Settlement Offer You Receive
We advise you to avoid speaking to the at-fault driver's insurance company before contacting a member of our team. The at-fault driver's insurance company might make a settlement offer shortly after the accident. Avoid the temptation to accept a quick settlement offer before the accident's true financial cost is determined.
When our team assigns a value to your injuries, we include future expenses and intangible losses. These can take time to fully evaluate and may be crucial to your recovery. We will fight for the compensation package you deserve by ensuring your case is accurately valued and filed on time.
Yonkers Passenger Vehicle Accident Lawyer Near Me
877-751-9800
Put the Power of Our Team Behind Your Fight for Compensation
In the days and weeks immediately after a car accident, you might not feel physically and emotionally prepared to deal with the time-consuming task of building a lawsuit. When you get our team of lawyers started on your passenger vehicle accident lawsuit in Yonkers, we will handle everything for you. This includes compiling evidence, valuing your case, and dealing with all insurance company communication on your behalf.
We take our clients' injuries seriously and will fight hard for the compensation that the at-fault driver's negligence entitles you to receive. When you are ready to get your case the time and attention it deserves, contact the personal injury lawyers at Morelli Law Firm by calling (212) 751-9800.