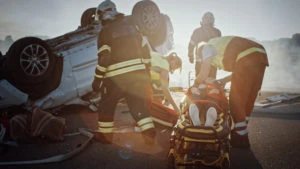 Car, pedestrian, and truck accidents can take loved ones away from their friends and family members in the blink of an eye. If you've lost someone close to you in an accident caused by another party, you deserve to receive financial remedies for the economic and non-economic losses you've been burdened with.
Our fatal accident lawyers in Yonkers handle cases for grieving family members with compassion and determination. They'll investigate your loved one's accident, prove that the offending driver is responsible for their death, and pursue compensation through an insurance claim or civil lawsuit.
Compensation You Could Receive With the Help of a Yonkers Fatal Accident Attorney
When a spouse or family member passes away unexpectedly, it can feel like your whole world has been turned upside down. While a fatal accident claim can't change what has happened, it can give you the financial support you need to take care of your monetary losses and fully submit to the grieving process.
Depending on the impact your loved one's passing has had on you, your compensation may take the form of both economic and non-economic damages. If you've suffered financial loss as a result of the decedent's passing, you may be entitled to the following economic damages:
Medical expenses

. If your loved one received medical care for their injuries before passing away, you might be responsible for paying the bill. If that's the case, a fatal accident lawyer in Yonkers can secure payment to cover any medical expenses you've inherited.

Funeral costs

. A fatal accident claim can also yield compensation for funeral and burial expenses. The money you receive will help you and your family say goodbye to the deceased and honor their memory.

Lost income

. If you relied on the decedent's wages to pay your bills and afford the general cost of living in Yonkers, a fatal accident lawyer can help you replace the income you've lost.
Surviving a spouse or family member can be incredibly painful and emotionally devastating. The following non-economic damages can compensate for the suffering you and your family have experienced during this tragic time:
Loss of companionship

. When someone that you used to turn to for advice and comfort passes away unexpectedly, the emotional pain can be unbearable. If you're struggling with your loss of companionship, a Yonkers attorney can add these damages to your fatal accident claim.

Pain and suffering

. It's common for victims of fatal accidents to experience a great deal of pain during their final hours and minutes. If your loved one's injuries caused them significant suffering, your lawyer can request pain and suffering damages.
Our Attorneys From Yonkers Will Make Sure Your Fatal Accident Claim Is Successful
Our team will work hard to ensure you get the compensation that you and your family need to deal with the fallout of your loved one's passing. Here's what we'll do to ensure you receive the proper economic and non-economic damages:
Collect Evidence
In order to build a strong case, your fatal accident lawyer will need to gather evidence related to the incident your loved one was involved in. They'll contact witnesses, source footage from nearby security cameras, and work with accident reconstruction experts to find proof of the guilt party's wrongdoing.
Negotiate With Insurers
Since most civil cases are resolved via an insurance settlement, it's likely that your compensation will come from the guilty party's insurance company. Your lawyer will negotiate with insurance adjusters to get you the payment you deserve.
File a Lawsuit
An insurance claim might not be enough to hold the at-fault individual responsible for your losses. In that case, your fatal accident attorney will file a lawsuit in Yonkers. In court, they'll present the evidence they've collected and argue that the defendant should be held accountable for the financial and emotional damage they've inflicted on you.
Keep You Updated
Your lawyer will keep you informed on the status of your claim or lawsuit throughout the entire legal process. They'll provide regular updates and make themselves available in case you have any questions or concerns regarding your claim.
Statute of Limitations for Fatal Accident Cases in Yonkers
If your attorney determines that a lawsuit is necessary to secure the damages you're eligible for, they'll need to file a wrongful death action in accordance with New York's statute of limitations. EPT § 5-4.1 states that your suit must be filed within two years of your loved one's passing.
To give your fatal accident attorney enough time to get your lawsuit submitted to the Yonkers court system before the legal deadline, we suggest contacting Morelli Law as soon as you can. We understand that the pain you're experiencing might make it difficult for you to reach out, but getting in touch with a lawyer ASAP will ensure you receive ample compensation.
Our Fatal Accident Attorneys Won't Charge You Upfront
At Morelli Law, we believe the legal process should be as easy and worry-free as possible for those who have lost a loved one. That's why our fatal accident attorneys offer their services on a contingency-fee basis to grieving family members in Yonkers.
A contingency fee is essentially a percentage of your settlement or court-awarded payment that your attorney will take instead of charging you out-of-pocket. If your case doesn't yield compensation, you won't have to draw on your own finances to pay your lawyer.
Our Lawyers Are Fully Prepared to Take On Your Fatal Accident Case
Our team in Yonkers is composed of some of the most experienced fatal accident lawyers in New York, and we have the case results to prove it. If you're dealing with the tragic loss of a spouse or family member, our attorneys will be able to help you recover the appropriate damages.
Don't hesitate to contact Morelli Law and get started on your claim. We'll begin by offering you a free case evaluation to learn more about your loved one's accident and advise you on your legal options. If we think you have a viable claim, we'll start collecting evidence.