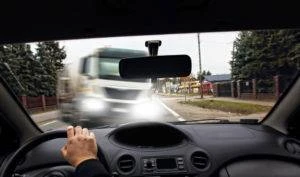 Establishing who is responsible for a truck accident may become difficult. Since many trucking accidents involve a big transport business, identifying fault and liability can become complex. If a Walmart truck gets involved in an accident, is Walmart liable for this?
As with many other accidents, accident liability may be determined by determining what caused the vehicle to crash. The reasons for a truck accident are sometimes more intricate than those for a collision between two cars. Contact a Walmart truck accident attorney in Passaic, NJ, if you or your loved one is injured.
Determining Liability in a Walmart Truck Accident
It is essential to demonstrate fault before filing a personal injury lawsuit. For truck accidents, things aren't the easiest. Because there are so many possible parties to blame in a truck accident, determining liability is extremely complex. Let's begin with understanding truck driver types.
Types of Truck Drivers
First, you must know the type of truck drivers you deal with:
Owner-operator: The truck driver is also the owner; they either work as an independent contractor or have a lease deal with a trucking company.

Drivers of a company: The truck driver is an employee of the company; drives trucks owned by the trucking company.

Independent contractor: The truck driver operates and owns the truck; hauls products from their own company.
The manufacturer of a particular item might be held liable if defective brakes or other technical failures caused the accident. Anyone responsible for loading and maintaining the vehicle would be held liable for the accident if it was caused by a problem that might have been recognized during normal maintenance, such as incorrect loading or a cargo issue.
Regardless of whether the accident resulted from the driver's fault, the business might still be held responsible. There are occasions when truck accidents occur because the driver remained on the road for too long, stayed up for too long, or did not take enough breaks. Some of the blame might fall on the employer in these cases.
Factors Affecting Liability of Accidents
Determine the kind of truck driver engaged in the collision to determine who is liable for determining fault. Suppose you've been in a truck accident. In that case, you'll likely need a lawyer to help you figure out specifics like how the driver is hired and who is responsible for maintaining the vehicle.
Keeping a vehicle in good working order may also impact a driver's legal liabilities. A vehicle's upkeep is the responsibility of whoever owns or rents it. Contractual requirements for upkeep are likely to be included in a truck's contract with its owner. Information like this might not be readily available to the truck driver; therefore, your personal injury lawyer will seek all the information as a part of the discovery process.
The Challenges Involved With Suing Walmart
When it comes to "self-insured" parties, their blame game is on-point; similar is the case with Walmart. Walmart's self-insured status gives it more motivation to minimize financial losses than a typically covered corporation. In this case, Walmart takes on some risks rather than relying on insurance coverage by third-party. Excess insurance via insurance providers may cover the excess amount out of the determined limit.
What to Expect In a Lawsuit Against Walmart
Walmart is a huge multinational corporation that can cover your medical bills if you are injured in a truck accident caused by one of Walmart's employees. Large corporations like Walmart are also the ones to deflect any blame or compensation. So, if you're suing Walmart, be prepared for lengthy delays in the progress of your case.
One of the most common methods huge merchants use is to postpone your lawsuit until the filing deadline expires. That way, Walmart will not have to pay for your injuries, and you will not obtain any compensation. Walmart's legal staff and the insurance company will work hard to get you to dismiss your case if you file a lawsuit against them.
To stand against a giant, you want to have the best legal representation for yourself. Our Passaic Walmart truck accident attorneys have years of experience fighting for our clients and getting them the compensation they deserve.
The Deadline for Filing a Truck Accident Claim In New York
You get three years to pursue a lawsuit against the Walmart truck driver after an accident involving a Walmart truck. Failure to submit your claim by the deadline will result in your rights to compensation and subsequent legal action being forfeited. As a result, you should file your claim at the earliest possible to improve your chances of being awarded a greater settlement sum. The three-year deadline may be extended or decreased based on the specifics of your case.
New York Comparative Negligence Law Explained
Is it possible that both the truck driver and you were responsible for the accident? Some states don't allow you to obtain damages if you were at fault for the accident. Comparative negligence describes the approach to evaluating fault. You would get a reduced amount of damages if you were liable for the truck collision.
If you can prove that the accident was at least substantially the driver's fault, you may still receive damages in New York. For example, you were passing a large truck on the left side of the road; you noticed it started going in the wrong direction. You might be held responsible for the collision if the court suggests that you were slow to steer your way
In the above example, if the court gives you $100,000 compensation, you owe 10% of the blame for the mishap. Because of this, your damages will be reduced by 10%, Leaving you with 90,000 dollars in damage compensation.
Contact a Walmart Truck Accident Lawyer for a Free Case Evaluation
If you were injured in a Walmart truck accident in Passaic, our attorneys at Morelli Law Firm could help you get the full compensation you are entitled to. Some of the most significant damages are typically hidden by huge retail corporations. These are things that our attorneys are well aware of.
We'll assist you in assembling the evidence necessary to establish blame and make a compelling case. We offer a free case examination where we analyze your case, verify that you have a case, and provide an estimate of your damages. Contact our Passaic Walmart truck accident attorneys to analyze your case and fight for your right to compensation.