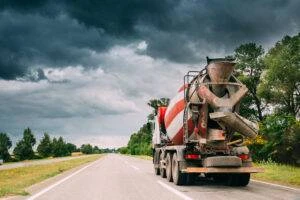 If a concrete truck crashes into you, you've probably suffered severe injuries. These trucks strike with tremendous force thanks to their heavy weight. Turn to the team at Morelli Law to help you get compensated for your injuries.
Our St. Peters truck accident lawyers will investigate what happened to you, who employed the truck driver, and why the accident happened. From there, we can build a case to get you the most compensation possible for your accident claim or lawsuit.
Insurance Policies and Concrete Truck Accidents
Whenever a worker gets into a wreck, the odds are good that their employer will bear some of the responsibility for the accident. This is a long-standing legal principle, and it means that you could make a claim against both the driver's insurance and their employer's insurance.
However, to confirm this you will need the help of a concrete truck accident lawyer in St. Peters who knows the local laws and how insurance works in Missouri. An insurer will not want to pay you what you're owed if they can get away with it, so you need a lawyer to make sure they do.
Also, because the value of commercial insurance policies are so high compared to passenger vehicle policies, you will have an easier time getting the full value of your case. To win though, we must prove that the concrete truck driver was at fault for your accident.
Damages You Can Claim After a Concrete Truck Accident
The suffering and financial costs of your accident are called damages. They are the reason you can claim compensation. A concrete truck accident lawyer in St. Peters can calculate how much they are and get the evidence to prove to the insurer how much you should receive. Some common damages include:
Past and future medical bills related to your accident

Medications

Therapy and specialist visits

Mental health care related to your accident

Lost wages while you recover

Lost potential income if you cannot return to work

Property damage for your vehicle

Home renovations to accommodate any permanent disabilities

Pain and suffering and other non-economic damages
Concrete trucks hit much harder, so the odds are good that you're facing significant damages because of your accident. You may even have lost a loved one. Morelli Law will fight to get you the full value of your claim no matter what your situation is.
Can I File a Wrongful Death Claim?
It's quite possible that you've lost a loved one if a concrete truck crashed into them or rolled over. You may be eligible to file a wrongful death claim to collect damages on your loved one's behalf, but only certain people may file these claims.
Missouri uses a three-tier system to determine who can start a wrongful death claim. If there is a member of a higher tier who wishes to sue, they take priority over others. These are:
Surviving spouse, children, descendants of deceased children, and the parents, in that order.

The deceased's siblings and their descendants.

A court-appointed plaintiff ad litem.
We must also prove that the deceased would have been able to sue for damages if they had survived the accident. The damages you can claim in a wrongful death suit include funeral expenses, final medical expenses, and several non-economic damages through your claim, but Missouri does not allow compensation for the survivor's grief and bereavement.
What Must Be Proven to Win a Concrete Truck Accident Claim?
Nearly all vehicle accident claims are based on a concept called negligence. Negligence is the failure to behave with a level of care that a reasonable person would have done under the same circumstances. The law states that if someone is negligent and harms someone through that negligence, the victim can demand compensation.
There are four elements to a negligence claim. If we can prove all four of them, you will win your concrete truck accident claim. They are:
Duty of Care – Did whoever you're suing have a responsibility to act reasonably around you? Drivers automatically have a duty of care toward others on the road, and employers share responsibility with their employees.
Breach of Duty – Did the defendant breach their duty of care and put you at risk for harm? One way to prove this is if the concrete truck driver broke the law when they caused your accident.
Damages – Did the accident cause you harm, and how?
Causation – Did the breach of duty cause the accident, and was there no other cause for the harm you suffered?
Together, these prove negligence. Once we prove negligence, we win your case. After our St. Peters concrete truck accident lawyers do this, we can calculate the value of your claim and fight for the full value of your accident.
Why Hire an Accident Lawyer?
Hiring an accident lawyer is the easiest way to ensure you get the most money from your accident. It's probable you're facing a lot of injuries and recovery time if you're reading this. Fighting for compensation on top of your recovery is incredibly challenging.
The insurance companies will have their lawyers and adjusters investigating what happened. Why? Because they want to pay you as little as they can get away with. The fact is that you're at a significant disadvantage in your claim unless you hire a lawyer to help you.
Anyone could get involved in an accident. That's why our firm works solely on contingency. You will owe us nothing for our services unless and until you win your accident claim. If you win, we will claim a percentage of your total compensation as our fee.
Morelli Law Can Help You
For decades, Morelli Law has been helping accident victims get the compensation they need after accidents. We've helped recover over $1 billion in compensation for victims. Few firms are as experienced as we are, so put our concrete truck accident lawyers to work for you.
Contact Morelli Law by calling the number on your screen or emailing us through our contact page. All initial consultations are free.