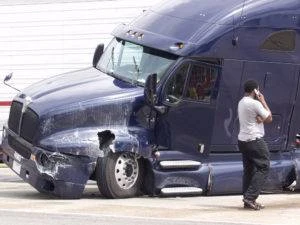 While collision-related effects and expenses will differ from one person to the next, our firm considers the following when determining what damages you can collect after a truck accident:
Medical expenses for injury treatment and rehabilitation
Income lost during the recovery period and beyond
Damages you will likely face in the future
Your pain and suffering
Wrongful death damages, if you lost a loved one in the truck collision
The Importance of Recovering Damages After a Truck Accident
The ways a truck accident affects your life may lead to damages you can recover in an insurance claim or personal injury lawsuit. Damages are a form of compensation meant to "remedy" a situation (Legal Information Institute (LII)).
When it comes to truck accidents, recoverable damages can provide vital compensation to prevent further harm to you and your family in the form of financial struggles. The damages you can collect after a truck accident will depend on factors such as:
If you had serious injuries
The extent of your medical needs
If you are expected to make a full recovery
How long you were or expect to be out of work
How the truck accident affected you emotionally
If you lost a loved one in the accident
Injuries Can Lead to Steep Medical Bills
Medical damages help pay for any form of care and treatment you need for injuries you sustained in the truck accident. For example, you could qualify to recover compensation for the following medical expenses:
Surgeries
Prescriptions for pain
In-home care
Rehabilitation
Physical therapy
Emergency room care
Ambulance transportation
Hospital stays
Cost of casts for broken bones
X-rays or CT scans
You May Experience a Gap or Reduction in Income
Truck accident victims often have serious injuries. This can mean lengthy recovery times, and consequently, missed time from work.
Damages for lost wages can help replace the income you lose while in recovery, including:
Salary or wages
Employer-paid health benefits
Paid time off (PTO)
401k benefits
Truck Collisions Can Cause Ongoing Damages
Because truck accidents can be so harmful, you could recover compensation for losses that have not happened yet but will in the future. Projected damages take into account the ways the accident will impact your life over time. They can be awarded to those who:
Have permanent injuries, such as physical disabilities, disfigurement, or paralysis
May never work their current job again as a result of the truck accident
May see changes in quality of life due to their injuries
Pain and Suffering After a Collision Is Common
Pain and suffering damages are difficult to calculate, but they are meant to remedy the physical and emotional distress a person suffers because of an accident. For example, a back injury can lead to chronic pain and inhibit the victim's ability to go about their daily life.
Mental anguish damages are similar to pain and suffering but refer to the way a person suffers mentally. A person could develop ongoing anxiety or depression due to the effects of their injuries.
The court will try to award compensation that reflects the level of suffering accident victims have had to endure.
Wrongful Death-Related Losses
A person who loses a spouse or other loved one in a truck accident may suffer greatly due to the unexpected loss of companionship, household income, and support. Only certain parties can file a wrongful death claim on behalf of a late loved one, however.
Beneficiaries can recover damages to help pay for:
Funeral and burial costs
Pain and suffering
Loss of consortium
Their loved one's final medical expenses
Other related losses
Have You Been Injured In An Accident? Contact Morelli Law
877-751-9800
Factors That May Affect the Damages You Can Collect
It is helpful to know the factors that may affect the damages you can collect. In particular, fault and the impact of the accident are two factors that may play a role in your settlement amount.
The state of New York operates on the principle of contributory negligence, according to NY CVP § 1411. This means any damages you can recover will be reduced comparatively by any fault you had in the accident.
In addition, you will want to include all the ways the truck accident has affected your life in your claim. Otherwise, you may not receive compensation for all types of damages. This can leave you to cover any future expenses related to the collision out of pocket.
Learn More About How to Collect Damages After a Truck Accident
When you are ready to pursue compensation from the liable party after a truck collision, a lawyer from our team may be able to help. At Morelli Law Firm, we have won multiple settlements for car and truck accident victims, including a verdict of over $11 million.
We can help you understand what damages you can collect after a truck accident, your legal rights, and much more. Contact Morelli Law Firm today at (212) 751-9800 for a free consultation.