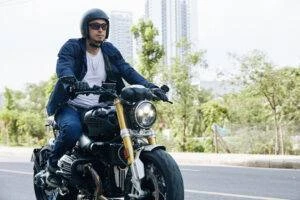 Driving on the road as a motorcyclist is exhilarating, but when other drivers don't know how to drive in your presence, it can result in a severe accident with catastrophic injuries. If you've suffered injuries in a motorcycle accident, our St. Peters motorcycle accident lawyers can help you build a case to win compensation.
At Morelli Law Firm, our St. Peters personal injury lawyers are passionate about winning your case and holding the liable parties accountable. We can meet with you to review your case to determine if you have a valid case.
Top Factors that Determine Fault in a Collision
To determine liability, our team will examine various aspects of your case. These factors include:
Traffic violations

: Running a red light, stop sign, or exceeding the speed limit can clearly show negligence. Disobeying traffic laws is a major factor.

Road conditions

: Fault may depend on visibility, road defects, or other environmental conditions during the crash. Poor conditions could contribute to accident causes.

Road positioning

: Riding, driving too far left or right, or improperly changing lanes can increase liability for the party that unsafely placed their vehicle.

Right of way

: Accidents often involve one party failing to yield to another with legal right of way based on road signs or vehicle position.

Distractions

: Using a cell phone, eating, impaired driving, or other distractions that took the driver's attention away increase their fault for an accident.

Witness accounts

: Statements from people who observed the crash can corroborate one party's negligence based on their version of events.

Damage patterns

: How and where vehicles or bikes collided provides clues to the primary collision sequence and which party was the initial cause.
How Long Do You Have to File a Personal Injury Claim?
According to Missouri Code § 516.120, you must file your claim within five years after your motorcycle accident. If you fail to file your claim within this time, you won't be eligible to recover any compensation.
That's why it's important to start working with a St. Peters motorcycle accident lawyer as soon as possible. Even though the statute of limitations states you have five years, this isn't always the case. This is because certain details in your claim could alter the deadline.
By reviewing your case for free in a consultation, we can tell you how long you have to file and help you complete any necessary paperwork.
What Damages Can You Recover After a St. Peters Motorcycle Crash?
You can recover two types of damages after a Missouri motorcycle accident: economic and non-economic. Economic damages account for the money you've lost due to the accident; the latter means the emotional losses you've suffered. We can help you recover the following damages:
Medical Expenses
If you were injured in a motorcycle accident, you can recover the full cost of your medical treatment. This includes fees for emergency response, hospitalization, surgeries, and rehabilitation. Be sure to document all of your bills and expenses. An attorney from our firm can also calculate estimates of future medical costs you are likely to incur based on your injuries, treatment plans, and life expectancy.
Obtaining a settlement for medical expenses helps ensure you do not have to foot the bill for your care caused by someone else's negligence. This settlement should account for all past and estimated future costs.
Lost Wages
In addition, you may be able to recover pay, commissions, or benefits missed due to work absences after a wreck. Employers typically only cover lost time for so long. A lost wages claim looks not only at what you have lost so far but also projects potential lifetime earnings you may lose if the injury continues to impact your capacity to work.
Proving accurate records of your salary, work history, and duration of work assists in fully compensating for salary impacts from health setbacks. A financial expert can calculate these numbers for the settlement negotiation.
Pain and Suffering
Motorcycle accidents sometimes cause injuries that result in long-term pain, emotional stress, or loss of enjoyment of life. Non-economic damages acknowledge these consequences. An attorney can assess how the injury has reduced your quality of life based on variables like whether you can engage in hobbies, family activities, or basic daily tasks in the same way.
Determining a dollar amount for relentless pain or lifestyle changes isn't easy, but experienced St. Peters motorcycle accident attorneys can effectively argue for providing fair relief by outlining specific examples of limitations.
Property Damage
If your motorcycle, gear, or other possessions were destroyed in an accident caused by someone else, you could receive their replacement value. Keep detailed records and receipts to support claims for damaged or destroyed items. Temporary living expenses or extra transportation costs due to the loss of a vehicle can sometimes also be part of this damages calculation.
Keep receipts for repaired or replaced items to support this portion of your claim and recover from property losses after a wreck. All costs should be accounted for.
We Can Answer All Your Questions in a Free Case Consultation
If you've been injured in a motorcycle accident in the St. Peters area, speaking with a St. Peters motorcycle accident attorney at Morelli Law Firm is the way to understand your legal options. In a free initial consultation, we can address any questions or concerns. Some common topics we're prepared to discuss include:
Details of the accident and claims investigation process

Your potential damages and compensation to pursue

Working on a contingency fee, so you pay no legal costs upfront

Assigning fault and determining liability between parties

Which insurance policies may apply to your injuries and losses?

Medical treatment recommendations and trusted providers

How the law interprets negligent, reckless, or criminal behavior

Steps in building a strong liability and damages case

Filing a lawsuit timeline and getting an expedited resolution
Contact a St. Peters Motorcycle Accident Attorney Today
At Morelli Law Firm, we go after the negligent parties and make sure you recover all the damages you qualify for. Our St. Peters motorcycle accident lawyers are ready to get you the justice you deserve.
Contact us today for a free consultation.