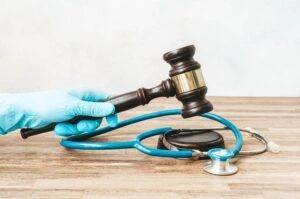 When medical malpractice disrupts your life or the life of a loved one, the emotional and financial weight can seem unbearable. The importance of securing a St. Peters personal injury lawyer can't be overstated.
Our team at Morelli Law is prepared to help you navigate this complex process and aim to get you the compensation you deserve or put your life back on track.
Learn about how medical malpractice laws work, what a St. Peters medical malpractice will do to support your case, and what types of compensation could be available to you.
Medical Malpractice in St. Peters, MO: an Overview
Medical malpractice occurs when a healthcare provider fails to deliver the standard of care required by their profession. This can lead to severe harm or even death for the patient involved. St. Peters, MO, is no exception when it comes to these tragic incidents.
Common medical malpractice claims can include several scenarios. Surgical errors, incorrect diagnoses, and medication mistakes top the list. Instances like these can alter lives in an instant, leaving patients and families grappling with consequences they never should have had to face.
What makes matters worse is that victims often don't know their rights, or the difference between medical malpractice and negligence. You may be eligible for compensation, and taking legal action could be your best course of action.
The laws and requirements for medical malpractice vary by state, making it crucial for victims in St. Peters to know Missouri-specific regulations.
The Role of a St. Peters Medical Malpractice Lawyer
When you hire a medical malpractice lawyer from Morelli Law, immediate action kicks off to build your case. Our lawyers will gather crucial evidence, consult medical experts, and draft compelling legal arguments.
These early steps set the foundation for a strong case, enhancing your chances for a favorable outcome.
Collecting Evidence
Evidence includes:
Medical records

Witness statements

Expert opinions
Accurate collection and interpretation of these elements can make or break your case. That's why you need a lawyer with experience in medical malpractice law.
Handling Negotiations
Once the evidence is secure, negotiations with insurance companies commence. Our attorneys have the negotiation skills to handle these interactions efficiently. The goal is to secure the best possible compensation package without going to trial. But if negotiations fall through, rest assured we are prepared to represent you in court.
Providing Support
A medical malpractice lawsuit can be a grueling journey. You'll encounter legalese, paperwork, and deadlines that could trip you up if you're not prepared. That's where we come in. Our lawyers navigate these complexities, allowing you to focus on what truly matters—your recovery.
Can You Sue Doctors in Missouri?
If you're wondering whether you can sue doctors in Missouri for medical malpractice, the answer is yes. But it's essential to know that not all medical errors constitute malpractice. In Missouri, to sue a doctor successfully, you have to prove several key elements.
Elements to Prove Medical Malpractice
Breach of Standard Care:

You must demonstrate that the doctor failed to meet the standard level of care expected in the medical community.

Causation:

You need to establish a direct link between the doctor's negligence and your injury or harm.

Damages:

There must be measurable damages, whether they are economic, non-economic, or in rare cases, punitive.
Once these elements are proven, you have a strong basis for a medical malpractice lawsuit. But, remember, medical malpractice cases can be complex. Medical and legal jargon can get overwhelming quickly, and evidential requirements are stringent.
Filing a lawsuit against a doctor involves several steps. First, an expert has to review the medical records to confirm malpractice. Then, a formal "notice of intent" to sue is given to the doctor, followed by filing the actual lawsuit. It's a process full of technicalities, where a misstep could jeopardize your claim.
Types of Compensation in Medical Malpractice Cases
When you're a victim of medical malpractice, you could be eligible for different types of compensation. Money can't undo the harm, but it can ease some burdens. In Missouri, you could be entitled to several categories of damages.
Economic Damages
Medical bills

Lost wages

Future medical care costs
These are the measurable costs that come directly from the malpractice incident. The goal is to get you back to where you were financially before the malpractice happened.
Non-Economic Damages
Pain and suffering

Emotional distress

Loss of companionship
Non-economic damages are a bit trickier to measure. They aim to compensate you for the emotional and psychological toll that medical malpractice can have on your life.
Punitive Damages
In some rare cases, you might be eligible for punitive damages. These are not meant to compensate you but to punish the responsible party for their misconduct. Missouri has strict rules on when these can be applied, so legal knowledge is essential.
Missouri Statute of Limitations for Medical Malpractice Cases
You don't have all the time in the world to file a medical malpractice case. In Missouri, the clock starts ticking as soon as the malpractice occurs or is discovered. Generally, you have two years to file a lawsuit.
Exceptions to the Rule
Minors

Mental incapacity

Fraudulent concealment
Certain exceptions can extend this period, but they are few and far between. Missing the deadline means you could lose your right to seek justice and compensation.
The sooner you take action, the better your chances for a successful outcome. Quick action also helps preserve evidence, which can be crucial to your case.
Contact a St. Peters Medical Malpractice Attorney Today
Medical malpractice can derail your life, leaving you with more questions than answers. There's a ticking clock when it comes to filing your case. Immediate action can make all the difference between justice served and justice denied.
Missouri has its own rules, its own deadlines, and its own quirks when it comes to medical malpractice law. Navigating this maze requires experience and timing. We can help with both.
Don't let medical malpractice rob you of your chance for justice and compensation. Contact us for a free consultation to discuss your case and potential routes for legal action. Time is of the essence, so don't delay.