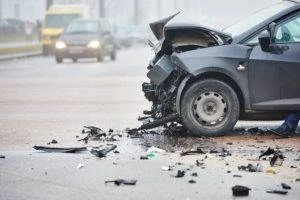 Although no one expects to be in a car crash, the reality is that it does happen. And when it occurs, victims can suffer catastrophic injuries that can lead to loss of lives or financial devastation. For instance, two teenagers were killed recently in a fatal car wreck in St. Peters.
While the cause of the tragic incident is still being investigated, the reality is that it has thrown two families into mourning and left them in intense, indescribable pain. Even when vehicle crashes aren't fatal, they can still be a source of injuries, anxiety, and financial troubles.
Victims are often in pain and may have to spend money to get treatment or repair their vehicles. If you've been in a car wreck, you need a way to recover any losses that you may have incurred as a result of the accident. The St. Peters car accident attorneys of Morelli Law Firm can help you get back everything you've spent and more.
Who Is Liable in a St. Peters Car Accident?
In Missouri, liability in car accidents is often ascertained by identifying the cause of the accident and the actions or inactions of the persons involved. In many cases, these accidents are caused by carelessness and/or negligence.
In fact, the Missouri State Highway Patrol has a breakdown of the numbers, and it doesn't look good. Some of the leading causes of vehicle wrecks in St. Peters, MO, are:

Distracted driving

: Talking on the phone, looking for something on the floor of the car, or

texting while driving

(this is considered worse than driving under the influence) can be dangerous.

Driving under the influence

: Operating a motor vehicle while alcohol, medications, or illicit substances are in your system.

Reckless driving

: For example, tailgating, brake-checking, or driving over the speed limits may lead to accidents.

Driving while drowsy

: People who drive when they're fatigued or exhausted are likely to make mistakes, have slower reaction times, or fall asleep behind the wheels. This can put other motorists in danger and lead to terrible crashes.

Defective vehicle parts

: For instance, if the brakes on a vehicle are bad, the driver can lose control and ram into other motorists or stationary objects.

Distracted pedestrians

: Jaywalkers and pedestrians who do not pay attention to their surroundings while on the road can pose serious dangers to other motorists.

Age

: Older drivers may have bad eyesight, suffer from cognitive impairment, or have slow reflexes, which can increase the odds of mistakes while driving.

Poor weather or road conditions

: This can lead to poor visibility on the road or a loss of control. For instance,

icy roads

lead to over 536,000 vehicle crashes and over 136,000 injuries nationwide.
If your car accident was caused by one or more of the reasons listed here and you're looking to recover the losses that you suffered, you need to speak to Morelli Law's car accident attorneys about your case. We'll evaluate your case and see if you can get some compensation for your troubles.
Comparative Negligence in St. Peters, MO
Missouri is a comparative fault state, as outlined in RSMo § 537.765. So, the state also takes the liability of the plaintiff into consideration.
If you are partly responsible for a car crash in St. Peters, the insurance company and court will determine the degree to which you were responsible. This will then be used in ascertaining your final settlement amount.
So, if you were meant to receive a $200,000 settlement, but the court found that you were 25% responsible for the accident, it will award a settlement that's 25% less than the $200,000. So, you'll get only $130,000 as compensation for your losses.
If you'd like to learn more about how your role in the accident may affect your final payout, speak to a St. Peters car accident attorney.
Compensation You Can Seek in a St. Peters Car Accident Claim
Auto crash victims in St. Peters, MO, can receive compensation for injuries sustained in car accidents and property damages. You can file a claim for the following damages:
Economic Damages
Economic damages are easily calculable losses, often including:
Medical costs and expenses

: This covers the cost of treatment, medications, medical equipment, mental health sessions, physical therapy, and post-operative care, among others.

Loss of income

: This covers all the wages that you did not receive while you were getting treatment and in recovery. And if you lose your job as a result because you couldn't go to work while in recovery, this will take care of that.

Diminished income earning capacity

: If the accident affected your ability to earn because you can't perform your job the way you once did, you can claim the damages for this too.

Property damage

: If your car, personal effects, or anything that belongs to you was damaged in the accident, you can file a compensation claim for the repair or replacement of the property.
Non-Economic Damages
Non-economic damages are more subjective and must be calculated a special way. Typically, these types of damages account for:
Pain and suffering

: This is the emotional anguish, mental distress, psychological angst, and physical pain that you're dealing with.

Pain and suffering

is such a broad and subjective concept that even when it's awarded to two people, the settlement for each party can be vastly different.

Temporary or permanent disability

: If your injuries lead to a temporary or permanent disability, it can affect your quality of life, ability to earn, and much more. The courts can consider the extent to which the injury has affected you and award a settlement that corresponds with your disability.

Scarring and disfigurement

: Injuries sustained in car accidents can eventually leave scars or leave the person disfigured. These scars can cause self-esteem problems and psychological issues. A plaintiff can file a claim that can help alleviate these issues.

Loss of consortium

: If a loved one passes from the injuries sustained in the car accident, designated relatives can file a claim for a loss of consortium, or loss of companionship and affection.
These damages can be recovered if the plaintiff moves to file them quickly. Although Missouri has a five-year statute of limitations, it's better to start filing your personal injury claims early. This way, it'll be easier to collect evidence and the events leading to the crash will still be fresh on your mind.
We can also discuss the possibility of earning punitive damages from a wantonly negligent or malicious party that caused your accident, as well as the types of damages you can collect from a wrongful death claim.
Contact a Car Accident Lawyer in St. Peters, MO
If you're ready to file your compensation claim or have some personal injury claim questions, Morelli Law's experienced car accident attorneys in St. Peters can help you today.
We have decades of experience and have helped clients recover over $1 billion in compensatory damages. We have the resources, knowledge, and experience to get you the maximum settlement possible.
Contact Morelli Law today for a free case evaluation, or call us to speak to an attorney for free.