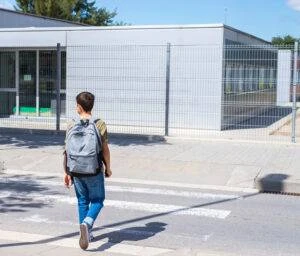 Missouri has pedestrian safety rules in place for a reason. The state wants its pedestrians to navigate local sidewalks and crosswalks without having to fear for their safety. Unfortunately, there are several parties, from motorists to construction crews, who disregard pedestrians in favor of their own convenience.
What can a survivor like you do in the face of unchecked negligence? Don't try to take on all of your post-accident bills alone. Call a pedestrian accident lawyer in St. Peters instead. Morelli Law Firm can look into your case and help you fight for the compensation you need to cover your pedestrian accident losses.
Our St. Peters personal injury lawyers are ready to go to court on your behalf. Contact us today for more information.
How to Prove You Have the Right to Act After a Pedestrian Accident
If you want to prove that you have the right to legal action after a pedestrian accident, you have an obligation to:
Establish Duty of Care
There are several parties on the road today that owe pedestrians a duty of care. That duty dictates that obligated parties must treat pedestrians with an elevated degree of caution. Pedestrians, in other words, deserve a heightened degree of care when walking alongside:
Cars

Bicyclists

Motorcycles

Construction crews

Construction sites

Other pedestrians engaging in reckless behaviors
Parties who violate this duty of care can cause serious accidents. If it comes out that an accident stemmed from another party's violated duty of care and avoidable negligence, said party may face consequences for their misconduct in civil court.
Note that a liable party does not have to be on the road at the same time as a pedestrian to cause a dangerous accident. Government officials who don't repair sidewalks can face legal consequences for that negligence.
An automotive manufacturer who released a car onto the road without proper testing can similarly face consequences for any accidents stemming from a party failure. The possible causes behind today's pedestrian accidents make it all the more important for survivors and their representatives to thoroughly investigate a scene before assigning blame.
Bring Forward Evidence of Liability
In other words, you have an obligation to bring forward hard data proving that another party engaged in the negligence that caused your accident. You can work with an attorney to determine which forms of evidence and what means of collecting that evidence best serve your case.
The evidence that most often appears in pedestrian accident cases tends to include the following:
Photos from before and after the accident

Statements from witnesses who saw the accident take place

Input from expert witnesses

Debris from an accident scene

Video footage from nearby storefronts, dash cams, or streetlights
The evidence you bring forward must meet the state's burden of proof if you want your case to move forward.
Have You Been Injured In An Accident? Contact Morelli Law
877-751-9800
Who Should You Contact After a Pedestrian Accident?
There are certain parties you can get in touch with following a pedestrian accident in an effort to make your recovery simpler. These parties include the following:
Insurance Claims Adjuster
It's in your best interest to file an insurance claim with the offending party's provider following a pedestrian accident. So long as the offending party has the state's minimum liability coverage or more, said insurance provider should have the means to help you pay off some of your most pressing post-accident bills.
That said, insurance claims adjusters and their companies want to protect their finances. Many will attempt to trick you out of the compensation you deserve. You don't have to let them get away with these bad-faith behaviors, though. You can call our team early in the process to mitigate a company's attempt to undermine your case.
General Practitioner
You should work with emergency responders after a pedestrian accident regardless of whether or not you have visible injuries. Some pedestrian accident injuries can develop over time but may be mitigated by early intervention.
It may also benefit you to schedule an emergency follow-up with your general practitioner. Why? Follow-up appointments allow general practitioners to integrate information about your pedestrian accident into your medical history sooner rather than later. Additionally, these meetings help establish a paper trail detailing the severity of your injuries.
You can later reference that paper trail if you decide to bring your losses to the attention of a Missouri civil judge.
St. Peters Pedestrian Accident Lawyers
You are not obligated to assume legal action against a negligent party after a pedestrian accident. That said, taking civil action against a liable party can see you receive damages based on your losses. Those damages can help you fund your recovery.
If you do want to take legal action against a negligence party, make sure you contact a St. Peters pedestrian accident lawyer before your statute of limitations expires. Your statute of limitations dictates how long you have to investigate your losses. If your statute of limitations expires, you may waive your right to compensation won through the civil system.
Missouri Code section 516.120 gives you until the fifth anniversary of your accident to bring a civil case against a liable party. You can contact an attorney at any point in those five years to begin an investigation into your losses.
Let Morelli Law Firm Go to Work for You
Pedestrians deserve to feel safe on St. Peters' sidewalks and crosswalks. Pedestrians who suffer losses due to someone else's negligence subsequently deserve the opportunity to bring their losses to a judge's attention. If you've found yourself contending with the aftermath of a pedestrian accident, you can go to court to demand fair compensation for your losses.
You can count on the pedestrian accident attorneys in St. Peters to stand by your side all the while. We bring several decades of combined legal experience to your pursuit of a fair pedestrian accident settlement. What's more, we offer these services on contingency. We don't get paid unless you get the compensation you deserve.
You can learn more about Morelli Law Firm's civil services during a FREE pedestrian accident case evaluation.