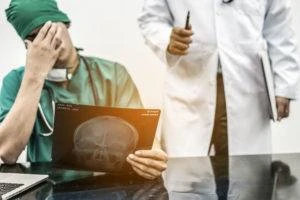 After a medical accident, your first instinct may be to focus on recovering before you even think about whether a professional was at fault for your injuries. However, if you have any intention of filing a medical malpractice claim in New York, there is a deadline. If you wait too long, you risk not getting any compensation.
Read further to learn about the deadline for filing a medical malpractice claim in New York. Then, if you have more questions about your claim and how long you might have to file it, don't hesitate to get a free initial consultation with a New York personal injury attorney from Morelli Law.
What Counts As Medical Malpractice?
Medical malpractice in New York usually revolves around the idea of negligence. In order for medical negligence to be present, which a malpractice suit alleges, three things must be true:
A caregiver must owe you a standard of care, meaning a level to which they can reasonably be expected to treat you.
The caregiver must have breached that duty.
That breach of duty must have caused you specific, quantifiable damages such as further medical bills or lost wages.
Given that those three things are true, you could be able to file a medical negligence claim against a caregiver. That doesn't have to just include a clumsy surgeon or reckless nurse – liable parties in a medical malpractice claim can also include hospitals with unsafe conditions or manufacturers of faulty medical equipment.
If you're not sure whether you have a medical malpractice case on your hands, you can always talk to one of our lawyers. We offer free consultations with our personal injury attorneys so you can learn more about your specific situation.
What Is the Statute of Limitations for Medical Malpractice in New York State?
The statute of limitations, or deadline, for medical malpractice in New York is 30 months, or two years and six months, from the act. That's according to New York Civil Practice Law & Rules (CVP) §214-A. The statute says that "Action for medical, dental or podiatric malpractice to be commenced within two years and six months."
That may seem like a long time, but the clock runs out faster than you would expect. There are steps that you and your lawyer should take as soon as possible in order to ensure that you get the compensation you need. If for any reason you fail to meet the deadline, your claim will most likely be denied.
If you've experienced medical malpractice, don't hesitate to contact a personal injury lawyer in New York. If you wait too long, even if it's within the statute of limitations, evidence may fade and leave you with slimmer chances of getting the compensation you deserve.
The Discovery Rule in Medical Malpractice
There is a chance that your deadline may be longer than 30 months from the act of medical malpractice. That chance is the discovery rule. In law, the term "discovery rule" describes a law that allows for the pushing back of a statute of limitations if the victim learned about their damages after the fact.
New York State is stricter than some other states in that, for most medical malpractice cases, the discovery rule is not present. Most of the time, no matter when you discover that you have been the victim of medical malpractice in New York, the deadline is set from the date of the incident.
However, that's not always the case. The most notable discovery rule in New York medical malpractice cases is the discovery of a foreign object in the body, usually after surgery. If a medical professional has negligently left something inside your body, such as a medical instrument, then you have one year from the date of the discovery.
Exceptions to the Statute of Limitations in New York
There are some other exceptions to the statute of limitations for medical malpractice in New York. One notable one is known as "Lavern's Law," which is named after the late Lavern Wilkinson, whose cancer was misdiagnosed and who later died as a result of that misdiagnosis. She was legally not allowed to sue for medical malpractice.
According to Lavern's Law, which was passed in 2018, patients who discover that they were the victim of negligently misdiagnosed cancer or a malignant tumor are able to sue for malpractice up to 30 months after they learned, or should have learned, about their misdiagnosis. This has a limit of seven years after the misdiagnosis.
Another exception to the medical malpractice statute of limitations is for minors. If a child has experienced malpractice, then the clock starts ticking for their statute of limitations on their eighteenth birthday. That being said, you cannot sue for medical malpractice towards a minor after ten years from the date of the incident.
Even if you have ten years to file your claim, it's not wise to wait that long. While our attorneys will do their best to recover evidence of the negligence you experienced, that job is much easier when they can start as soon as they can. The longer you wait, the harder it is to prove that you deserve compensation for your damages.
When to Hire a Lawyer for Medical Negligence
The best time to hire a lawyer is as soon as possible. However, we realize that it isn't always easy to know what you want to do about your accident and that the decision to get an attorney can be a difficult one. That's why we offer free initial consultations to our clients who might still be trying to decide what to do.
In any personal injury case, there's no risk in hiring one of our medical malpractice lawyers in New York. Our team doesn't get paid unless you get your compensation, so there's no risk, even if your injuries were minor.
Talk to a New York Medical Malpractice Lawyer for Free
In most cases, the clock starts ticking for your malpractice claim immediately after your accident. Waiting too long to act can result in reduced compensation or even a denied claim. Don't let the deadline pass you by. The New York medical malpractice lawyers at Morelli Law are ready to help you right now.
Call us or contact us online today to get your free consultation with one of our attorneys. Our team is standing by to make sure you get the compensation you need to recover from malpractice.